Carrie Underwood's Social Media Behavior Hinted She Wouldn't Be Taking Home An ACM Award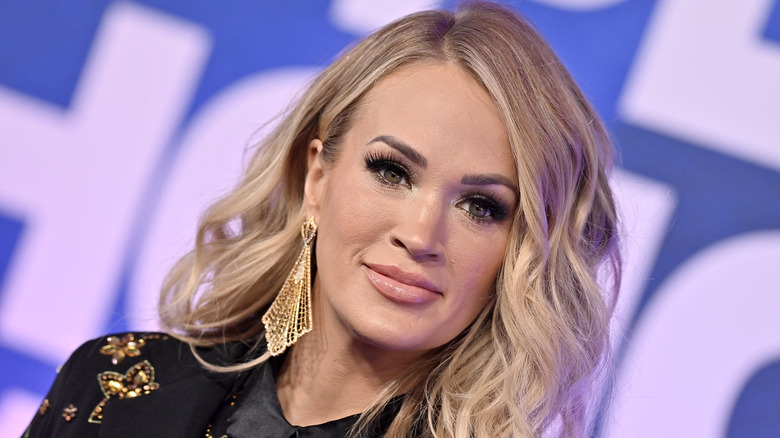 Axelle/bauer-griffin/Getty Images
Carrie Underwood wasn't holding out hope that she would win big at the 58th annual ACM Awards — or at least that's what her social media pages suggest.
The Academy of Country Music Awards hasn't been particularly fair to the "Jesus Take the Wheel" singer according to fans. This year alone, she failed to nab a nomination for the Female Artist of the Year award, which many took issue with. "No Carrie for female??? what on earth???" wrote one fan. "You didn't nominate Carrie for female vocalist?! WTH even is country music right now," contested another. While the star was in the running for Entertainer of the Year, along with other heavy-weights like Miranda Lambert, Jason Aldean, Luke Combs, and Morgan Wallen, many of her supporters expressed contempt for the award show for snubbing their idol.
Of course, their outrage was not unfounded as the "Before He Cheats" singer ended up losing the Entertainer of the Year category to Chris Stapleton, making it her third consecutive loss since 2021. Underwood, for her part, appeared to remain unbothered — as she should. On top of skipping the 2023 ACM Awards completely, it looks like she forecasted her loss and exchanged it for a well-deserved girls' trip with her sisters-in-law. And if her social media updates are anything to go by, Underwood couldn't be having more fun!
Carrie Underwood ditched the 2023 ACM Awards
Carrie Underwood seemingly decided to trade the red carpet for sandy Florida beaches. The country superstar was noticeably absent at the 2023 ACM Awards despite being a contender for one of the biggest awards of the night, but fans were supportive of her decision. "The ACM Awards on tonight, and I pay it no attention. How could Carrie Underwood be nominated for EOY, but not Female Vocalist of the year?" tweeted one of her staunch supporters, with another saying, "Carrie is out there living her best life and forgetting all about the #ACMawards tonight. @ACMawards do not deserve her or her talent."
Underwood does seem like she's living her best life, as one of her latest social media posts indicates that she was recently having a grand time bonding with her sisters-in-law dipping their toes in the sand and getting matching ink. "From the beach to the tattoo parlor, Destin didn't know what hit it! I love you ladies!!!" she shared on IG.
This vacation has been a long time coming for the star, who just wrapped her "Denim and Rhinestones Tour" in March 2023. "Words can't describe how thankful I am to this band and crew who helped put on this show night after night. Thank you to everyone who helped make this happen and to all the venue staff who made us feel at home every night," she wrote in a celebratory post. In June, she is set to kick off her much-anticipated Las Vegas residency that spans a total of 18 shows. We stan a booked and busy queen!
Carrie Underwood's icon status remains unrivaled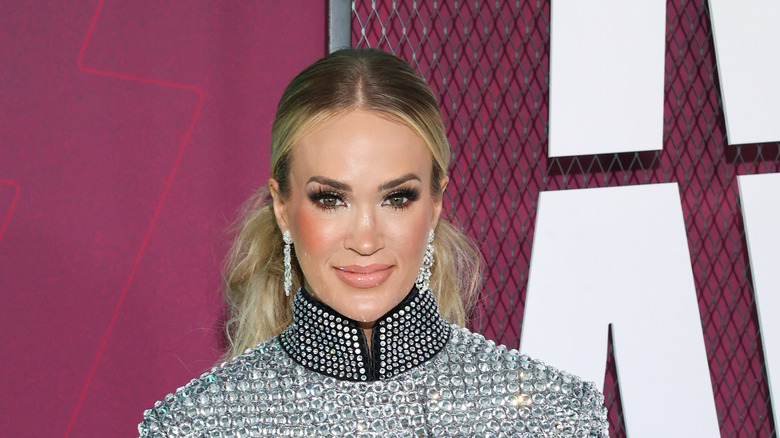 Renee Dominguez/Getty Images
She might not be getting her much-deserved recognition from the ACM Awards, but there simply is no doubting Carrie Underwood's status as an icon in the country music scene. In April 2022, the "Blown Away" singer made history at the CMT Awards after winning the Video of the Year and the Collaborative Video of the Year categories. With these, Underwood brought her total number of CMT Music Awards to 25, sealing her record for the artist with the most CMT awards in history. "25. It sounds crazy, but I'm very thankful," she told E! News at the event. "I have kind of an awards hall in my house. They span the entire length of the hall. I guess I'm gonna have to move 'em all a little closer together to make room for two more."
Back in 2020, Underwood also became the first woman in history to win the Entertainer of the Year category three times at the ACMs. The singer first won the Entertainer of the Year in 2009 before snagging the second in 2010. "Big night for sure. It feels great," Underwood reacted to the press. "There was obviously so many incredible nominees and performances and winners so just to be a part of it definitely feels special."
Despite her success, though, Underwood remains grounded and most grateful to the people who make it happen. "In my case, I owe my entire career to the support of people voting for me and I will always be grateful," she said in a February 2023 interview with the Cincinnati Enquirer.