12 Facts About Freddie Highmore For The Good Doctor Fans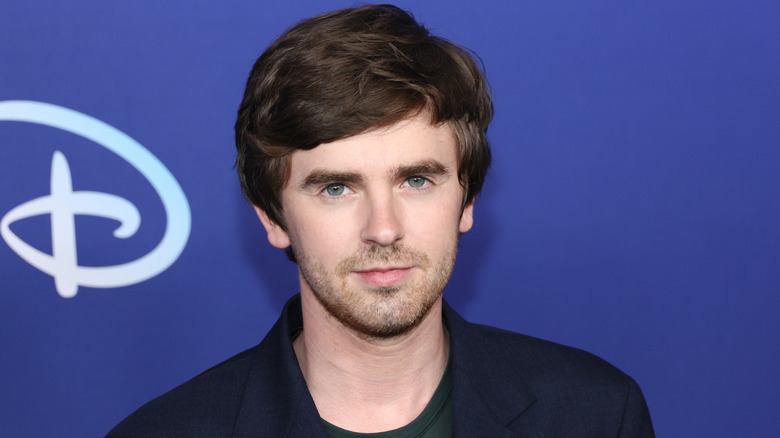 Dia Dipasupil/Getty Images
Freddie Highmore has already been on our screens for decades, having started his career in 1999 as a young boy. The actor truly caught the world's attention as the lead in Tim Burton's "Charlie and the Chocolate Factory" in 2005, and in "The Spiderwick Chronicles," which was released in 2008. Since then, he's proven himself to be a versatile actor with real longevity, reinventing himself as the famous "Psycho" character Norman Bates in "Bates Motel," which ran for five seasons, ending in 2017.
Ever the chameleon, Highmore evolved once again thanks to his role as autistic surgeon Dr. Shaun Murphy in ABC's "The Good Doctor," a glossy drama series from the creator of "House." In an interview with the Los Angeles Times, Highmore explained, "Shaun is naturally optimistic and upbeat, tries to see the good in people ... Shaun is also a happier person to portray than Norman Bates. It's probably a healthier mindset for me to be in."
With a seventh season of "The Good Doctor" on the way, it's the perfect time to get to know Freddie Highmore a little better with 12 facts about at the actor.
He built an incredible career as a child star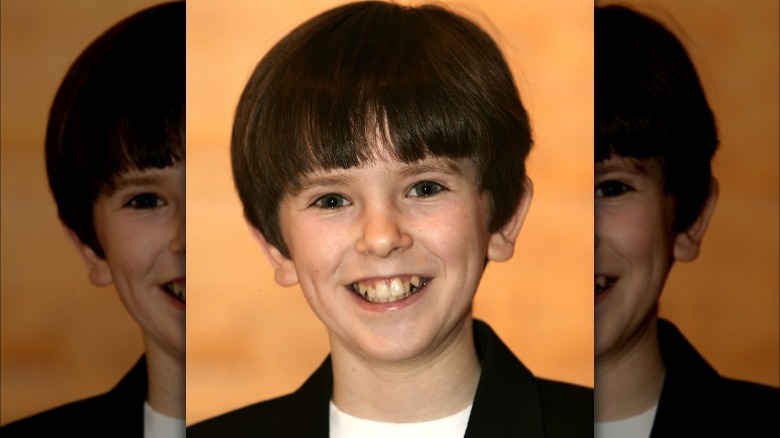 Dave Hogan/Getty Images
Freddie Highmore may be known for playing Dr. Shaun Murphy on "The Good Doctor" now, but the actor started building his career from a very young age. In 2004, Highmore starred alongside Kate Winslet and Johnny Depp in "Finding Neverland," which tells the story of the real-life inspiration behind J.M. Barrie's "Peter Pan." The role helped put Highmore on the map as an up-and-coming young star to watch, and it wasn't long before he was on the big screen once again. The following year, he scored the role of Charlie Bucket in Tim Burton's glitzy adaptation of "Charlie and the Chocolate Factory," which saw him reunite with Depp. Playing the lead in such an iconic film was a landmark moment for Highmore, and proved that he was a future A-lister in the works.
Subsequent roles in 2008's "The Spiderwick Chronicles," 2009's "Astro Boy," and 2009's "Arthur and the Great Adventure" further showed that Highmore was an in-demand actor building a respectable body of work. By 2013, he had scored the part of Norman Bates in "Bates Motel," a reimagining of the "Psycho" story, positioning himself as a leading actor with incredible range. His commitment to building an acting career from such a young age undoubtedly made Highmore the talent he is today, and allowed him to make important decisions about the projects he wanted to take on in the future.
Freddie Highmore's mom is his agent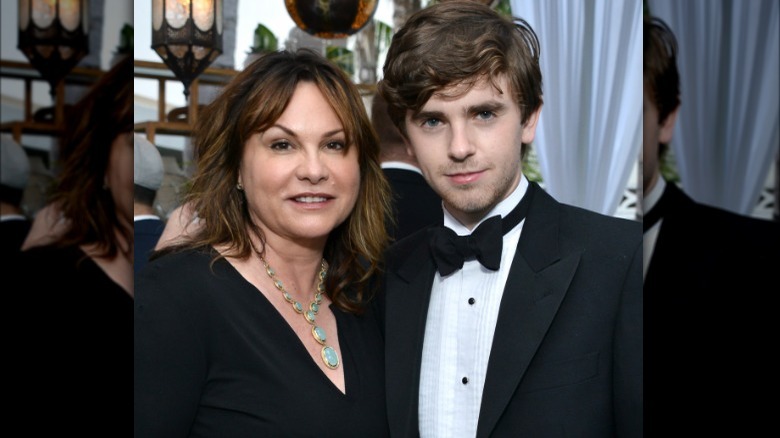 Araya Doheny/Getty Images
One of the reasons Freddie Highmore has been able to remain in control of his career is because his mom Sue Latimer is a respected Hollywood agent. A 2010 interview with The Independent revealed that Latimer counted "Harry Potter" icon Daniel Radcliffe and celebrated British actor Imelda Staunton amongst her clients. "It's very nice having my [mom] as my agent," Highmore told The Independent. "You know that she's always doing what's best for you."  
As a child, Highmore's acting career was somewhat of a family affair. "[T]he roles I take have always been family decisions," he told The Independent. "That might change a bit now with me leaving home, but before, it would affect the whole family ... My dad usually comes out with me and my mum usually stays with my brother, so it's quite a long time to split up the family." With the support of his entire family behind him, Highmore was able to carve out an incredible career while he was still young. And as his mom is a talented agent, known to represent some of Hollywood's biggest talent, Highmore had the best possible advisor on his side from the very beginning.
School and university helped Freddie Highmore stay grounded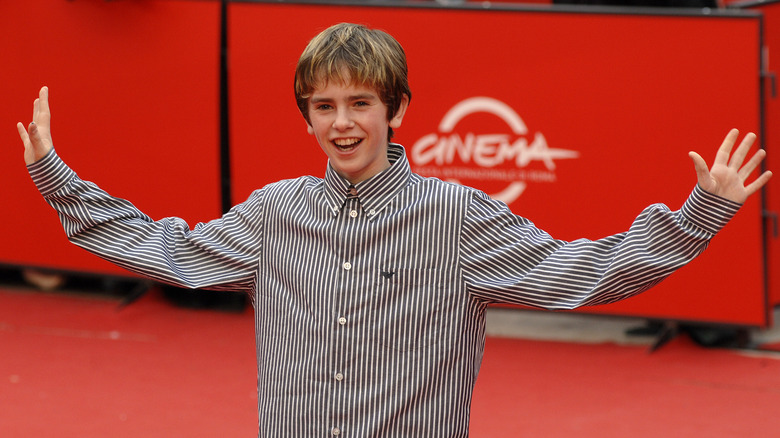 Frippitaun/Shutterstock
While Freddie Highmore experienced the inner trappings of Hollywood at a young age, he was able to remain grounded by staying in school and getting an education. Speaking to the Evening Standard in 2017, Highmore credited a normal upbringing for his acting success, and for helping him avoid some of the pitfalls that usually befall young stars. "I think the distance from it as well with school and university allows you to see the illusions or see through them more so than if that's your reality," Highmore said. He also said that the fact he lived in London helped him live a normal life, away from distractions.
Discussing his time at Highgate School, Highmore told The Independent, "It was nice to keep the same friends. You spend a few months away every year, but when you go back it would be the same people, rather than having to make new friends. They didn't really see you differently." As he was able to return to the same school in between acting jobs, Highmore seemingly didn't experience too much disruption in his day-to-day life, despite pursuing a successful acting career.
In 2014, the actor's publicist announced, via Belfast Telegraph, "Freddie Highmore has just received a double first from Cambridge University in Spanish and Arabic." Highmore's publicist also noted that the actor completed his studies while working on "Bates Motel," proving that he's a true multitasker. 
Helena Bonham Carter has played Freddie Highmore's mom several times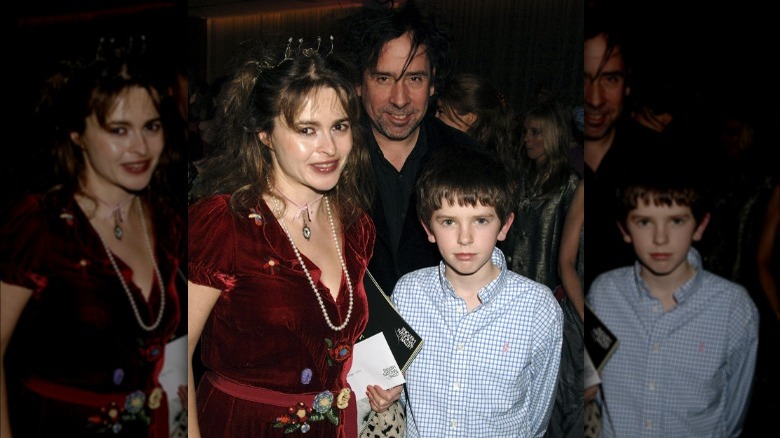 Dave M. Benett/Getty Images
Throughout his career, Freddie Highmore has had the opportunity to work with some incredible actors. As well as collaborating with Johnny Depp more than once, Highmore has worked with Helena Bonham Carter on several occasions, and it seems that the pair developed a sweet rapport as a result. 1999's "Women Talking Dirty" marked the first time that Highmore worked with Carter, and it was also his feature film debut. In the movie, Carter played Highmore's mother, and it wasn't the last time she did so. Carter also played the young star's mother in 2005's "Charlie and the Chocolate Factory," which was directed by Tim Burton, and in 2010 TV movie "Toast," which was based on the memoirs of chef Nigel Slater.
Speaking to The Independent about reuniting with Carter for the third time in "Toast," Highmore said, "It is very funny to go through your life with her as your [mom] every so often. This time she's the nasty [stepmom]. It was a bit of a change." Highmore also joked about having to pretend he didn't like Carter in "Toast," telling The Independent, "Obviously, when you get on so well with someone and then you have to dislike them on set..." Clearly, the pair built a special bond early in Highmore's career, which will hopefully continue.
He likes the 'uncertainty' of acting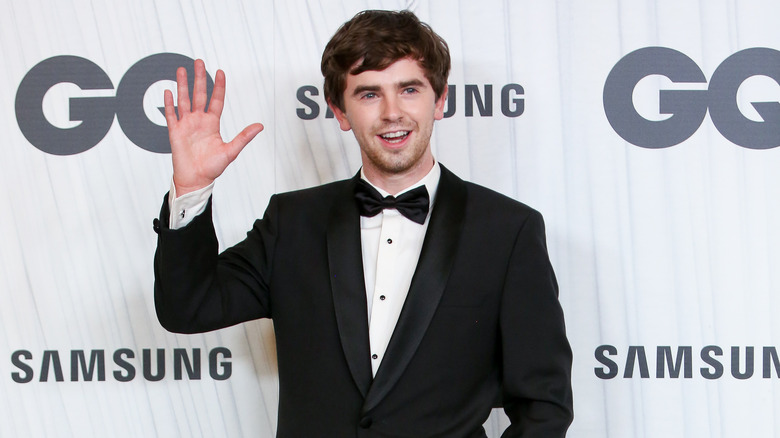 Pablo Cuadra/Getty Images
Throughout his career, Freddie Highmore has proven himself to be a dextrous actor with an impressive range, playing everything from a serial killer in "Bates Motel" to an autistic doctor in "The Good Doctor" to lending his voice to Pantalaimon in 2007's "The Golden Compass." During his 2017 interview with the Evening Standard, Highmore opened up about what he likes most about acting. "I think it is exciting that there's a sense of uncertainty about what I'm going to be doing next and what's going to come up before the end of the year, or not, and a lot of it isn't even in your hands," he told the publication.
Having worked on both "Bates Motel" and "The Good Doctor," Highmore is well-acquainted with the rigors of filming a popular TV show, too. "[T]here is a stability that, having done TV, gives you and without that there is a lack of structure and I'd imagine that you would crave after a couple of years of unstructured life to settle down," he told the Evening Standard. While a certain level of uncertainty may be what drives Highmore forward, he's also realistic about the need to balance his personal life alongside the demands of some acting jobs, which is refreshing.
He loved playing Norman Bates in Bates Motel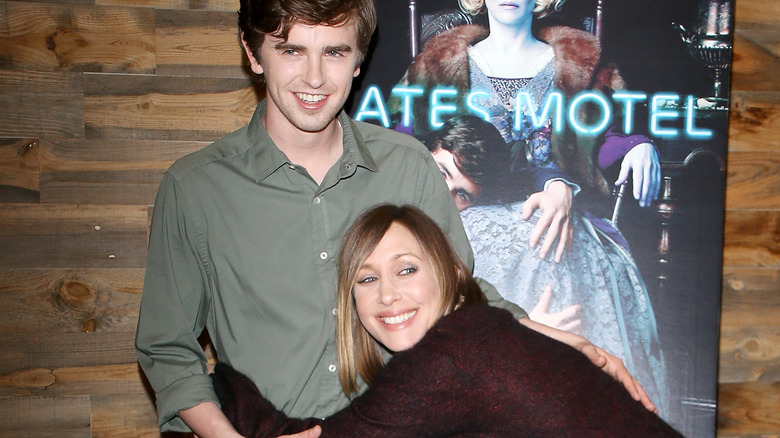 Michael Tran/Getty Images
Between 2013 and 2017, Freddie Highmore portrayed Norman Bates on the TV show "Bates Motel." Highmore took over the iconic role from Oscar-nominee Anthony Perkins, who played Norman in Alfred Hitchcock's "Psycho" in 1960 and in three subsequent sequels. As a result, the "Charlie and the Chocolate Factory" star likely felt a certain amount of pressure in portraying a young version of the character immortalized onscreen by Perkins. However, Highmore was able to individualize Norman Bates, bringing his own take on the troubled character to life.
Perhaps most importantly, Highmore made sure to bring a lot of humanity to his version of Norman Bates, something that Perkins was also renowned for. In an interview with The Last Magazine, Highmore explained, "I love Norman and I think he's very nice as a person ... He undeniably killed some people, which is unfortunate, and the argument is maybe best saved about whether or not it's his fault. Who knows?" Despite having to act out some truly heinous acts of murder, Highmore found a way to connect with Norman Bates, which clearly resonated with fans as "Bates Motel" ran for five seasons.
He made his television writing debut on Bates Motel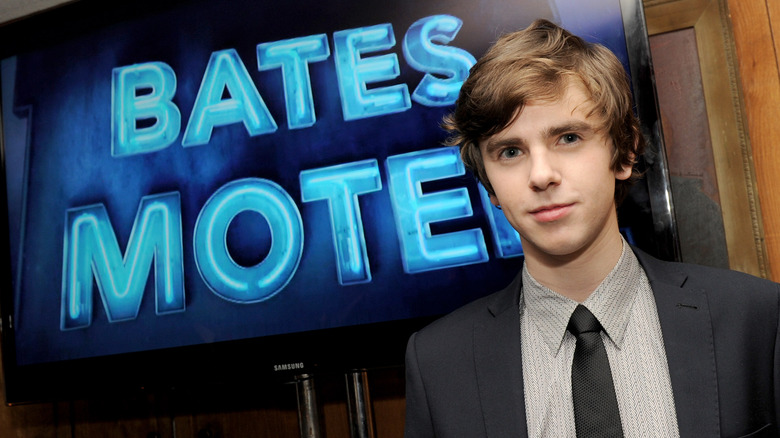 Kevin Winter/Getty Images
Freddie Highmore took his career to the next level in 2016 when he made his TV writing debut with Season 4, Episode 8 of "Bates Motel." Discussing Highmore's screenwriting, Vera Farmiga, who portrayed Norman Bates' mother on the show, told Deadline, "... for a 24-year-old man to jump into the skin and the psyche of a 42-year-old woman, and the position she's been in, takes a heck of a lot of balls and imagination and risk and empathy. It blows me away that he could do that." She continued, "I'm not going to say that I wasn't surprised. I was actually sweating it for him. He's a kid. He's a baby. And he did an outstanding job." It would seem that Highmore is just as talented at writing as he is at acting.
The "Almost Friends" actor received a story by and teleplay by credit on the seventh episode of Season 5 of "Bates Motel," and his made his directorial debut with Season 5, Episode 8 of the show. Since then, Highmore has written an episode of "The Good Doctor," and directed four episodes of the show in which he is also the lead star. Clearly, Highmore has a penchant for writing and directing, and we'll hopefully see more of his work as his career progresses.
Freddie Highmore has sold multiple pilots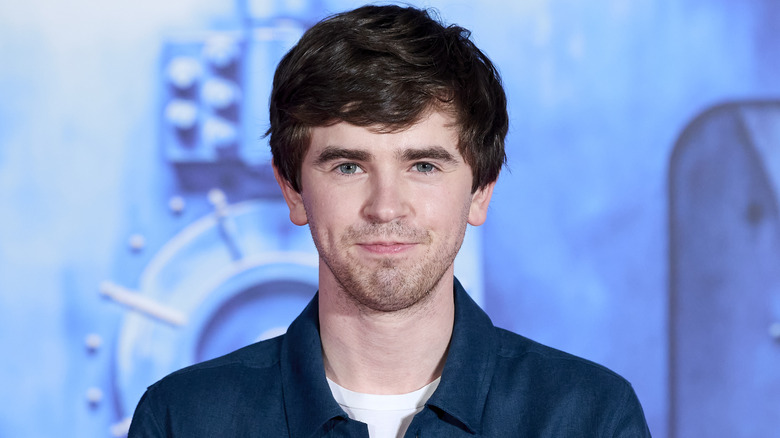 Carlos Alvarez/Getty Images
It appears as though Freddie Highmore caught the writing bug after penning an episode of "Bates Motel." In 2016, it was reported that Highmore had teamed up with Kerry Ehrin, the executive producer of "Bates Motel," to co-write a new pilot called "Baby Face," which they sold to A&E. The show was set to be based upon the life of career criminal Baby Face Nelson, real name Lester Gillis, a Chicagoan gangster and infamous bank robber. Unfortunately, there's been no news regarding the pilot since 2016, suggesting that it simply never made it to series.
In 2017, Highmore joined forces with Ehrin once again to develop another pilot, this time for NBC. The second show was set to be called "Long Distance," and would have explored the challenges of being in a relationship with someone that lived in another country. Sadly, "Long Distance" also didn't make it to air. However, Highmore's creativity and ability to sell pilots to major networks shows that he's a multi-hyphenate talent in the making.
He got married to a 'wonderful woman'
In September 2021, Freddie Highmore appeared on "Jimmy Kimmel Live" and revealed that he'd gotten married. Showing off his wedding ring, Highmore said, "Yes, I got married. It's funny — ever since I've been wearing this ring, people have been asking me if I'm married, so I figured I should clarify it." He then cheekily referenced Tom Cruise's 2005 interview with Oprah Winfrey in which the "Mission: Impossible" starred jumped on a couch while expressing his excitement about being engaged to Katie Holmes. "I'm not going to jump up and down on the couch on the talk show and express my excitement that way," Highmore joked to Kimmel. "I know that you do that in America. But I'm as happy as a Brit can be and I'm married to a very wonderful woman now. So yes, I feel very happy."
According to Hello! magazine, Highmore's wife is reportedly a web designer called Klarissa Munz, and the pair allegedly met while both studying at Cambridge University. While Highmore is yet to confirm the identity of his wife, he certainly seemed happy about his recent marriage during his appearance on "Jimmy Kimmel Live," which was adorable to see.
He's proud to represent autism on The Good Doctor
In 2017, Freddie Highmore took on the role of Dr. Shaun Murphy on "The Good Doctor," which was renewed for a seventh season in April 2023. Highmore's character on the show is a young surgeon at San Jose St. Bonaventure Hospital, who also lives with autism and savant syndrome, in which a person has genius-level skills as a result of or in contrast to their disabilities. In real life, Highmore doesn't have autism, but the actor is proud to play a character with the developmental disability. "I'm constantly learning," he told Digital Spy in 2019. "Aside from continual research, or working with the consultant that we have, I'm also talking to people who feel that they have a personal connection to the show through autism, and are pleased or thankful that the show is seeking to raise awareness in that way."
It's important to note that there has been some pushback from the autistic community regarding the portrayal of the condition in "The Good Doctor." However, it's clear that Highmore endeavors to make his character as accurate as possible, telling ABC's "Popcorn with Peter Travers," "And just because Shaun has autism, that doesn't mean he's not going to grow and change as a person. And so I guess one of the things I'm most proud of, over these first couple of seasons, is that we've managed to show how he is progressing and learning."
Freddie Highmore worked hard to perfect his character's mannerisms
As Freddie Highmore plays a character with autism on "The Good Doctor," he spent a lot of time preparing for the role, in order to make Dr. Shaun Murphy as true to life as possible. In an interview with the Los Angeles Times, Highmore revealed, "The way Shaun holds his hands is something that makes him stand out. For me, that came from two places. Kids with autism [used to be] encouraged to clasp their hands together in order not to stim, [a term describing repetitive movements or sounds]." 
He continued, "Surgeons, in an operating room, consider the front of the body as sterile and often stand in this position [Highmore holds his hands in front of him and above his waist] to keep their hands sterile. So that particular mannerism is sort of half something that's a trauma, that's been forced upon him and is also something that's natural for surgeons to do, so there's a comfort there too." The fact that Highmore considered the importance of his movements, including his character's inclination to stim, and what it means to be an autistic surgeon, proves just how committed he is to making "The Good Doctor" as realistic as possible.
He almost became a lawyer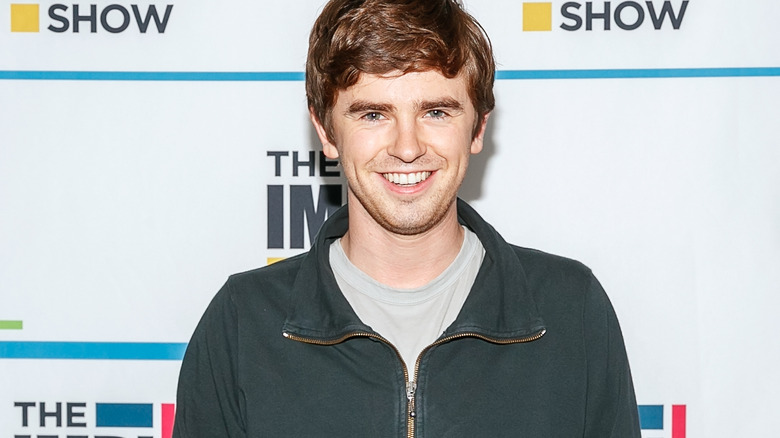 Rich Polk/Getty Images
Freddie Highmore developed a successful acting career, beginning when he was still just a young child. However, his career could have gone in a very different direction, taking him away from the entertainment industry altogether. While he was studying Arabic and Spanish at Cambridge University, Highmore had the opportunity to work at a law firm, revealing to The Last Magazine that he easily could've pursued a legal career instead. "Maybe in another life or maybe in the future I'll end up doing that," he told the publication. 
Carlton Cuse, the showrunner of "Bates Motel," noted Highmore's diverse interests, telling Deadline, "I also never had an experience where the lead actor of a television series spent the summer between seasons of the show working at a law firm in Madrid, translating documents from Spanish to English." Cuse also joked, "Freddie's a renaissance man, and I like to joke with him that I think he's secretly in MI6, because he speaks fluent Spanish and fluent Arabic, and went to Cambridge." While Highmore may change careers at a later date, it's clear that he's massively talented when it comes to acting, writing, and directing. His language skills and his interest in the law will likely influence the work he takes on in the future, and fans are sure to be excited to see what the "Toast" star does next.