Before Tish Cyrus, Dominic Purcell Dated A Star The Same Age As Her Daughter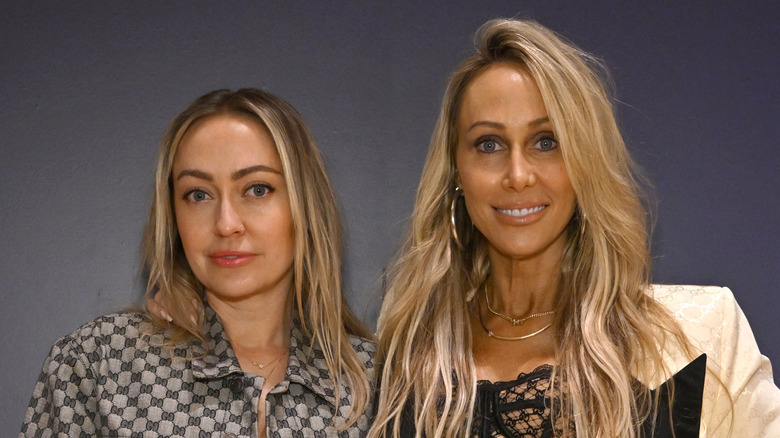 John Sciulli/Getty Images
Tish Cyrus was married to Billy Ray Cyrus for nearly 30 years before they announced plans to divorce in April 2022 — and her new man dated a star the same age as her daughter. In a statement, the exes told People, "It is after 30 years, five amazing children, and a lifetime of memories, we have decided to go our separate ways — not with sadness, but with love in our hearts." The former couple added that they raised a family they were proud of. That family includes their kids Miley, 30, Braison, 29, and Noah, 23, along with Brandi, 35, and Trace, 34, who are Tish's children from a previous relationship with Baxter Neal Helsen.
One year after her split from Billy Ray, Tish, 55, announced her engagement to "Prison Break" actor Dominic Purcell via an Instagram post that featured a shot of her diamond ring. Purcell was previously married to Rebecca Williamson, and they have four kids together: Joseph, 24, Audrey, 22, and twins Lily-Rose and Augustus, 20.
After 30 years with the "Achy Breaky Heart" singer, a source told Us Weekly that Tish finally found her match with Purcell. "She truly feels like she found her soulmate," the insider said. But Purcell, 53, had another soulmate before Tish –- and she was the same age as her oldest daughter.
Dominic Purcell dated AnnaLynne McCord for years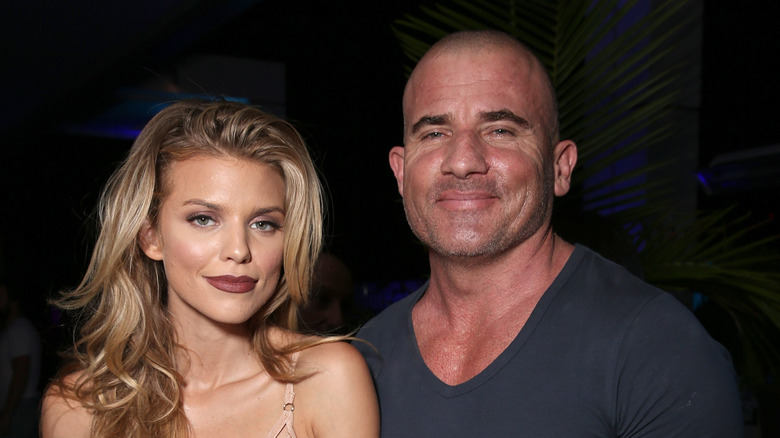 Todd Williamson/Getty Images
Years before he began his relationship with Tish Cyrus, Dominic Purcell was in a relationship with fellow actor AnnaLynne McCord. The couple had a nearly 20-year age gap — Purcell was 41, and McCord was 23 when they met — and they dated on and off for almost 10 years, according to the Daily Mail.
In a 2021 interview with Giddy, McCord described Purcell as her "forever person," even though they were no longer together. The "90210" star revealed that after she experienced trauma from sexual abuse, it was Purcell who broke down her walls. "It took a big, strong, angry Aussie," she said. "I trusted no masculine energies. I trusted no men. ... He changed everything." After one of their breakups, McCord was by Purcell's side when he underwent treatment for skin cancer. In a 2016 interview on the "Allegedly" podcast with Theo Von and Matthew Cole Weiss, McCord even joked that she once told Purcell, "I gave up all my 20s for you!"
McCord was born on July 16, 1987, which is less than two months after Tish Cyrus gave birth to her daughter Brandi in Nashville, Tennessee. But Brandi doesn't seem to have an issue with her mom's future husband. In January 2022, E! News revealed that Brandi celebrated with Tish and Purcell at the Santa Monica Proper Hotel in Los Angeles in celebration of Miley Cyrus' hit song "Flowers."
AnnaLynne McCord once said she would marry Dominic Purcell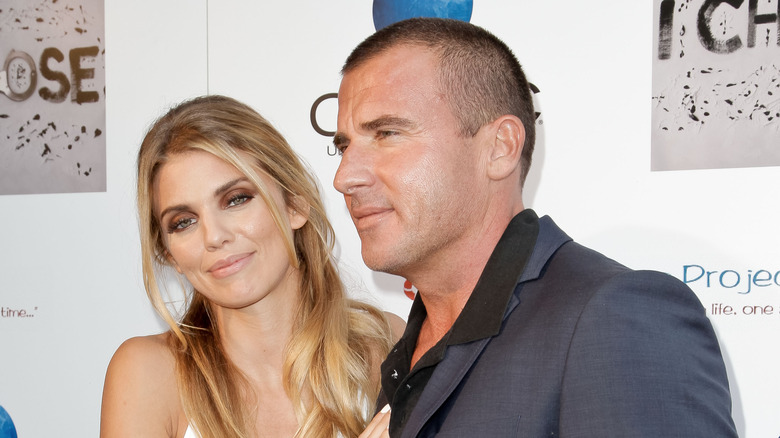 Tibrina Hobson/Getty Images
When she was dating Dominic Purcell, AnnaLynne McCord told the "Allegedly" podcast that she was in no rush to get married and that most of the pressure came from everyone else around her and her then-beau. But she added, "If the question is asked, I will definitely say yes."
That never happened, but as recently as 2020, McCord's relationship with Purcell had been rekindled. In a November 2020 Instagram post, she shared a series of collages of her and the actor as she thanked him for sending her flowers. "Thannnnnk you, My Love!!! [Dominic Purcell] has always been a man of few words, but that's okay because I prefer affection anyway!!" McCord wrote. "So infinitely grateful to be your woman. In this lifetime and all the rest," she added.
By 2021 the two had split again –- this time for good. But in her interview with Giddy, McCord hinted that Purcell would always be a part of her life. "We're not together, [but] we're family is what it is now," she said at the time.