What Cardi B's Relationship With Offset's Other Children Is Really Like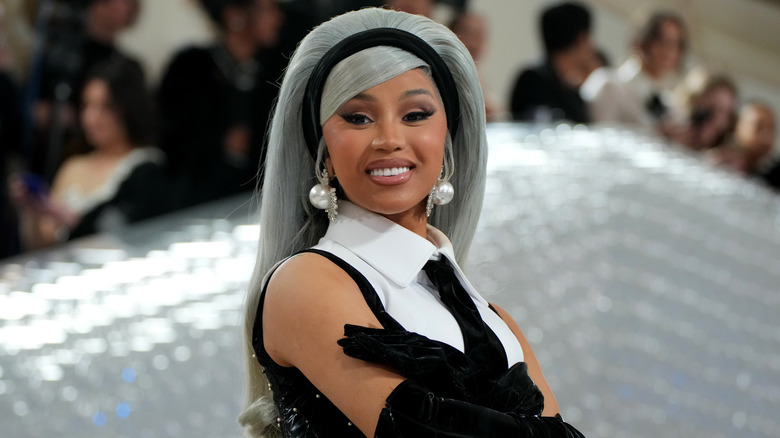 Jeff Kravitz/Getty Images
Cardi B and Offset have weathered many storms and come out the other side during their tumultuous six years together, mainly thanks to her tenaciousness and patience. Per Billboard, the rapper, whose real name is Belcalis Almanzar, gave birth to the couple's first child together, daughter Kulture Kiari Cephus, in July 2018. During the 2021 BET Awards, Cardi announced she was expecting her second child with the Migos rapper.
In September, she revealed they'd welcomed a little boy. However, fans had to wait until April 2022 to learn what he was called. Cardi finally revealed her son's name to the world — actually, Offset did by posting an Instagram photo (via Sky) of his youngest son looking suitably gangsta baby with a thick chain around his neck. "Wave Set Cephus," he captioned the pic.
Since she first burst onto the scene, Cardi's come under fire from the self-appointed morality police. They've deemed the former adult dancer a terrible role model who should be nowhere near kids. "She used to be a stripper (also not a good thing). Her intelligence is extremely low, and anybody who tries to do what she has done will end up with a terrible future. Hide her from your children, please," one totally outraged and judgemental Quora commenter wrote after ranting about (admittedly hugely problematic) remarks she's made. Well, haters always gonna hate, and ultimately Cardi proved them all wrong by being a great mom. But what's Cardi B's relationship with Offset's other children like?
Meet the Almanzar-Cephuses
There are a few strange things about Cardi B and Offset's relationship — but that's true for all couples. Still, per Billboard, things are pretty hectic even by rap world standards, with relationship denials, $60,000 diamond-encrusted chains, cheating rumors, $500,000 rings, a secret marriage, a divorce filing, babies, and lots of baby mommas. So, what's Cardi's relationship with Offset's other children like? Y'all can rest easy knowing that, apparently, Cardi is like a modern-day "WAP" June Cleaver.
Luckily, both rappers have plenty of experience with blended families. Offset told Essence he's one of three siblings, all with different dads. Meanwhile, Cardi has six siblings from her dad's past relationship, putting them both in good stead for loving and accepting family, blood or no blood. Cardi and Offset, whose birth name is Kiari Kendrell Cephus, have a daughter and son, Kulture Kiari and Wave Set Cephus. Then he has another daughter Kalea, and two sons Kody and Jordan Cephus, from previous relationships.
"It's a blessing to be able to have them all together, and to have a wife who's open and treats them as if they're her kids," Offset admitted. "It could be an issue, but I don't have to go through that, and that's beautiful." Cardi waited until she married Offset to meet his kids. "I always wanted them to love me, and they really do," she said. "They tell me that. I feel it, and I hope that we always have a great relationship."
She knows what a girl likes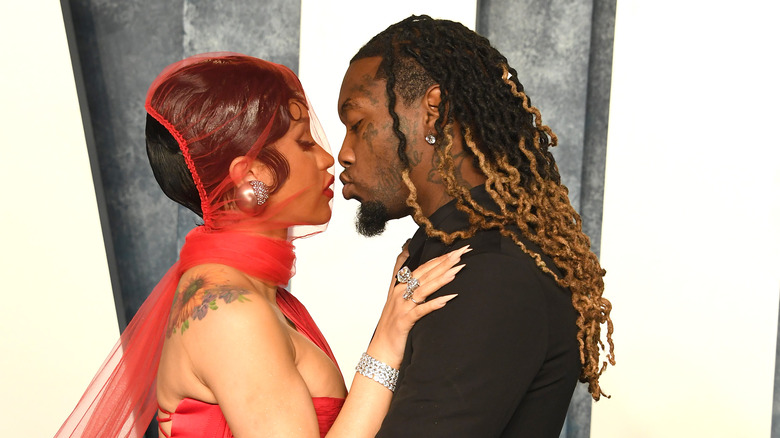 Steve Granitz/Getty Images
Cardi B and Offset have had a hard time of it ever since they started dating. Proving that people can be the absolute worst, Cardi had to make her daughter's Instagram private because of all the troll spewing. "We went through a lot of sad things when it comes to Kulture — terrible behavior that not even the older kids have ever been through," Cardi told Essence. "So many people will post mean, disgusting things."
But then, Cardi's used to being judged, scorned, and slammed. Per The Washington Post, the morality police were out in force again in March 2023 after the McDonald's Corporation announced Cardi as their latest celebrity endorser. People were outraged as they determined she didn't uphold McDonald's "family-friendly values." As if stuffing your kids with deep-fried junk food that contains at least ten proven toxic ingredients, per Organic Consumers Organization, is friendly to anyone or anything except corporate profit margins.
However, Cardi usually manages to block out the noise and concentrate on what truly matters in life. "I love you so much, and I'm so proud of you. We have overcome so much together. I love the man that you're becoming, and I love the father that you are," she wrote in a birthday celebratory post to her man, along with some adorable video clips featuring Offset busting out with some of his best daddy maneuvers.