Is Martha Stewart In A Relationship?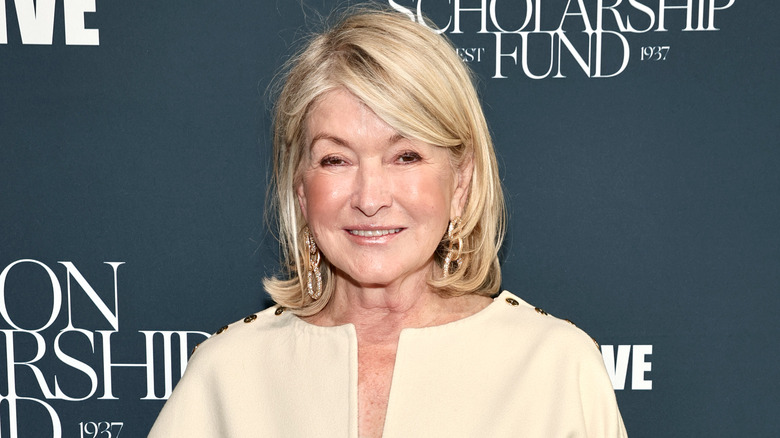 Jamie Mccarthy/Getty Images
Martha Stewart knows a thing or two about long-term relationships. After all, the television personality was married to publisher Andrew Stewart for 29 years. However, as Martha became increasingly well-known, conflict arose in their relationship. Tensions escalated further when Andrew moved out in 1987 and procured a court order that prohibited Martha from having further communication with him. The former couple, who shares a daughter named Alexis, finalized their divorce in 1990. In a 1995 cover story for People, Martha shared, "The life that I had is over. And what has taken its place is better."
Since her divorce, Martha has dated a handful of famous men. According to She Knows, the businesswoman has had a brief fling with Anthony Hopkins, as well as an on-and-off relationship with software architect Charles Simonyi for 15 years. In a 2021 appearance on "Watch What Happens Live with Andy Cohen," Martha gave the inside scoop on her date with Larry King. She dished, "Larry King was not my type romantically... if you get what I mean. But he was a very nice man." While fans of the entrepreneur are well aware of her romantic history, one question remains: Is Martha currently in a relationship?
Martha Stewart isn't prioritizing men
Taylor Hill/Getty Images
As far as the current status of her romantic life, Martha Stewart isn't pressed to be in a relationship. In March 2023, the business mogul spoke to E! Insider about what she seeks in a partner. She said, "I know a lot of eligible men. I think they really want a woman who will take care of them, so I'm still not quite in that position that I can take care of a man full-time because I work too much." She explained that work is more important to her than romance, adding, "I have a hard time making room for both, and it's not the highest priority that I have a boyfriend right now, but it would be nice!"
However, Stewart dropped some juicy hints about her personal life back in December 2021. In an episode of "Watch What Happens Live with Andy Cohen" (via People), Stewart shared that "quite a few" celebs slid into her direct messages following her 2020 "thirst trap" post on Instagram, where the star stunned in a casual shoulders-up selfie in the pool. While those exchanges didn't result in any dates, she admitted that she was seeing someone. When Cohen asked her if she had a new beau in her life, Stewart replied, "No," before adding, "I shouldn't say no. I mean yes, but I'm not going to tell you."
Martha Stewart still has some men on her mind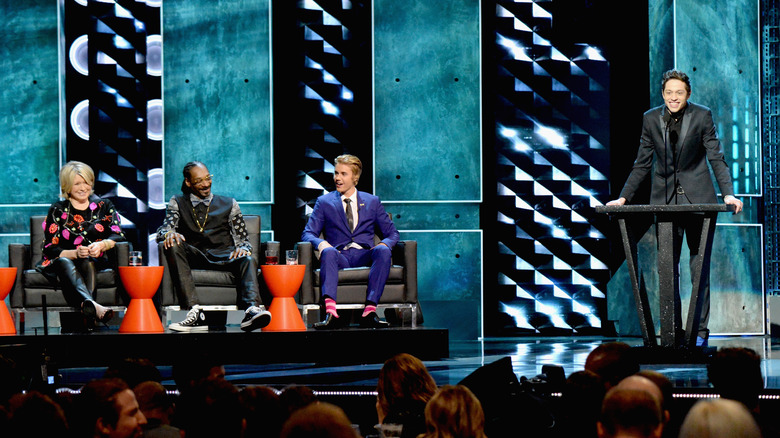 Jeff Kravitz/Getty Images
While Martha Stewart hasn't gotten serious with anyone lately, she has confessed her crushes. In a 2022 appearance on "The Drew Barrymore Show," Stewart said, "I'm single for like 30 years." She added, "I'm not proud of it." While she admitted that she isn't prioritizing dating, she mentioned that she missed the fun of it all. Then, the mogul revealed her dating preferences in a game called "red flag (for no), yellow flag (for maybe), green flag (for yes)." When Drew Barrymore tossed out the hypothetical statement, "Your date is Pete Davidson," Stewart didn't hesitate to hold up a green flag. Barrymore brought up how "there's a thing on the internet" where fans have expressed their desire for her to date the comedian. However, Stewart noted, "He's like my lost son."
That same year, Stewart divulged that she had her eye on a couple of men. Yet, unfortunately, they weren't on the market. In an episode of Chelsea Handler's podcast "Dear Chelsea," Stewart said, "I had two mad crushes in the last month, which is really good for me. But it turns out, you know, one of them is married to the mother of some friends of mine, and I just — he's so attractive." She joked, "I always think, oh gosh, couldn't that person just die." Handler asked, "The wife?" to which Stewart replied, "Yeah! Not — not painfully. Just die ... but it hasn't worked out."