Chad Lowe Found Love With Wife Kim Painter After His Divorce From Hilary Swank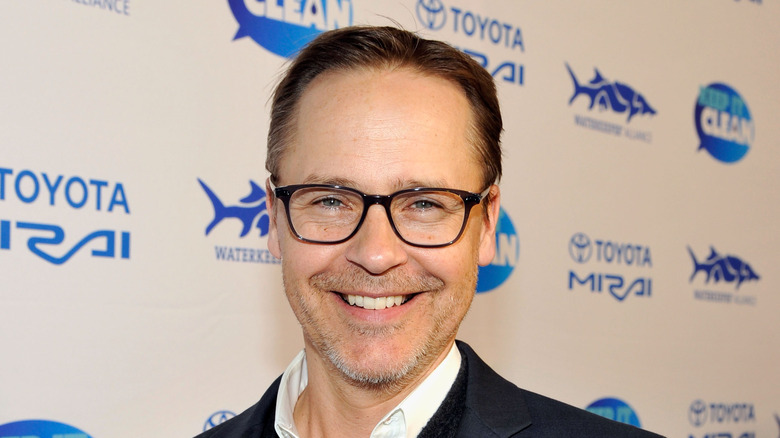 John Sciulli/Getty Images
Chad Lowe and Hilary Swank were one of the biggest couples in Hollywood when they started dating in the early '90s and married in 1997. The two were already established actors but it was the 1999 film "Boys Don't Cry" that earned Swank her first Oscar award for best actress. Swank made a huge faux pas when she forgot to thank Lowe during her speech, which caused many to speculate on their marriage. When she won again for "Million Dollar Baby" in 2005, she made sure to thank her husband.
In 2006, however, Lowe and Swank announced that they were getting a divorce. Swank later revealed in a 2006 interview with Vanity Fair that Lowe's substance abuse was a major reason for the breakdown of their marriage. "When I found out, it was such a shock because I never thought he'd keep something from me. And yet, on another level, it was a confirmation of something I was feeling that was keeping us from being completely solid," she revealed. Lowe wasn't too happy to have his addiction outed by his ex-wife. "I was disappointed that details of our relationship became kind of public fodder. I've been sober for three and a half years, and I'm very grateful for that," he shared with "Extra" (per CBS). However, he shared that he was grateful for Swank's support. 
After his divorce, Lowe has since moved on and he is now happily settled with his wife of over 10 years.
Chad Lowe and Kim Painter got married after three years together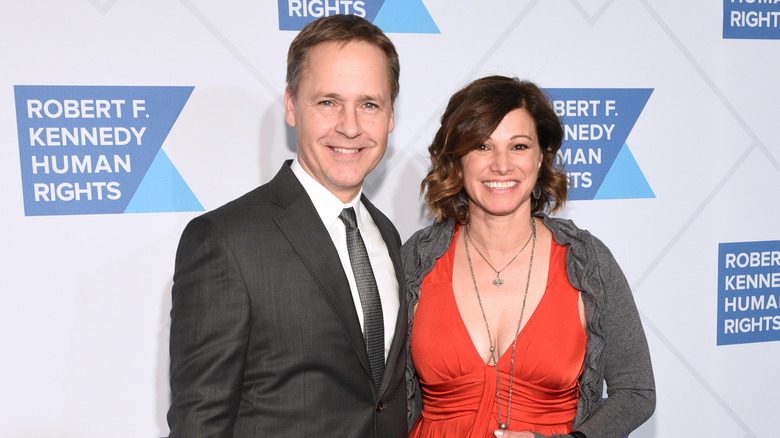 Mike Pont/Getty Images
Chad Lowe proves that life goes on after divorce. The actor-director began dating film producer Kim Painter in 2007 and the two got married three years later in a ceremony in Los Angeles. Their 15-month-old daughter at the time, Mabel, acted as their ring bearer. 
On June 25, 2012, Lowe announced, "My wife @ikimlowe and I are expecting our second child this fall! We are beyond thrilled and excited!" The following November, Chad and Painter welcomed their second daughter, Fiona Hepler Lowe. "It's a girl!!! And she's as beautiful as her mommy (@ikimlowe) & big sister Mabel!! We are blessed!" Lowe tweeted. Just a week before the birth of Fiona, Lowe revealed to Us Weekly, "It's a very special time. I'm excited and [our 3-year-old daughter] Mabel is super excited. We've been waiting for this!" 
On working in Hollywood while raising young kids, Lowe shared, "The most important thing, I think, is being present when you're with your family and not distracted by work or outside influences. I just really try to be present in all the moments when I'm with my daughter and my wife, and I've been very lucky because I get to be around a lot." It's a good thing that the "Pretty Little Liars" star can pick and choose his projects because his family has grown by one more since the arrival of his second daughter.
Chad Lowe and Kim Painter have three kids together
Three seems to be Chad Lowe and Kim Painter's lucky number. In December 2015, he revealed that he and his wife had another baby on the way. "My wife @ikimlowe and I are thrilled to announce that our family is growing! Baby number 3 due this spring! #Blessed!" he tweeted. He later told People, "We are so thrilled that our family is growing. Mabel and Fiona can't wait to be big sisters ... Kim and I are studying up on zone defense!" In March 2016, Lowe and Painter welcomed their third daughter. "Nixie Barbara Lowe has arrived! We're now officially outnumbered and we couldn't be happier!" Lowe shared on Instagram.
Lowe seems to be a doting husband and father and often shares pics of his wife and kids on social media, including trips and special days for the family. On August 28, 2022, he celebrated a milestone with Painter. "12 years, 3 kids, still got it! Happy Anniversary baby! Love you @kimlowe," he wrote while sharing a pic of the two together. The "9-1-1: Lone Star" director more recently shared a touching tribute to Painter for Mother's Day 2023. "Happy Mother's Day to the raddest momma ever!! You are so loved and appreciated," he gushed.