Farrah Abraham Charged With Battery, Could Face Jail Time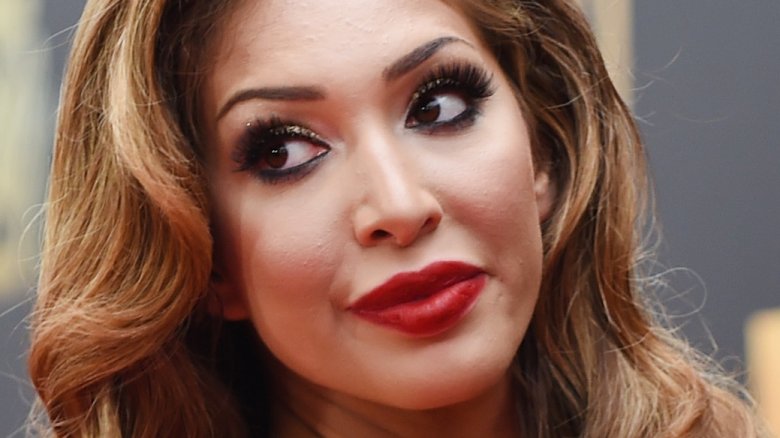 Getty Images
Teen Mom star Farrah Abraham could wind up behind bars if found guilty of charges stemming from a June 2018 arrest.
On Monday, July 16, 2018, the L.A. District Attorney reportedly told People magazine that Abraham has been charged with one misdemeanor count of battery as well as a misdemeanor count of resisting, delaying, or obstructing a peace officer. She's scheduled to appear in court for an arraignment on August 13, and, if convicted, she could spend up to 18 months in jail.
A source told E! News that the charges were "fake news" and that Abraham plans to plead not guilty.
As Nicki Swift previously reported, Abraham was arrested on June 13, 2018, after she allegedly got into a fight with a Beverly Hills Hotel employee. At the time, she'd reportedly been asked to leave the hotel after engaging in a verbal altercation with guests and a security guard. Refusing to leave, Abraham then allegedly struck the employee "in the face with her forearm, grabbed his ear and pushed his head as he tried preventing her from reentering the hotel" (via TMZ).
When police arrived on scene, Abraham, who reportedly appeared to be intoxicated, allegedly told them, "You should know who I am." She was arrested and booked for misdemeanor battery and trespassing. TMZ obtained video footage of Abraham in police custody. In the video, which does not capture the alleged fight between Abraham and the hotel employee, the reality TV star can be heard berating officers and crying.
According to People, the hotel employee "sustained minor injury and was not transported to a hospital."
Sharing a screenshot of TMZ's story about her arrest, Abraham later addressed the incident on Instagram with her 1.3 million followers. "No charges & no jail time, I chose this life and I handle being targeted as a public figure & public punching bag," she wrote, in part. "Happy it's all recorded and documented as I should never feel unsafe and be targeted at a hotel I'm staying at."
After calling the Beverly Hills Hotel out for their alleged mistreatment of her, she also criticized the police, writing, "The Beverly Hills Police officers should stop having power trips and lying and selling stories to TMZ, while you let all of Beverly Hills be robbed, car break ins, stealing go on... focus on really protecting the public and doing good for Beverly Hills instead of creating made up problems."