A Look At Lily-Rose Depp's Relationship With Her Mom Vanessa Paradis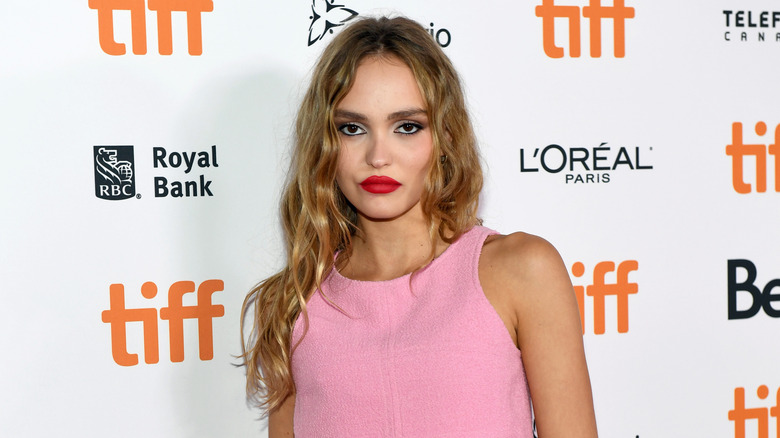 Sonia Recchia/Getty Images
Actor and model Lily-Rose Depp is perhaps best known for being the daughter of actor Johnny Depp. But as it turns out, Lily-Rose's mother, triple-threat singer, model, and actor Vanessa Paradis, is just as talented and successful in her own right. "I do sometimes strongly hope that in a past life, my most recent life before this, I was absolutely horrible, evil, hideous. Because otherwise — well, hell, to even things up next time around, I'm going to have to pay for this one, am I not?" Paradis told The Guardian in 2010 about her success. And now Lily-Rose is following in her famous mother's footsteps, carving out a name for herself in the modeling and acting industries. 
Still, Lily-Rose is adamant that she's no nepo baby. "People are going to have preconceived ideas about you or how you got there, and I can definitely say that nothing is going to get you the part except for being right for the part," she told Elle when asked about the new hot-button term. "The internet cares a lot more about who your family is than the people who are casting you in things. Maybe you get your foot in the door, but you still just have your foot in the door. There's a lot of work that comes after that." 
But just how close are the mother-daughter duo? Here's everything we know about Lily-Rose's relationship with her mom.
Lily-Rose Depp grew up wanting to be just like her mom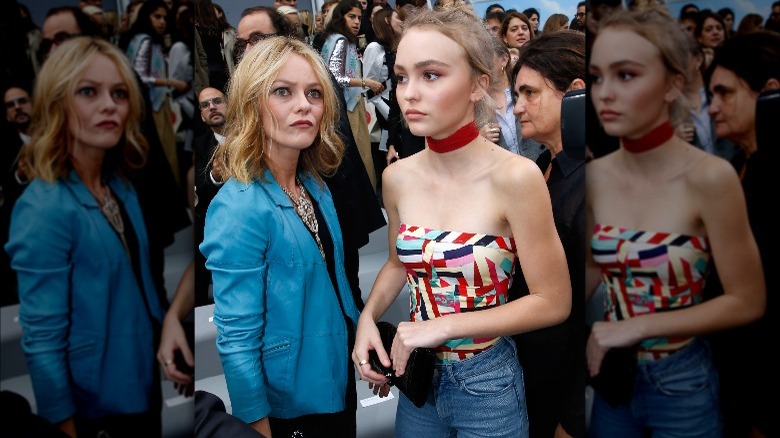 Rindoff/le Segretain/Getty
The apple doesn't fall far from the tree! "When I was little, I wanted to be a singer, just because I wanted to be like Mum. Every little girl wants to be like her mum," Lily-Rose Depp told The Sun in 2019 about her innate desire to be just like her mother, Vanessa Paradis. "I would try on all of her dresses and shoes, even though I was in diapers at the time," she recalled. "There's actually a picture of me in a diaper wearing Chanel pumps." 
Fast forward to the present day, and Depp admits she still tries to emulate her mother's iconic look and style. "Whenever I see old photos of her, I'm like, 'Ugh. That's what I look like in my dreams,'" Depp confessed to i-D in February. "She'll send me photos of her when she was younger, and say things like, 'We're twins.' And I'm like, 'You're so much prettier than me.' She's so beautiful." But make no mistake — the mother-daughter relationship that Depp and Paradis share goes much deeper than just the surface level. 
Vanessa Paradis taught Lily-Rose Depp how to be confident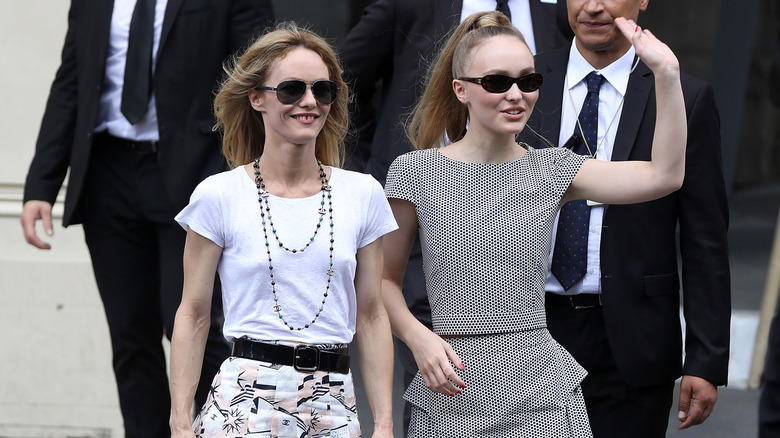 Pierre Suu/Getty Images
Vanessa Paradis didn't just teach her daughter the importance of a really great shoe (preferably Chanel, as both women are ambassadors of the French luxury fashion house). She also instilled a level of confidence in her impressionable daughter that is both admirable and inspiring. "My mum is a trailblazer, truly. She's taught me a lot about self-confidence," Depp told The Face. And as it turns out, Paradis is also responsible for Depp's can-do attitude while filming — including semi-nude scenes like the one she did in the 2018 French film "A Faithful Man." Depp says she's simply "not nervous bout stuff like that." She added, "I grew up being, like, topless on the beach. I was raised by a French mother who taught me that there was nothing shameful about your body."
But the life lessons didn't stop there. According to Lily-Rose Depp, it was her mother, Vanessa Paradis, who taught her how to be a well-rounded person with many facets and layers. "It was really cool for me and my brother to see our mom being the ultimate comforting and loving person, but also having such a rich, full life of her own, watching her go onstage and sing for thousands of people, and just be so in her own zone and in touch with herself and her art," Depp revealed during a candid interview with Elle. An excellent role model, indeed!