Miranda Kerr And Orlando Bloom's Son Flynn Was Named After Her Teenage Boyfriend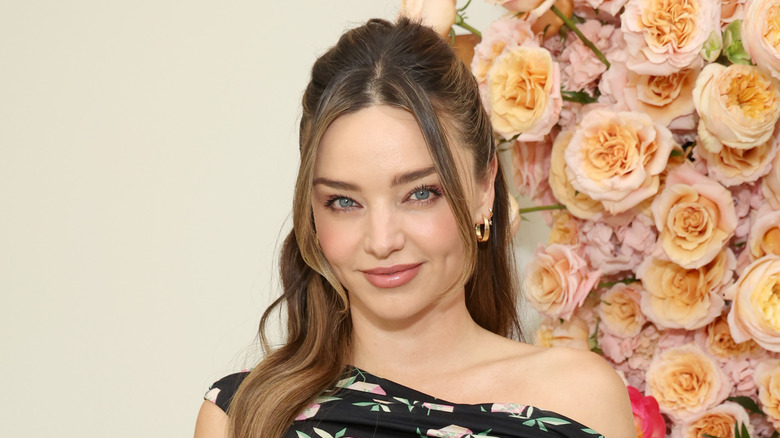 Phillip Faraone/Getty Images
Miranda Kerr might be one of the biggest supermodels of her time, but she's also a proud mother of three. The former Victoria's Secret Angel turned wellness pro shares two children with her husband, Snap CEO Evan Spiegel, to whom she's been married since 2017. Their first child, Hart, was born in 2018 and was named after Spiegel's grandfather, who is a prominent San Francisco lawyer, according to Page Six. Meanwhile, their second son, Miles, was born later in 2019. During an appearance on "Today," Kerr opened up about her two younger boys, describing Hart as a wild child. "My 2-year-old, he is wild. He's just full-on, like he's a man on a mission," she said at the time. "Apparently he's exactly like Evan was when Evan was a child." On the other hand, Miles "makes such a little cuddle bear," she said. "He's like a little koala," the KORA Organics founder gushed.
In addition to Hart and Myles, Kerr is also a mom to her son Flynn, whom she shares with her former husband, actor Orlando Bloom. She and Bloom have been co-parenting Flynn since the famous pair split in 2013 after three years of marriage. Born in 2011, Flynn was named after a special man in Kerr's life — her first love, Christopher Middlebrook, who died in a tragic accident when she was still young. 
Miranda Kerr's teenage boyfriend was killed in a car crash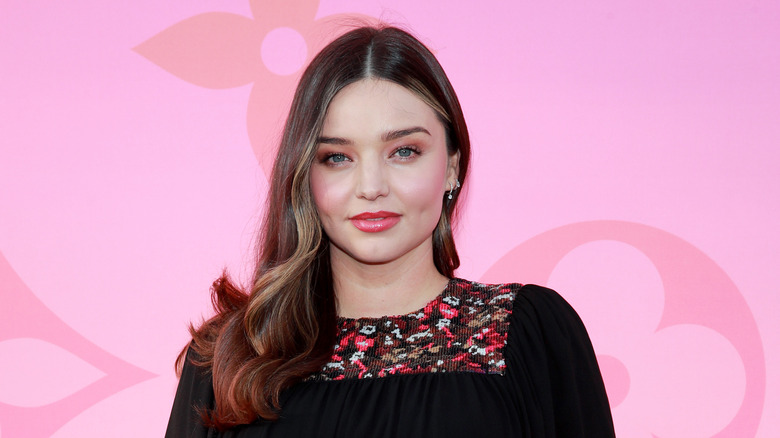 Rich Fury/Getty Images
According to the Aussie model, Flynn (born Flynn Christopher Blanchard Copeland Bloom) was named after her high school sweetheart, Christopher Middlebrook, who died in a car accident when she was just 16 years old. Kerr said she and Middlebrook had been dating for two years when he was tragically killed in the crash. "After he died, I wrote him a letter that said I hoped to name my first child after him in some way," she told The Daily Telegraph (via People). "I told Orlando [Bloom], and he was the one who said he'd be happy to do that." She went on to praise her then-husband, saying, "Orlando's a good guy."
Opening up about her first love in her book "Treasure Yourself," Kerr said she and Middlebrook had talked about spending the rest of their lives together. "We had been dating for two years, and I had just left Gunnedah and moved to Brisbane when he was killed instantly in a car accident, and all of a sudden it felt as though my world had fallen apart," she wrote (via Daily Mail). Reflecting on her boyfriend's death many years later, Kerr said it taught her an important lesson. "That the people who touch your life are always with you," she said. "It taught me that I have the choice to be grateful for the time I had with him instead of dwelling on losing him."
Flynn's name was also inspired by Orlando Bloom's late grandmother, Evelyn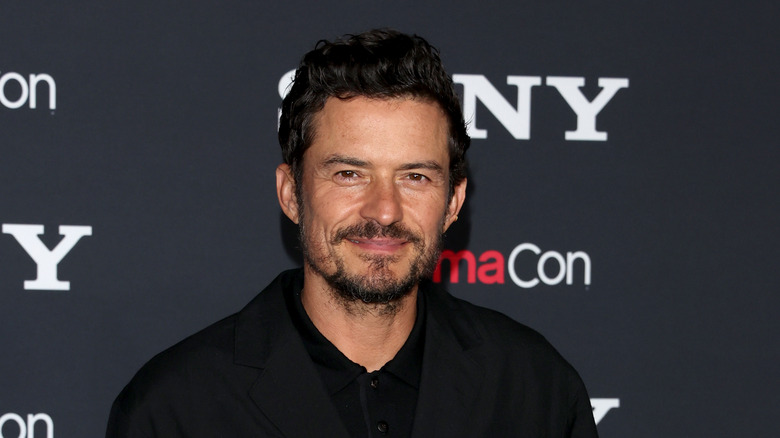 Gabe Ginsberg/Getty Images
In addition to naming their son after Christopher Middlebrook, Miranda Kerr and Orlando Bloom also looked to a special family member for inspiration when choosing Flynn's special name — Bloom's paternal grandmother, who passed away shortly after Kerr got pregnant with their child. Appearing on "LIVE With Regis and Kelly" in 2011, "The Lord of the Rings" actor said he and Kerr originally wanted to name their baby Evelyn in honor of his late grandmother. "I was convinced we were going to have a girl because my grandmother actually passed when Flynn was conceived, and she was really dear to my heart," Bloom explained. "I was thinking ... 'We're going to have a girl, it's going to be called Evelyn.' And it was a boy ... And so Flynn! Evelyn, Flynn. Flynn, Evelyn."  
But while Evelyn is a name that holds a particularly special meaning for the actor, Bloom reportedly had a different moniker in mind for his daughter, Daisy Dove, with his now-fiancee, Katy Perry. A source close to the star told Us Weekly in 2020 that he'd wished to call the tiny tot Fiona. "Orlando liked Fiona," the insider said, noting that he thought the name "sounded good" when paired with Flynn. "But [Katy] was pulling for Daisy." Previously, Perry explained the significance behind their child's name in an interview on "Jimmy Kimmel Live" in 2021. "Daisy, to me, means purity, and Dove means peace and Bloom feels like it means joy," she said (via People). "So it's very, 'pure, peace and joy,'" the singer added.