How Do Miranda Kerr And Orlando Bloom Co-Parent?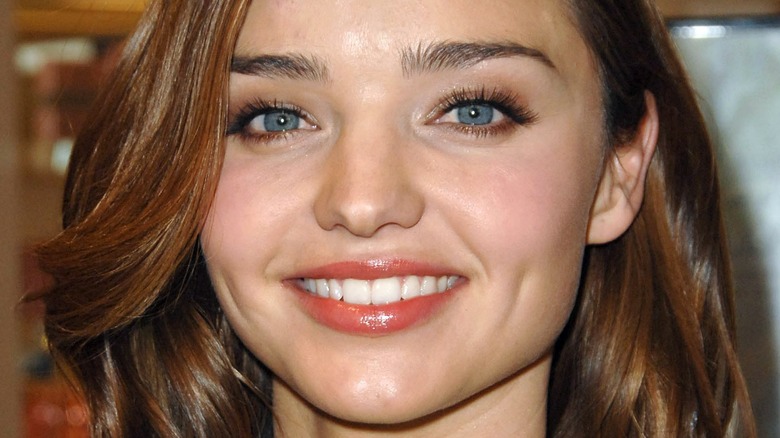 Everett Collection/Shutterstock
Miranda Kerr just described her ex-husband Orlando Bloom in a way we're guessing she probably wouldn't have ever thought she would when they first started dating. The two first got together in 2007 and were one of Hollywood's most beloved couples, going on to tie the knot in 2010 before welcoming their son, Flynn, into the world a year later.
However, this one just wasn't meant to be. The two confirmed they were going their separate ways in 2013, with a rep for the couple saying in a statement obtained by The Sydney Morning Herald, "Despite this being the end of their marriage they love, support and respect each other as both parents of their son and as family."
The former couple have very much moved on since then, welcoming new partners and new children into their lives while still staying close. Kerr married businessman Evan Spiegel in 2017 and the two have since welcomed two kids together, sons Hart and Miles. As for Bloom, he went on to find love with Katy Perry and the two got engaged on Valentine's Day 2019 before they welcomed their daughter, Daisy Dove, in August 2020.
The blended family have opened up about how close they all are on multiple occasions, but it's the thing that Kerr called her former husband while opening up about co-parenting that's come as a bit of a surprise.
Miranda Kerr says her former husband Orlando Bloom is like her 'brother'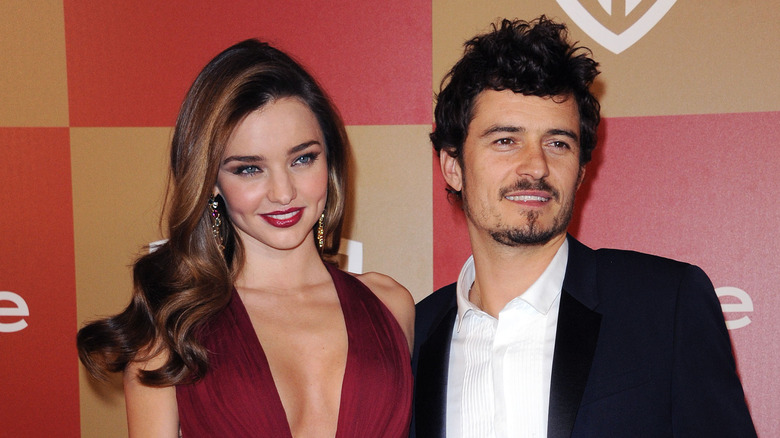 DFree/Shutterstock
Miranda Kerr opened up about her relationship with Orlando Bloom and his fiancé, Katy Perry on the "Moments With Candace Parker" podcast on August 17 and revealed that they really are one big, happy family. So much so that Kerr actually described her former husband as being like her brother. Really. Despite the two sharing a son together, Kerr told Parker, "He's, like, to me right now, a brother. And most of the time, an annoying brother."
She also gushed about her close friendship with Perry and how well they really get on, admitting she's "so grateful that she's there because it takes the pressure off [her]." Kerr joked that the "Firework" hitmaker "helps [her] deal with" her former husband and admitted she thinks she actually loves Perry even more than Bloom.
It sounds like this is one family who really know how to create the best environment for the kids too, as the former Victoria's Secret model added that they all "go on [vacations] together" and "celebrate all the important milestones together."
The blended family have repeatedly opened up about their impressively close relationship, with Perry even sweetly calling Kerr "my gal" in an Instagram post in July while promoting Kerr's beauty line as they struck a few poses together.
Miranda Kerr is 'so grateful' Orlando Bloom and Katy Perry got together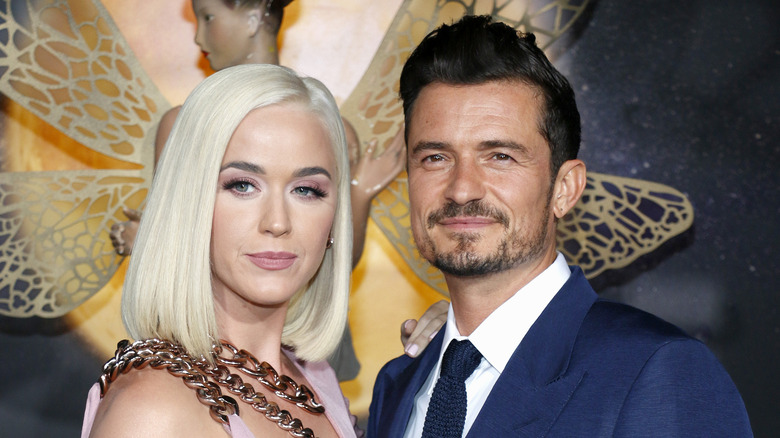 Tinseltown/Shutterstock
Miranda Kerr's "brother" comments are far from the first time she's gushed over the close bond she shares with Orlando Bloom and Katy Perry as they co-parent her and Bloom's son, Flynn.
The model spoke about their arrangement on "The Drew Barrymore Show" in November 2020, where she told the "E.T." star, "I'm just so grateful that Orlando and Katy found each other and I'm so grateful that I found my incredible husband and just that we all really respect each other."
She went on to echo that sentiment during an interview for The Wall Street Journal's The Future of Everything Festival in May, sharing, "For Flynn to have a happy father and a happy mother is the most important thing" as she noted that "Flynn has always been the priority." Kerr noted that "making sure that he felt safe" and "comfortable" was always at the forefront of her mind after she and Bloom went their separate ways. 
"Just putting his needs first, like, 'Is this in the best interest of Flynn,' no matter what we did," she added. "If you put everything in that perspective it takes it away from anything too personal between you and your ex. It really makes it about the child."
If there's one thing we love to see, it's a happy family no matter how they all came together. Major props to these guys for making it work!