RHONJ: Where Do Jennifer Fessler And Teresa Giudice Stand Today?
Jennifer Fessler is the hilarious new addition to "The Real Housewives of New Jersey" and even as a "friend," she has already made her mark in Season 13. Introduced to the group by Margaret Josephs, there was naturally going to be an alliance, especially for those that are Team Teresa Giudice and Team Melissa Gorga. However, Fessler mainly stayed out of the group's drama, except for that time she kicked Jennifer Aydin out of her house after a screaming match with Josephs.
While she remained loyal to Josephs, Fessler revealed to OK! that she tried to remain as neutral as possible within the group's dynamics. "You have friends, you see that they're hurting and you see who they feel hurt by. It's hard to then decide what defines loyalty. But I also have to be true to myself. I really stuck to the advice that I got from a lot of my friends to just be as honest as possible." She shared that the other housewives were pretty open toward her and stated, "Teresa knew that I was coming in as Margaret's friend and she didn't have any attitude. Neither did Jen. It was very organic to meet them and immediately smile and start to get to know them." One of the major events of Season 13 was, of course, Giudice's nuptials with Luis Ruelas. Although Fessler was new to the group, she had been invited, but she revealed one regret she had toward Giudice about her big night.
Jennifer Fessler regrets leaving Teresa Giudice's wedding early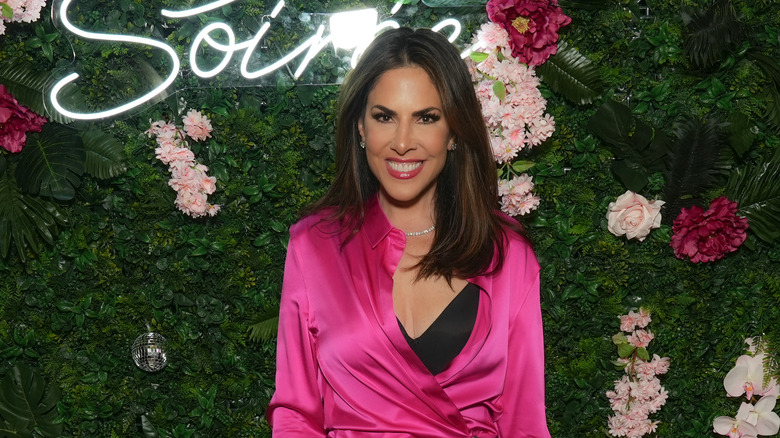 Manny Carabel/Getty Images
"RHONJ" fans are very aware of the ongoing feud between Teresa Giudice and Melissa and Joe Gorga. As a newcomer, Jennifer Fessler went into Season 13 with an open mind and when asked by Us Weekly if she took a side, she responded, "It's really tricky, right? Because you become close to certain members of the cast and maybe you're more close to certain members." While she did go to Giudice and Ruela's wedding, Fessler shared, "I did leave the wedding early, which in retrospect, I shouldn't have done and I regret, and I actually reached out to Teresa and apologized to her about it after the fact." She explained that she had left early out of loyalty to Melissa but then "felt like s*** about that."
Fessler previously found herself in another pickle with Giudice during the cast trip to Ireland. After chugging a pint of beer, Giudice playfully poured water over her shirt and Fessler retaliated by pouring beer over the "RHONJ" OG's head. Although it wasn't shown in the episode, Giudice was not too happy about it. "Teresa threw water at me as a joke. We weren't in, like, combat mode. And I threw beer at her, and she was pissed. And I didn't throw beer at her. It wasn't like I poured a big glass. But she had a fresh blowout. It was a blowout situation," Fessler explained during the "After Show." Thankfully, it looks as if all is good between Fessler and Giudice.
Jennifer Fessler hopes to get closer to Teresa Giudice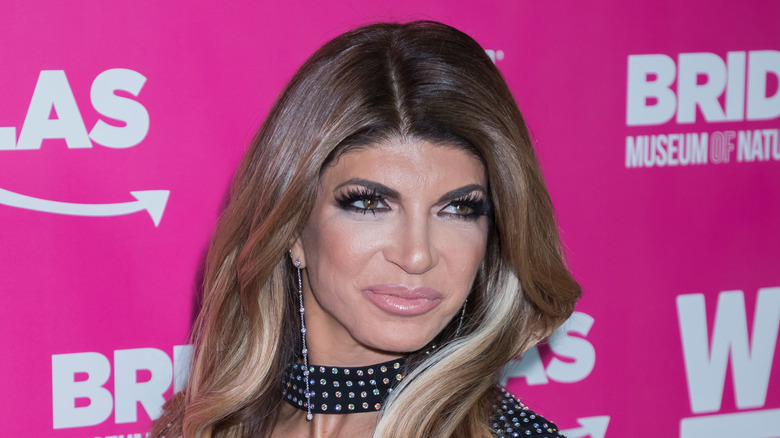 Sam Aronov/Shutterstock
While filming "RHONJ" Season 13, Jennifer Fessler revealed to Today that she became close with Jackie Goldschneider, Dolores Catania, Melissa Gorga, Rachel Fuda, and of course, Margaret Josephs. However, that doesn't mean she's part of a clique. "There's so much crossover. Look at Dolores — she's always friends with everybody. She is able to move in between the two sides. I've had really nice conversations with Teresa over the course of filming that have meant a lot to me," she declared, adding that if she's back for Season 14, she hopes to get to know Giudice more.
Although she's closer to Gorga, Fessler is still remaining neutral when it comes to their family feud and hopes that she and Giudice will make amends over time. I know that it's rough. I know that this cuts way deeper than just friendship, but I think they can do it. I'm rooting for them," she told Entertainment Tonight.
While she and Giudice aren't BFFs yet, they appear to be friendly. In July 2022, Fessler shared a pic of herself and the "Skinny Italian" author on Instagram. "When the OG represents....you KNOW you've got something! @teresagiudice you are the F.Majorist! 3 inches never felt so good!!!!!" Fessler wrote, promoting her shoe brand. Thankfully, Fessler's minor tiffs with Giudice never made it to table-flipping proportions and hopefully, we'll have more mozzarella-eating, beer-chugging moments from the newest "RHONJ" friend.