What Blackpink's Jennie Had To Say About Working With Lily-Rose Depp In The Idol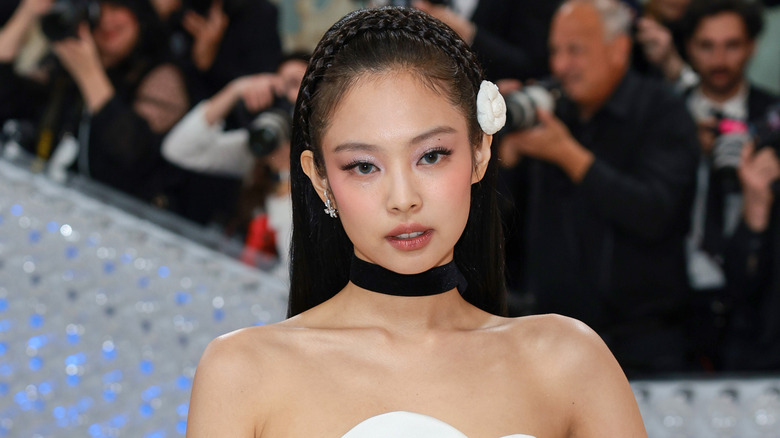 Dimitrios Kambouris/Getty Images
Jennie Kim has been rather busy. Fresh of off making Coachella history with her Blackpink bandmates Jisoo, Lisa, and Rosé, the South Korean superstar made her first Met Gala appearance last May — and in a head-turning Chanel look, no less!. She also recently released her first capsule collection with sportswear brand Calvin Klein, featuring a selection of underwear sets, T-shirts, jeans, and sweats. The collection, inspired by Jennie's own wardrobe, hit stores on May 10. "My aspiration for this collection is that everyone will feel as happy and confident in these pieces as I do," she stated in a press release (via Billboard).
Perhaps even more exciting — Jennie is set to make her acting debut in the upcoming HBO series "The Idol" alongside fellow artist The Weeknd and model Lily-Rose Depp. In a 2022 cover story interview with Elle, the "Solo" singer said being cast in an American series for her first acting project wasn't something she'd anticipated. "I've had a dream of acting in the future, as I was doing so many different parts already as an artist, so I've always wondered what it would be like," she said. "But the opportunity just came to me so naturally one day. And I just knew that it was something that I would regret if I didn't go for it." She also talked about her preparations for the role and what it was like working with the show's cast — including Depp. 
Jennie 'learned a lot' from Lily-Rose Depp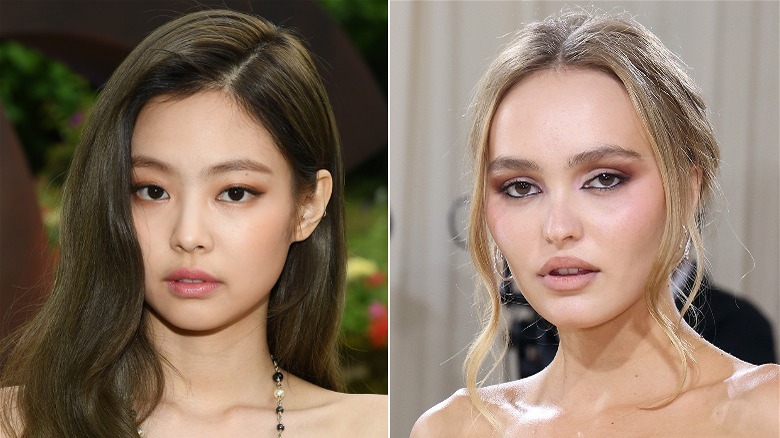 Pascal Le Segretain & Taylor Hill/Getty
In July 2022, HBO announced that Blackpink's Jennie had been cast in The Idol," an upcoming series about a rising pop star (Lily-Rose Depp) and her complicated relationship with a nightclub cult leader (The Weeknd). She confirmed her role in a statement to the South Korean website Yonhap, saying she's thrilled about landing her first acting gig. "I found the script very intriguing, so I wanted to be part of the series," she said. "I feel very excited." While details of her character are still unknown, the "Pink Venom" singer has appeared in teaser trailers released for the six-part series, which will air on HBO starting June 4.
Chatting with Elle, Jennie said co-creator Sam Levinson convinced her to do the show. "I've been a fan of all his work," she said of the screenwriter, who is famous for his work on the Emmy-winning drama "Euphoria." She credited Levinson and The Weeknd (real name Abel Tesfaye) with helping her prepare for her debut role, saying, "I had many conversations with Sam and Abel ... and they just made sure that I didn't have to be so nervous about things." The Korean superstar also discussed her experience working with Depp. "I've learned a lot from Lily while I was shooting, too," Jennie said. "So I'm going to say yes, I loved it. I loved my experience so far." 
Jennie and Lily-Rose Depp have worked together before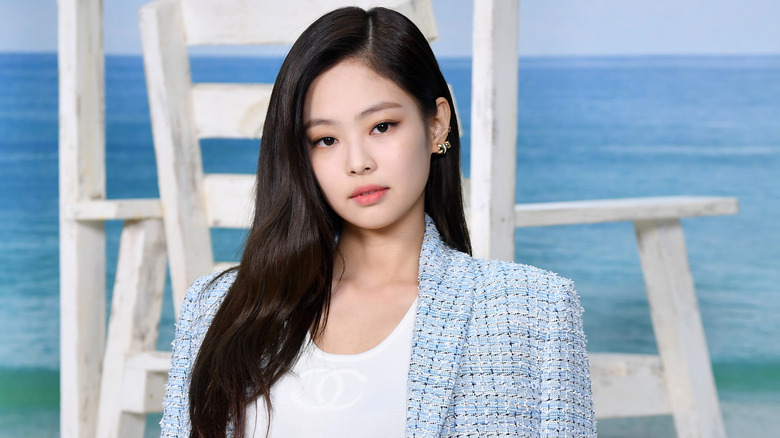 Pascal Le Segretain/Getty Images
While "The Idol" marks the first time Jennie and Lily-Rose Depp share the screen, the two have worked together before as muses of the French luxury fashion house Chanel. Per People, Jennie has been a Chanel ambassador since 2017. Depp has been a face for the house since 2015 and is currently the youngest muse at 23 years old. They have starred in major campaigns and attended runway shows, including the Chanel Spring/Summer 2022 show in Paris in 2021, where they were pictured together. They also fronted the limited-edition Chanel Book by V Magazine alongside fellow house ambassador Margot Robbie; all wearing pieces from the brand's spring-summer 2021 collection and photographed by the Dutch duo Inez and Vinoodh, per Atelier.
Ahead of the premiere of "The Idol," Jennie spoke with Elle about her first acting experience compared to other creative pursuits. "I guess the people and the environment. I've never had to be in a place where I was surrounded by so many people that I'm not familiar with, and especially in a different language," she said. "But in terms of creativity, it felt just the same." The Blackpink star explained, "Acting needed all the creative senses that I would use in a music video or any music or any other thing that I have already been doing. So surprisingly, it didn't feel too much apart from what I've been doing so far, which was good. So I'm just so thankful."