How Jamie Foxx Really Feels About Working With His Daughter Corinne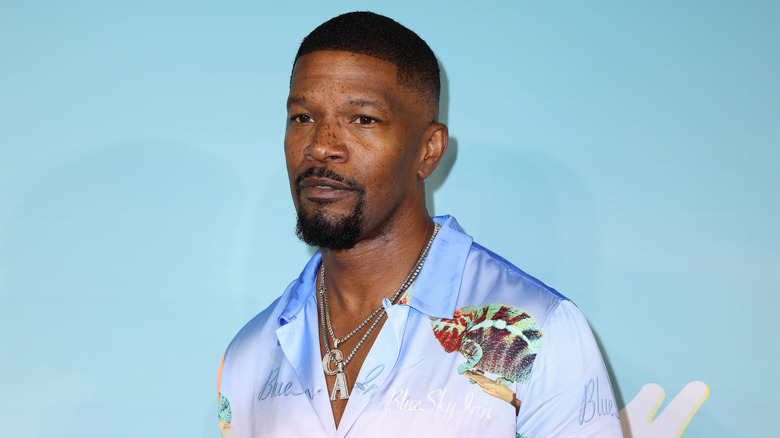 Alexander Tamargo/Getty Images
Jamie Foxx is perhaps best known for his work as an actor, comedian, and singer. But as it turns out, there's another role that trumps all of his other endeavors: being a dad. "I used to be a guy that was dedicated to the Hollywood [mentality of] 'Let's have fun all the time.' But now everything I do I consistently think of my two daughters," the father of two daughters told Access Hollywood.
But these days, Foxx and his eldest daughter, Corinne Foxx, are taking on Hollywood together! Upon graduating from the University of Southern California, Corinne enrolled at Howard Fine Acting Studio and the American Academy of Dramatic Arts and quickly got to work on her own career in showbiz, working in front of and behind the camera. While Corinne has racked up a few acting credits, she also worked as an executive producer on her famous father's Netflix comedy series, "Dad Stop Embarrassing Me!" and as the DJ on "Beat Shazam," a competition show hosted by her dad. 
Most recently, however, it was announced that the father-daughter duo would work together as co-hosts of an all-new game show aptly titled "We Are Family." Corinne later relished the good news on her own Instagram account. "The Foxx Family is headed back to our home on @foxtv & we can't wait for this new show!" she shared. But how does Jamie really feel about working with his daughter? 
Jamie Foxx said his daughter Corinne's 'mind is amazing'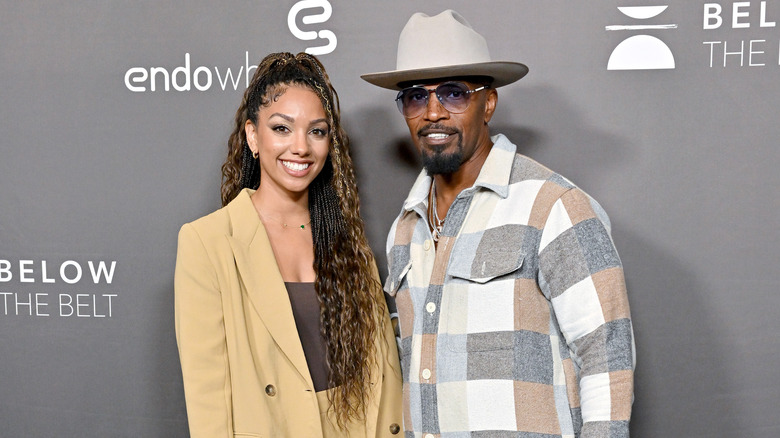 Axelle/bauer-griffin/Getty Images
It's probably safe to say that proud papa bear Jamie Foxx is nothing short of elated to share the spotlight with his daughter, Corinne Foxx, yet again! While he has yet to make an individual statement about his new father-daughter game show following his recent hospitalization and subsequent recovery from a "medical complication," he has gushed about working with her in the past. "Putting everything together, like the trailer, she really had the right touch in order to take something that is retro and retrofit it so that we can all understand it in today's world," Jamie told The Grio about all the ways Corinne put her stamp on his Netflix comedy series, "Dad Stop Embarrassing Me!" He added, "Her mind is amazing. Spirit is great. She's doing great things and will continue to do great things ... knock on wood."
But that's not all. According to Jamie, Corinne's not afraid to give him her piece of mind from time to time, at least when it comes to their professional endeavors. "I'll be doing something funny on stage, I think I'm doing something funny, and she'll call down [and] be like, 'Yeah that ain't funny. You trying to get canceled? That ain't funny,'" he revealed. Perhaps even parents need a little tough love now and then.
Corinne Foxx is also proud to work with her dad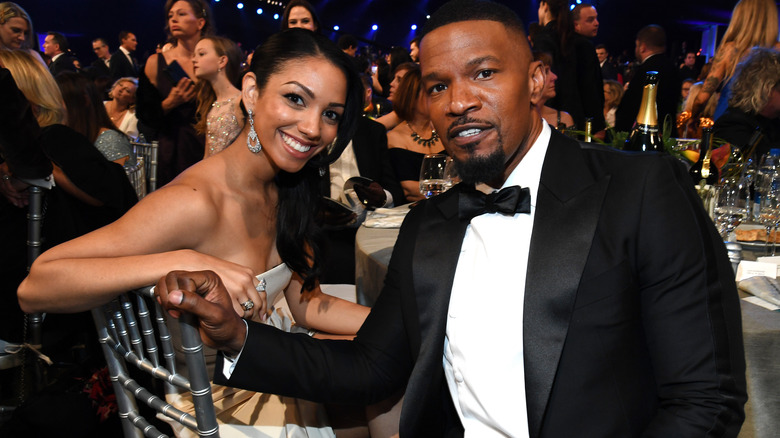 Kevin Mazur/Getty Images
Famous genes or not, Jamie Foxx is certain that Corinne Foxx was always destined for greatness... and maybe even the White House. "My daughter was born great," he told Entertainment Tonight in May 2022. "President of the United States right here," he declared. TBD, we suppose.
But alas, making a name for herself in show business hasn't come easy for Corinne Foxx. In fact, at one point, she actually considered ditching her famous surname in an effort to carve out a successful career on her own. "I had a lot of people telling me, 'You don't have to go to college. You can just go straight into the entertainment world, doors will open for you. You could be making millions of dollars,'" Foxx confessed to TOGETHXR. "I just grew up my whole life and I didn't want to just ride on my dad's coattails. I wanted to, you know, make my own name, do things for myself," she explained. 
However, Corinne now has come to accept the Foxx name while creating her own path. "As I've gotten older I've, one, made peace with [the fact that] people are gonna think things about me that I have no control of, and two, I'm proud of my dad and I'm proud of who he is and I'm proud of the work he's done."