What We Know About Jamie Foxx's Sudden Hospitalization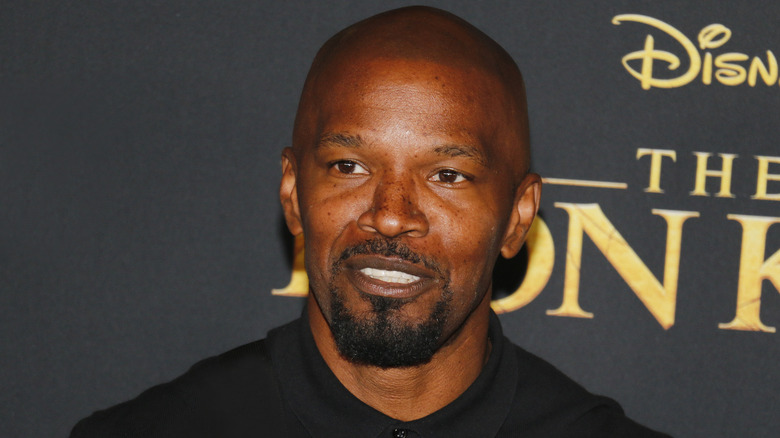 Tinseltown/Shutterstock
Jamie Foxx is currently in Atlanta shooting "Back in Action" with Cameron Diaz, but one of the biggest storylines to come out of filming thus far is the actor's sudden hospitalization. 
Most things Foxx does earn a lot of attention and that's the case with his new movie, which marks Cameron Diaz's first movie in several years. Some fans might recall that Foxx and Diaz also worked together on the 2014 remake of "Annie," but there has been a fair share of drama that has unfolded on the set, stretching beyond Foxx's medical emergency.
In March, The U.S. Sun reported that the "Horrible Bosses" actor had a complete "meltdown" on-set that wreaked havoc on production and caused quite a damper on Diaz's highly publicized return to film. "There have been some issues on set, and Jamie has had a major meltdown over it all," an insider told the outlet. "He demanded the problems be sorted immediately and sacked four of the production staff — as if that would magically improve the situation." Ultimately, Foxx fired a few team members, including his driver, causing some major drama on-set. "Some people working on it are totally fed up with how this has played out, and Jamie has become pretty unpopular," they added. According to the report, that incident happened while filming in London. Now, "Back in Action" is shooting in Atlanta, and there's another massive story in Foxx's sudden hospitalization. So what do we know?
Jamie Foxx's daughter, Corinne Foxx, shares update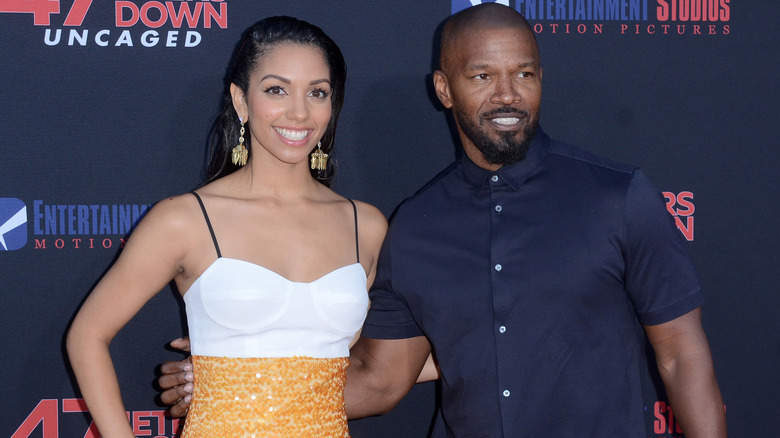 Kathy Hutchins/Shutterstock
Jamie Foxx's daughter, Corinne Foxx, is shedding some light on her father's sudden hospitalization. Corinne took to her Instagram on April 12 to share some details about her father's medical issue without giving away too much. "We wanted to share that, my father, Jamie Foxx, experienced a medical complication yesterday. Luckily, due to quick action and great care, he is already on his way to recovery," she wrote. "We know how beloved he is and appreciate your prayers. The family asks for privacy during this time." Corinne disabled comments, leaving many questions unanswered. Corinne also shared the exact same post on her Instagram Stories. 
As of this writing, nobody has shared an update to Jamie's Instagram account and his last post came a week before his medical issue. In the short clip, Jamie appeared on a luxurious yacht and tagged Loren Ridinger and Taylor Chien in the caption. Fans used that post as an opportunity to wish Jamie well. "Praying for you to get well soon!" one person wrote. "so much love for you and your family hope you are feeling well," another concerned fan wrote.
According to NBC News, Jamie was in Atlanta shooting "Back in Action" when the medical emergency occurred. "His condition was serious enough that Jamie's family, some of whom were not in town, came to the hospital," the star's rep said. "He is communicating now."
Jamie Foxx is in good spirits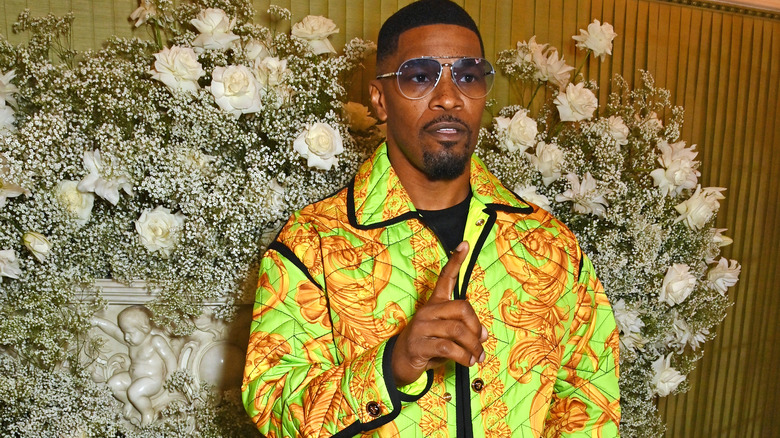 David M. Benett/Getty Images
Jamie Foxx may have dodged a bullet. A source close to the actor tells TMZ that Jamie's medical episode was very serious, and doctors are still reportedly working to find out what exactly happened to the star. Jamie will need to remain under the care of the doctors for a few days as they perform additional tests to try and figure out the root of the problem. 
The one glimmer of hope is that sources tell the outlet Jamie "is doing a lot better." In fact, he's well enough to be cracking jokes with family who are visiting him in the hospital. Another insider close to the situation shares with CNN that Jamie didn't require transportation via ambulance to the hospital. The source also shared that he was not on the set of his new movie when the medical issue occurred. Jamie's spokesman, Alan Nierob, shared in an email with CNN that the actor's team is not disclosing anything "more, at this time, than what was posted." 
Several of the star's fans have taken to social media to send well wishes to Jamie, including some of his famous pals. "Jamie Foxx Hospitalized with 'Medical Complication,' Family Says He's Recovering Praying for my dude!!!!!!!!" DL Hughley tweeted. "Please join me in sending up prayers for our brother Jamie Foxx for a swift and complete recovery. Love you, Jamie!" singer/songwriter Siedah Garrett wrote. Martin Lawrence also shared a photo of himself and Foxx, writing, ​​"My family and I are lifting you up in prayer. Much love and many blessings my brotha." Luckily, it looks like all the well-wishes worked!