Why You Won't See Ben Affleck And Jennifer Garner's Kids On Social Media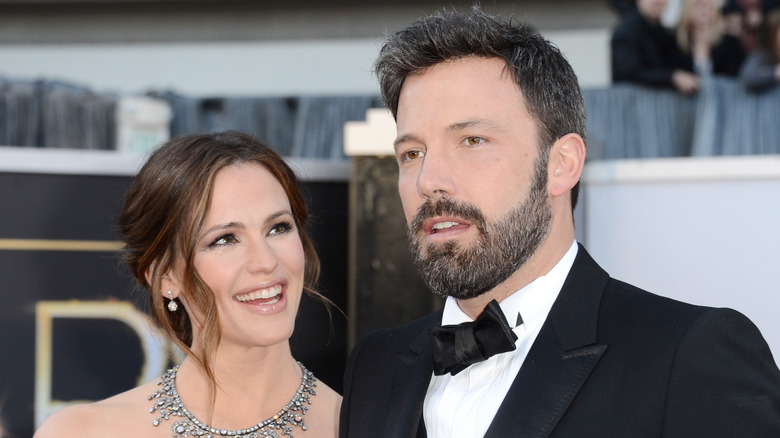 Jason Merritt/Getty Images
Jennifer Garner and Ben Affleck welcomed three children during their marriage — Violet, Seraphina, and Samuel. Most of us know that the A-listers do their best to keep their kiddos out of the spotlight, and there are only a few photos of them floating around in the press. Garner has been pretty adamant about trying to give her children as normal of a life as possible, and she's even testified before the California State Assembly Committee on Public Safety to try and prevent paparazzi from taking photos of her kids. 
During an episode of "Today," the star explained how relieved she felt once California signed the bill into law. "As much as we have wished for this, we truly were resigned to thinking that this was never gonna happen," she told Jenna Bush Hager before sharing that she didn't think that the bill would get passed since there's the idea that celebs are "complicit" with having their photos taken. "What we're hoping is that our kids' day-to-day experience will not be of really aggressive men yelling and screaming five feet from their faces," she shared. 
With her children's privacy and mental health in mind, it's no wonder that Garner also has a bone to pick with social media. 
Jennifer Garner won't allow her kids on social media because there's no evidence that it's good for them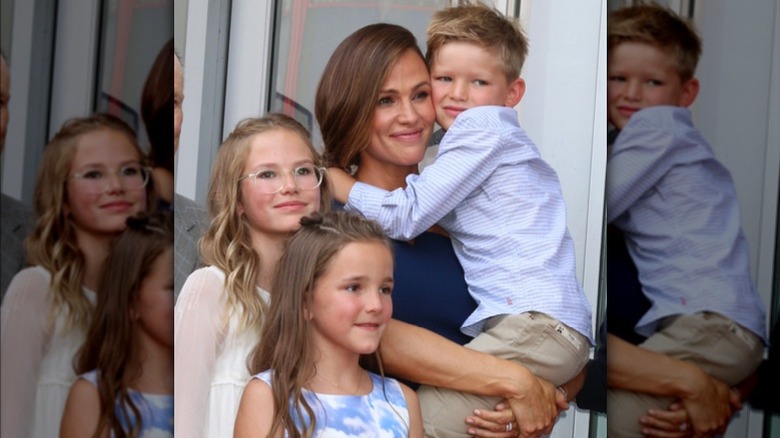 Kathy Hutchins/Shutterstock
Jennifer Garner may be a pretty cool parent but she is also strict. The star has forbidden her three children from making social media accounts, but she has pretty good reasoning for it. While speaking with Hoda Kotb and Savannah Guthrie on "Today," Garner explained why she's kept her children away from social media after Kotb asked how she can achieve that "without them hating you?" Garner replied, "I just said to my kids, 'Show me the articles that prove that social media is good for teenagers, and then we'll have the conversation. Find scientific evidence that matches what I have that says that it's not good for teenagers, then we'll chat." 
Surprisingly, the former "Alias" star said that her no social media policy has been going pretty well, and she specifically mentioned that her daughter, Violet, is "grateful" for it. She added, "We'll see. I mean, it's a long haul. I have a couple more to go, so just knock on wood. We'll see if I really hang in there."
Jennifer Garner also keeps her kids off of her Instagram page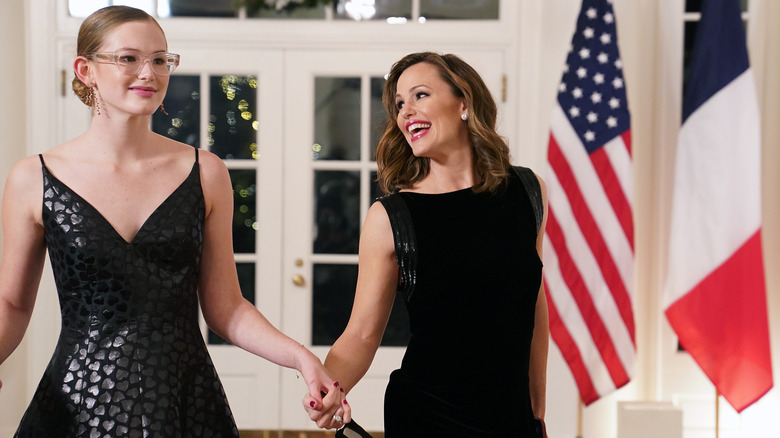 Nathan Howard/Getty Images
Jennifer Garner is keeping her kids away from social media in all forms, and that includes posting them on her Instagram page! "That's a pretty big roadblock right there," she explained to E! News. "I've fought too hard for their privacy personally that it feels weird."
The actor also spoke about this with Katie Couric, lamenting that it's hard for kids to deal with the pressures of social media — even when they don't have parents who are in the spotlight. "My daughter's at an [all-girls] school, and it's such a huge problem, and she'll occasionally talk to me about getting Instagram, and I can see why, because I'm on there," she explained to Couric, adding that she was contradicting herself. "It's something kind of fun that I do, and I am modeling the opposite of what I want for her to do. How often is that in parenting?" she said. 
The star has made fun of herself and mentioned her kids on social media, including in a funny Instagram post where she was working out. "If your kids call your workout Jazzercise and it nearly kills you to complete it, do you have the right to video yourself and put it out there to haunt them when they are fifty?" she joked. As much as she makes her children steer clear of social media, at least Garner can joke on the platform but obviously without showing her children's pictures.