Jamie Dornan's Wife Amelia Warner Was Married To Colin Farrell (But Not Really)
Jeff Kravitz/Getty Images
Jamie Dornan and Amelia Warner's relationship progressed beautifully. The two met in 2010, when Dornan traded a night of karaoke with "Fantastic Beasts" star Eddie Redmayne for the opportunity to be introduced to the British actor and composer. "I knew who she was," the "Fifty Shades of Grey" star said on "The Late Late Show with James Corden" in 2020. When a mutual friend said she was at a party and single, he knew what he wanted to do. "I literally dropped the mic and was like, you know, ran for the hills."
Dornan and Warner sat on the house steps and talked the night away. The location played another important role in 2012. "I proposed to her on the very steps that we met, which was lovely," he told Corden. The pair tied the knot in April 2013, seven months before they started their family with the birth of their first daughter, Dulcie, that November. Dornan and Warner have been going strong ever since, adding Elva to the brood in March 2016 and completing it in March 2019 with the birth of Alberta.
Dornan and Warner prefer to keep their relationship low-key, but it is clear they haven't looked back since they said "I do" in a Somerset country house. "I'm more in love with her today than I was at the start," he told the Belfast Telegraph in 2015. But before finding her forever person, Warner had said "I do" to Colin Farrell — though it didn't really count.
Amelia Warner wasn't legally married to Colin Farrell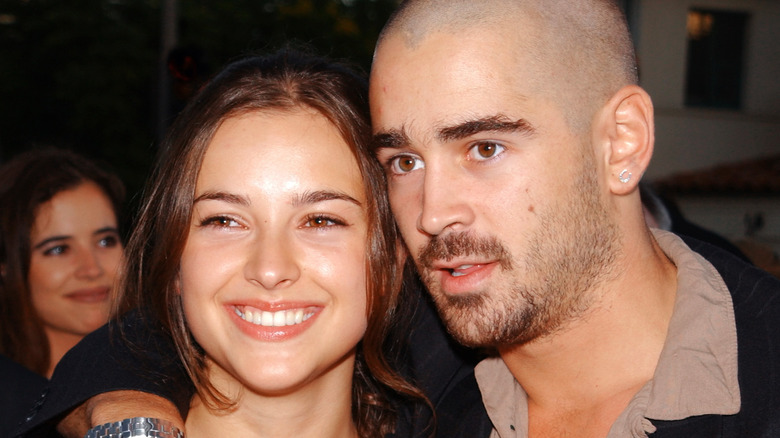 Frank Trapper/Getty Images
Before Jamie Dornan, Amelia Warner was in a relationship with another famous Irishman. In late 2000, Warner met Colin Farrell at the premiere of "Quills," in which she starred alongside Kate Winslet and Geoffrey Rush, The Guardian noted in 2005. Eight months later in 2001, Warner and Farrell jetted off to Tahiti and said "I do" at the beach. But they signed no papers. "It was just something for us," she told the outlet.
The assumption that she had been married before annoyed her later on. "We didn't actually get married — it's not actually true ... We had a ceremony on a beach in Tahiti that was by no means legal and we knew it wasn't," she told The Sun in 2011 (via Irish Central). Even though their intimate Tahitian ceremony wasn't legally binding, Warner and Farrell did intent to wed. "We were properly engaged, we had a party with family and everything," she told the Mirror in 2004.
At the time, Warner was only 19 and Farrell was 25, a fact that influenced their spur-of-the-moment decision. "Too fast, too young," is how Farrell described their romance, according to the Mirror. Warner and Farrell broke up just four months later. They were together for just a year, but that was enough time for a fake wedding and a very much real tattoo of Warner's name on Farrell's finger. The relationship was good while it lasted. "We were just too young," she said.
Jamie Dornan also dated a high-profile actor before marrying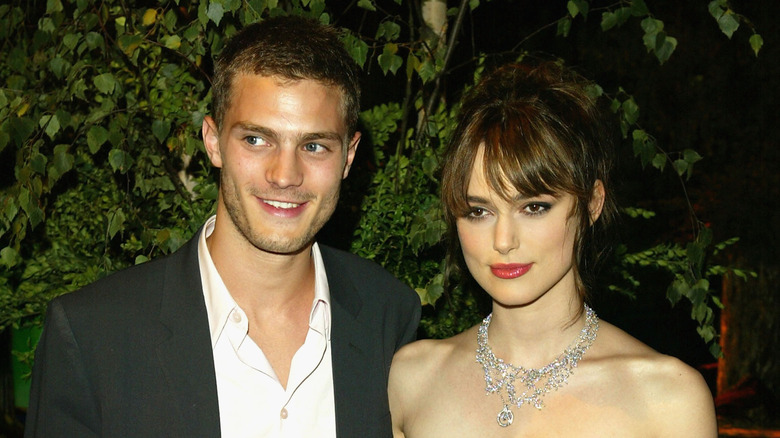 Dave Hogan/Getty Images
Jamie Dornan may be a Golden Globe-nominated actor and a household name now, but his breakthrough didn't come until 2013 when he co-starred with Gillian Anderson in the crime drama "The Fall." Many years before, Dornan — then a model dubbed the "Golden Torso" and struggling actor — dated Keira Knightley at the height of her fame. Dornan met Knightley in 2003, when they shot an Asprey ad together. That's the year the first "Pirates of the Caribbean" film came out, shooting her to stardom.
Dornan helped her remain grounded during the transition. "Jamie's great," she told the Mirror in May 2005. "I'm mad about him. He keeps me sane when things get stressful. We always have fun together." They split just three months later. Her growing fame became an issue in the relationship. "There is a big pressure when you go out with someone like Keira," he told the Belfast Telegraph in 2006. "You can feel a bit second-rate and that's what started to happen."
Dornan also felt insecure about their widening monetary gap. "It's not like I was bringing the bread to the table — and that can start to affect everything," he added. His own career wasn't moving incredibly fast, making him doubt they'd ever be seen as equals. "I don't think I'm ever going to be as famous as her," he told the Evening Standard in March 2014, less than a year before "Fifty Shades of Grey" did just that.