Dustin Johnson Makes Cheeky Insinuation About His Back Injury (Paulina Gretzky Must Be Blushing)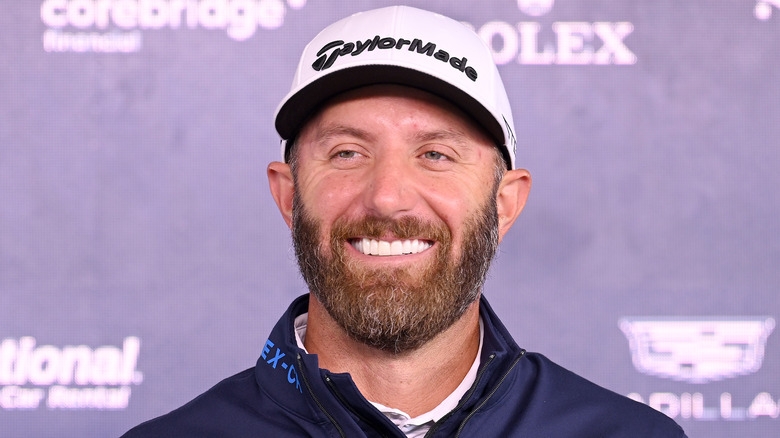 Ross Kinnaird/Getty Images
Sports enthusiasts know Dustin Johnson for his incredible golf game (duh, he's won the Masters), but his marriage is one of the more widely talked-about aspects of his life since he's married to hockey legend Wayne Gretzky's daughter, Paulina Gretzky. The couple began dating in 2013, and their relationship progressed quickly, as they got engaged the same year. Johnson and Paulina enjoyed a long engagement before eventually tying the knot in 2022. The Daily Mail reports that the couple made things official in a stunning ceremony at Blackberry Farm in Tennessee.
The two frequently post about one another on social media, and in April, the golfer shared a sweet photo from their wedding day to celebrate the special occasion. "Happy Anniversary @paulinagretzky. This past year with you has been amazing! I love you so much!" he wrote. In another post from 2016, Johnson celebrated a win with Paulina by his side. "What a great moment to share with the love of my life," he wrote on the Instagram upload.
Of course, Johnson also receives a lot of questions about his wife and home life at press conferences and in interviews. "If you were stranded on an island for the rest of your life, would you rather take your fishing pole or Paulina if you had one choice?" a reporter once asked the star (via Sports Illustrated). "I can't answer that question," he joked. In another interview, however, a seemingly innocent question garnered a NSFW response.
Dustin Johnson's admission goes viral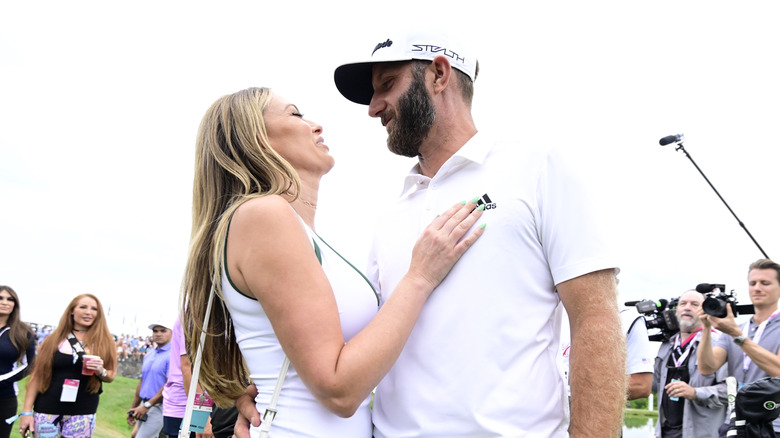 Charles Laberge/liv Golf/Getty Images
Dustin Johnson made a really cheeky admission at a recent press conference. During a question and answer session ahead of the PGA Championship, a reporter questioned what happened to Johnson's back earlier in the year. "Swinging a club? Lifting up a club," the reporter asked. Johnson's response? Let's just say it was brutally honest and likely involved his wife, Paulina Gretzky. "'No. Lifting up a kid... a bigger kid," he told the reporter with a laugh and slight blush. Obviously, we're not rocket scientists, but if you put two and two together, you'll gather that Johnson was discussing a bedroom-related incident with his wife. 
Unsurprisingly, many fans have taken to social media to talk about Johnson's now-viral press conference moment. "Good ole DJ. That's why I love him," one person commented on the video. "This guy is TRULY living his best life lol!" another Twitter user wrote. "You can't beat DJ in his interviews," a third added.
Fans of the LIV golfer know the star for being brutally honest when it comes to pretty much any topic — including the Netflix documentary, "Full Swing," in which he took part. According to Golf Digest, the star said he would "probably not" watch it when a reporter asked, and he didn't stop there. "I'm just being honest," he said, adding that he has "zero" interest in seeing it. "I watched them [Netflix] film me, so no need to watch the episode." Isn't honesty the best policy?