Julianne Hough Got A Prenup Days Before Her Wedding To Ex Brooks Laich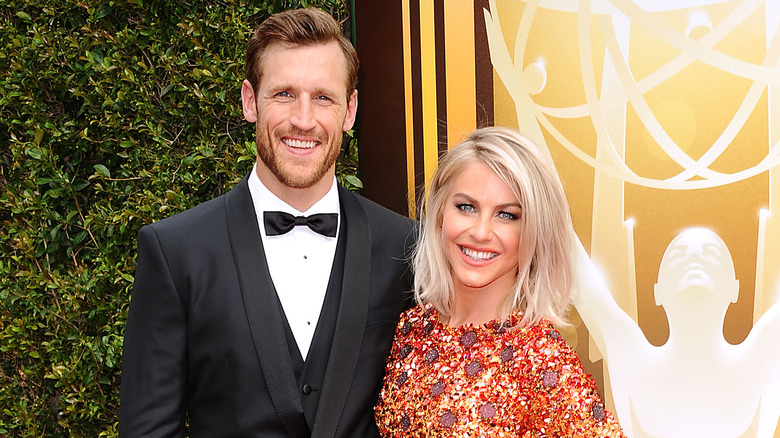 Jason Laveris/Getty Images
Over the last few years, singer and dancer Julianne Hough has made massive waves in the entertainment industry. From her time on "Dancing With the Stars" to her popular music and film career, the young talent has made her mark across various entertainment avenues. However, in addition to her boundless talent, Hough has garnered attention for her love life, specifically her high-profile relationship with NHL star Brooks Laich. Back in February 2014, the pair began to make headlines after they were seen in public canoodling around Southern California. While a source told Us Weekly that they were "having fun," It didn't take long for the couple to confirm their relationship in various interviews and appearances.
"She's a cool, cool gal. She's a sweetheart, very loving, very giving," Laich told E! News. Hough also gushed about the Canadian athlete in an interview with Redbook. "Every relationship, there was nothing wrong or bad, but there was nothing right," she explained (via HuffPost). "Now I'm not holding anything back because I'd rather get my heart broken than never know what it is to be completely, madly in love." After getting engaged in 2015, the pair officially tied the know in July 2017. While Hough and Laich had a beautiful wedding, the pair's love affair ultimately ended in divorce. Luckily, Hough got a prenup just days before she wed the athlete.
Julianne Hough and Brooks Laich signed a last-minute prenup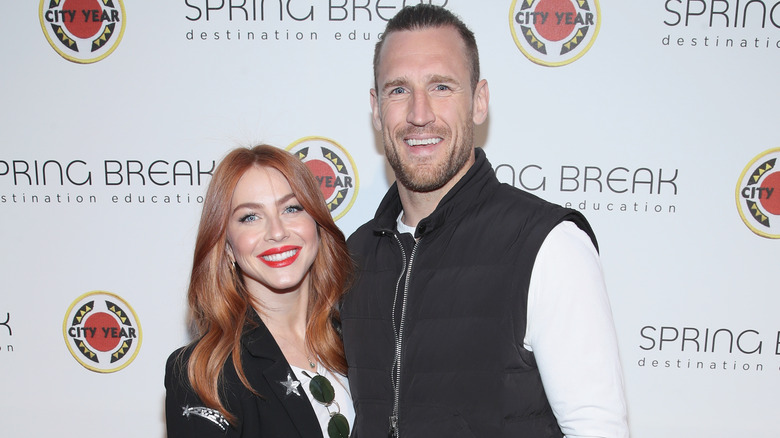 Randy Shropshire/Getty Images
Back in May 2020, Julianne Hough and Brooks Laich shocked pop culture enthusiasts when they announced their divorce after nearly three years of marriage. "We have lovingly and carefully taken the time we have needed to arrive at our decision to separate," they revealed to People in a joint statement at the time. "We share an abundance of love and respect for one another and will continue to lead with our hearts from their place." Before their separation, the couple had made headlines for reportedly having "problems" in their relationship and quarantining separately during the height of the pandemic.
However, unlike many Hollywood divorces, their split was relatively easy due to their pre-marital legal planning. According to People, the two had a prenuptial agreement — which was signed 11 days before tying the knot in July 2017. Due to the aforementioned document in place, the division of assets was relatively easy, with Hough and Laich keeping the respective properties and the former denying spousal support. Nearly two years after their announcement, Hough and Laich finalized their divorce proceedings in 2022. "The parties have entered into a written agreement regarding their property and their marriage or domestic partnership rights, including support, the original of which is being or has been submitted to the court," their court documents revealed, as reported by ET.
Julianne Hough and Brooks Laich have moved on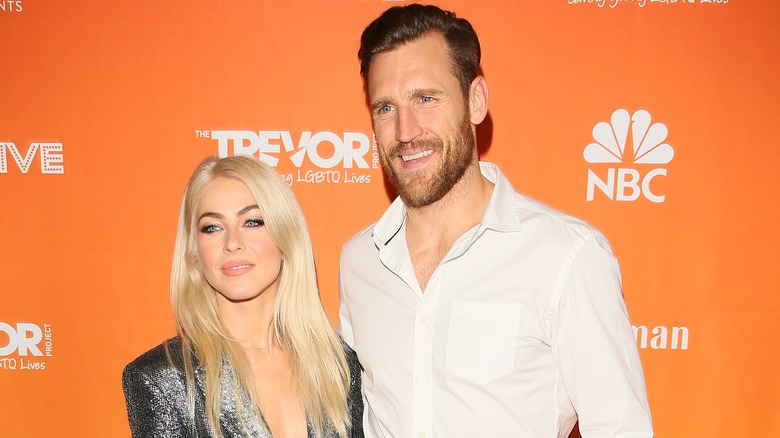 Jb Lacroix/Getty Images
Since their divorce, Julianne Hough and Brooks Laich have moved past their bittersweet love affair and onto new partners. In November 2021, Hough made headlines after she was spotted kissing model Charlie Wilson. "Julianne has not been dating Charlie Wilson very long but seems happy and enjoying her single life," a source told People at the time. Nearly two years after her brief affair with Wilson, Hough was rumored to be involved with actor Tyler Lain after she posted a heartwarming birthday message for him on Instagram. But in another post to her Instagram stories, the professional dancer shut down speculation, writing. "For everyone assuming... Tyler is my BEST FRIEND! We are not in a relationship," she wrote in March.
As for Laich, the retired athlete has moved on with the Icelandic CrossFit athlete Katrín Tanja Davíðsdóttir. The pair first went Instagram official on their respective pages in August 2021. "I'll start walking your way, you start walking min," Laich wrote alongside a photo of them near a luxurious pool. Davíðsdóttir echoed similar sentiments with an equally heartfelt caption, noting. "Life is better with a couple coconuts & this favorite human of mine." Over the last two years, the lovebirds have shared their romance across various romantic posts. Laich and Davíðsdóttir also reportedly got engaged, per Intouch Weekly. However, the pair has yet to confirm the news officially.