Who Is Christina Aguilera's Longtime Fiancé, Matthew Rutler?
Taylor Hill/Getty Images
Christina Aguilera is currently in a long-term romance. Previously, the "Beautiful" vocalist wed Jordan Bratman, a music executive, back in November 2005, as MTV News reported. By October 2010, however, Aguilera had filed for divorce, per the BBC. This came almost three years after the exes welcomed a son named Max, via The Mercury News. After their split became public, Aguilera opened up about why divorce was ultimately the right choice for her.
"Things were so unhealthy and unhappy for both Jordan and me, I knew I had to end it," Aguilera said to People in December 2010. She added, "I really didn't want to hurt Jordan, and I felt torn about splitting our family up." During the interview, Aguilera went on to discuss her then-new romance with Matthew Rutler. "He's the kind of person you could spend hours with on the phone talking to, and all of a sudden it's daylight," Aguilera said. On Valentine's Day 2014, Aguilera announced in a now-deleted Instagram post that she and Rutler had become engaged, per Glamour. Rutler's professional ventures include fulfilling a high-ranking role for a helpful company. 
Matthew Rutler is the executive vice president of a prominent platform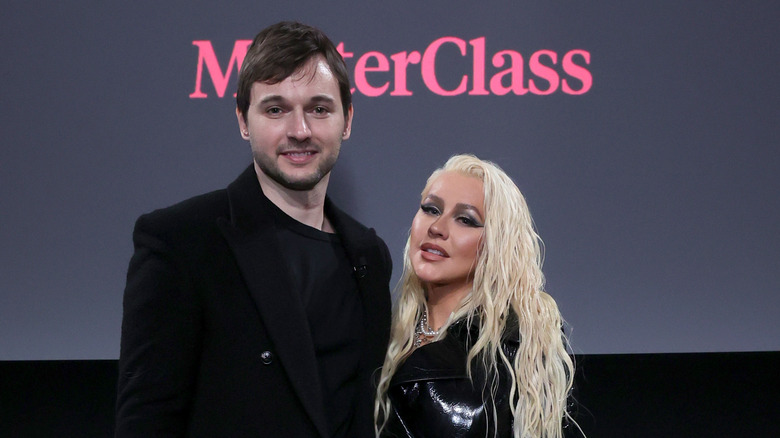 Cindy Ord/Getty Images
Christina Aguilera's fiancé, Matthew Rutler, is a leader of an educational online platform. According to his LinkedIn page, Rutler earned his bachelor's degree from Roger Williams University, where he studied business administration and management and minored in music. Since 2014, he has been an investor and the executive vice president of talent and business development at Masterclass, Inc. In his Instagram bio, Rutler describes himself as a "proud father, happily engaged (@xtina), adventurer, investor & executive @masterclass."
In 2022, he took to Instagram to celebrate when MasterClass was up for the Outstanding Instructional and How-To Program Emmy, per the National Academy of Television Arts & Sciences. This nomination resulted from the contributions of Issa Rae and Ringo Starr, who had both taught courses with MasterClass. "Congrats to @ringostarrmusic and @issarae and the entire MasterClass team for this unbelievable moment that I will never forget," Rutler wrote.
Before taking on this professional role, Rutler was a production assistant for popular Hollywood projects such as "Grown Ups," "The Social Network" and "Burlesque," which is how he first encountered Aguilera, per Elite Daily. Like his famous significant other, Rutler has a history as a musician — in 2010, TMZ wrote that Rutler was a member of the musical group Nate Mott Band. Together, Aguilera and Rutler have formed a lasting love connection.
Sources say Christina Aguilera and Matthew Rutler 'are happy the way they are'
Christina Aguilera and Matthew Rutler seem to have a happy and secure relationship. In 2014, Aguilera shared via social media that she'd given birth to her and Matthew's baby girl, Summer. "So proud to welcome our beautiful daughter Summer Rain Rutler into the world," Aguilera tweeted. The iconic performer has publicly shown her love for her fiancé, such as when she shared an Instagram post celebrating Matthew's birthday in April 2021. "I'm proud of you and will always be in your corner...cheering you on to keep shining and succeeding in all your wildest dreams. Love you baby," Aguilera said.
While they've been engaged for nearly a decade, Aguilera and Matthew are reportedly not feeling any pressure to tie the knot in the immediate future. In August 2022, a source chatted with Us Weekly about the status of the engagement. "There are no wedding plans at the moment. [Christina] and Matt are happy the way they are," the source said. "They're one of those couples who don't need a document to prove their love for each other." Recently, Matthew honored Aguilera with a heartfelt Mother's Day Instagram post. "The Mother of all Mothers @xtina Happy Mother's Day," Matthew wrote.