Who Is Bridgerton Star Golda Rosheuvel's Real-Life Partner, Shireen Mula?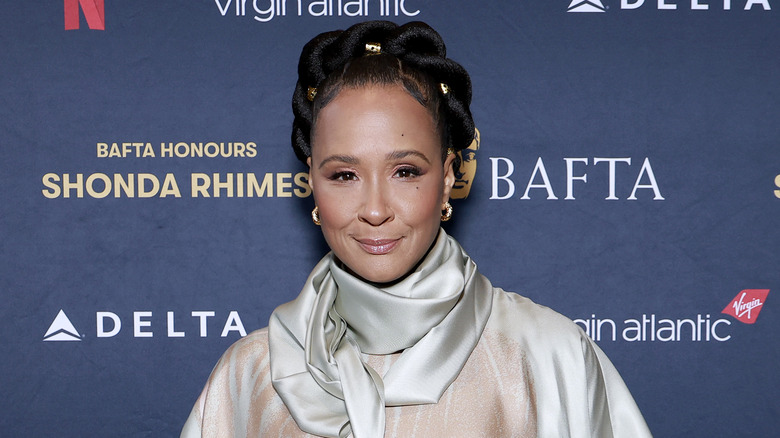 Jason Mendez/Getty Images
"Queen Charlotte" gave viewers a glimpse into the love story of Golda Rosheuvel's beloved "Bridgerton" character — but what do we know about the actor's own love life? 
Though Rosheuvel isn't often pictured with her partner of close to a decade, Shireen Mula, in an interview on the "Just for Variety with Marc Malkin" podcast, she made it clear that she wasn't hiding anything. In fact, far from it, she declared, "I'm out and proud." However, in the same interview, she admitted that while she was in awe of more overt activism, she'd long opted to leave that to those who were best at it. Her approach was to offer representation that normalizes marginalized groups — and she shared that Mula was incredibly supportive of that. "My partner always says, 'The mere fact that you're on the screen, the mere fact that you're in 'Bridgerton,' as a Black, you know, biracial, cisgender lesbian playing the first Black Queen of England ... [the] fact that you're there is an event.' We don't have to politicize it by going, 'This is the reason why,' or, you know, 'Ooh, she's there because ...' Just let them be. Let the stories be told. Let the faces be seen. You know?"
It's pretty clear, then, that Mula and Rosheuvel are on the same page when it comes to making an impact — but what more do we know about Mula, herself? 
She's in showbiz, too
Like her "Bridgerton" star partner, Shireen Mula has a career in showbiz, too — though she's more involved in the behind-the-scenes work. In the bio of her blog, Mula introduces herself as, "A playwright, theater-maker and dramaturg." In other words, on top of writing plays, she's also involved in directing and producing them, and when it comes to stage productions, she's an expert. It's no surprise, then, that in the past, she's served as a lecturer in the space, at London South Bank University, or that she's held masterclasses in writing through Rainbow Writes. More recently, Mula has been involved in the "Bridgerton" universe, too — as one of those who helped bring to life the experiential Secret Cinema "Bridgerton" event. 
As Golda Rosheuvel pointed out in her "Just for Variety with Marc Malkin" interview, Mula is also passionate about using her work to bring about representation that normalizes marginalized communities. As Mula, herself, explained in a 2018 blog entry, "It's fine (and GREAT) to have only queer people in a show and have the show be completely about sexuality, or not about sexuality at all ... I reckon, make the choices you feel are right for the narrative, and don't be afraid to step outside of who you are. We're artists — creators — remember." 
Talk about a compatible couple! 
...and Golda is smitten, to say the least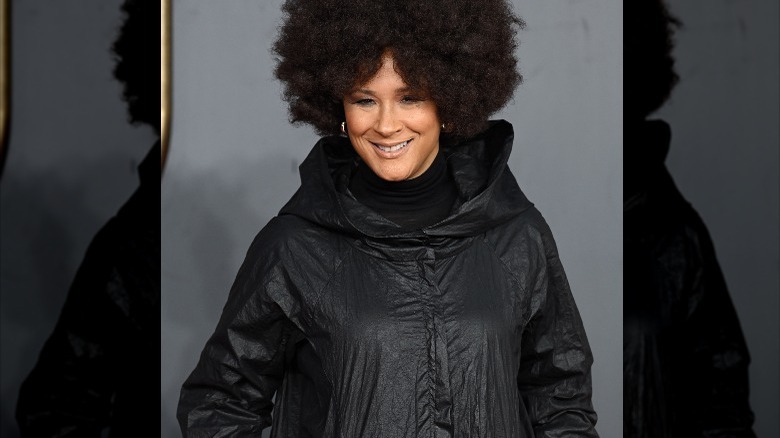 Karwai Tang/Getty Images
It's safe to say, Golda Rosheuvel is smitten with Shireen Mula. In fact, as she shared in "Just for Variety with Marc Malkin," she may even be softening in her personal stance on getting married. 
Speaking of the very first date they went on, Rosheuvel joked that she was upfront about her unwillingness to tie the knot, from the get-go. "I said to her, 'If you ever ask me to marry you, I'll say no' ... She was like, 'Okay ... this is our first date. I've just met you.' I was like, 'Oh, yeah, yeah, yeah, so yeah, fine, fine, fine — but I'm just saying,'" she laughed. However, after nine years together, Rosheuvel mentioned that she had since come to think of the idea as, "Beautiful." Don't expect wedding bells just yet, though. Pushed by Malkin on whether she was considering a proposal, the "Bridgerton" star laughed, "Hold your horses, there!" Granted, it also wasn't an outright no. "We'll see. I mean, you know, I don't see myself with any other person," she mused. We'll take it! 
From shared interests (and even overlapping projects, at times) to the same, strong views of using their work to bring about a new kind of representation, it's safe to say, Rosheuvel and Mula are couple goals.