Mac Miller Breaks His Silence On Ariana Grande's Engagement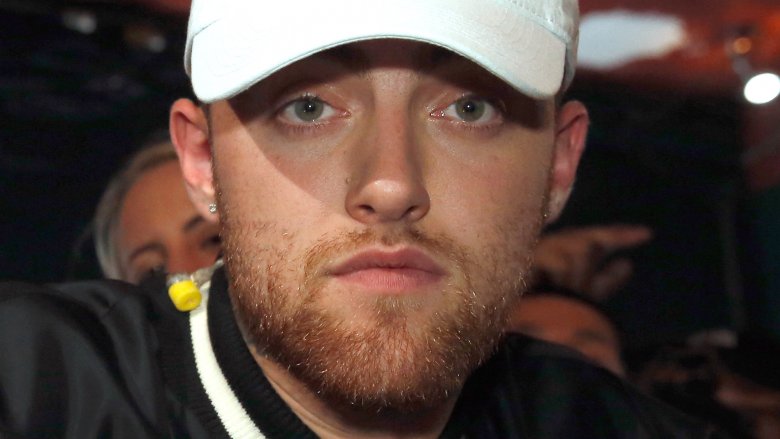 Getty Images
Mac Miller has spoken out about ex-girlfriend Ariana Grande's engagement to Pete Davidson.
During an interview with Zane Lowe on Apple Music's Beats 1, Miller addressed his past relationship with Grande and her new romance with Davidson (via E! News). "Life is stressful," he began, regarding his life when he was dating Grande. "You know what I mean so of course there were stressful times. It's not that unique."
He continued, "You know like I was in love with somebody. We were together for two years. We worked through good times, bad times, stress, and everything else. And then it came to an end and we both moved on. And it's that simple you know." Noting how he hasn't been on social media in recent months, he shared that fans were worried about him since he and Grande split — and, presumably, because Grande moved on quickly to someone else.
When asked why he'd avoided going on the internet, Miller replied, "Because I was about to drop the album. And also like I don't know it just all seemed kind of like unimportant you know like the need to show people I was OK. Like what is that? Where does that come from? Why? Why do we have this need to use social media and the internet?"
Fortunately, despite any heartbreak that may have happened, Miller has offered nothing but love for Grande. "I am happy for her and moving forward with her life just as I'm sure she is with me," he said.
As Nicki Swift previously reported, Miller and Grande's breakup made headlines in May 2018. Soon after, Grande addressed their split by sharing a photo of them together on social media, calling Miller one of her "best friends in the whole world and favorite people on the planet." Despite it sounding like she and Miller had had an amicable breakup, Grande later referred to their relationship as "toxic." Commenting on his reported history of alcohol abuse — which was exemplified by an alleged drunk driving accident that month — Grande noted that she'd "tried to support his sobriety & prayed for his balance for years."
As fans know, Grande reportedly started dating Davidson weeks later, though an exact timeline of their relationship is unclear. Not long afterwards, the two got engaged. However, their happiness has been in question, as recent reports have indicated that Grande may wish to call off their engagement because Davidson has "started to take a toll on her image."
Guess we'll just have to wait and see if their romance works out.