Teen Mom's Ryan Edwards Gets Arrested Again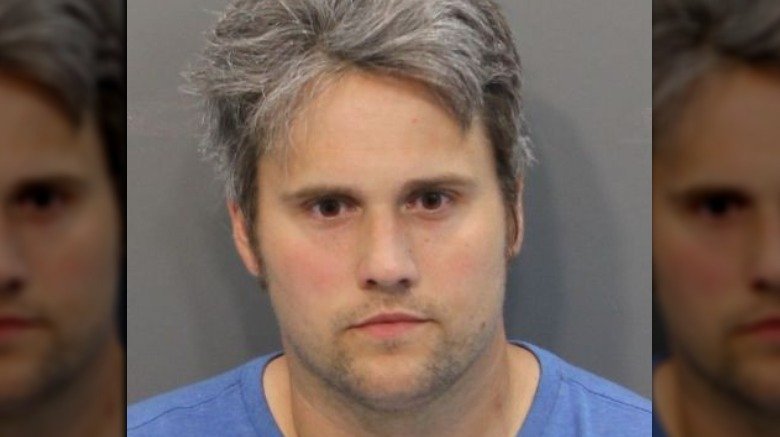 Hamilton County Sheriff's Office
Teen Mom OG alum Ryan Edwards was taken into police custody on Monday, July 23, 2018.
The reality TV star was arrested by the Red Bank Police Department in Tennessee, Radar Online reports. According to a Hamilton County Jail spokesperson, Edwards was brought in on charges of simple possession of heroin. "He is still here. He has no bond," the spokesperson said. "He goes to court August 6, 2018. He will be in jail until his court date."
This unfortunately isn't the first time that Edwards has faced legal trouble. As Nicki Swift previously reported, the 30-year-old was busted at his Tennessee home on March 27, 2018, for allegedly violating his probation from a previous heroin possession charge. He was released on $5,000 bond that evening.
Following the incident, his ex and fellow Teen Mom star Maci Bookout was granted a two-year restraining order against him in May. The estranged former couple share 9-year-old son Bentley. At the time of her filing, she claimed that Edwards had threatened her on multiple occasions.
"He has left voicemail messages threatening to show up at my house and take my son," she alleged, according to court documents obtained by Radar Online. Explaining that Edwards doesn't have any custodial rights to their son, Bookout claimed that "his behavior and actions are getting worse." She added, "I am fearful for my three children and myself, and what he may do, based on his threats."  
While the order includes Bookout, her husband, Taylor McKinney, and their children, daughter Jayde, 2, and son Maverick, 1, Edwards has still been allowed to see Bentley.
News of Edwards' recent arrest comes less than a week after he and wife Mackenzie Standifer, who are expecting their first child together, announced their exit from the hit MTV series. The couple had secretly married in May 2017, just before Edwards went to rehab for drug abuse.
"We're not returning to Teen Mom this season. The network told us they don't want to show Ryan as a recovering addict," Standifer told E! News last Friday, July 20. She went on to claim, "The show had been paying for my healthcare and for the baby so they could film the visits and then a week ago they let me know that would no longer be the case. They're not going to film the birth. We're not going to be on at all."
Meanwhile, Edwards spoke out against the show while calling attention to the epidemic of drug addiction in a lengthy post on social media. "They don't want to show me or Mack in a happy light or that I am active in my recovery. I AM," he wrote in part on Instagram, captioning a text-post which read, "Life can take you higher than drugs. Stop drug abuse. Live life." He added, "They want me to look angry, passive aggressive and uncaring regarding things that mean the most to me."