How Did Derek Jeter And His Wife Hannah Meet?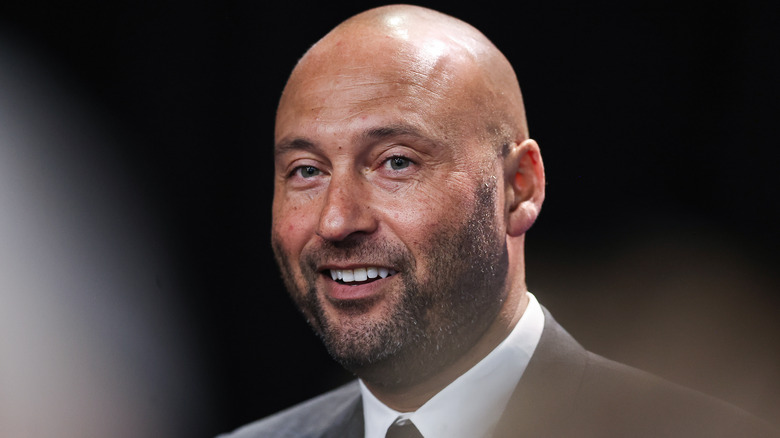 Dustin Satloff/Getty Images
Derek Jeter was the captain of the New York Yankees from 2003 through 2014, with the team drafting Jeter straight out of high school in 1992. He made his official MLB debut with the team in 1995. From then on, Jeter made a name for himself doing the one thing he loved most: playing baseball. He went on to win five World Series rings with the Bronx Bombers and was inducted into the Baseball Hall of Fame in 2020. "There was only one thing in my life that I wanted to be, and that was the shortstop for the New York Yankees. And now I'm a Yankee forever," Jeter said in his Hall of Fame speech, according to MLB.com.
As one of the most recognizable names in baseball, the shortstop was also a heartthrob in his own right. Over the years, Jeter's personal life often made headlines, from his romance with Mariah Carey in the late 90s to his three-year relationship with Minka Kelly. In 2012, however, Jeter's life would change forever. It was at that time that he and his now-wife Hannah Jeter (née Davis) met through a mutual friend. And, believe it or not, Hannah Jeter didn't really know much about her slugger beau.
Hannah Jeter met Derek Jeter through a mutual friend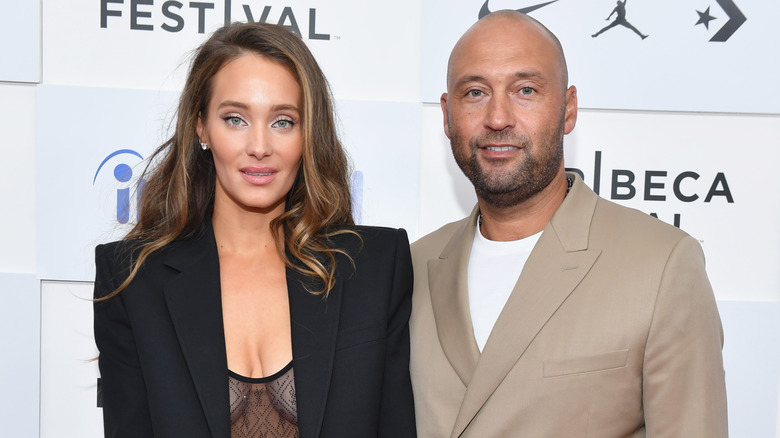 Noam Galai/Getty Images
Not super connected to the baseball scene, Hannah Jeter admits that she wasn't familiar with Derek Jeter when they first met through a friend. "I thought he was a pitcher. I know it sounds strange that I didn't know he was a shortstop. I can just imagine all of the New Yorkers reading this right now thinking, 'Oh, come aawwnn.' They probably don't believe me. You probably don't believe me. But it's true," she wrote in a guest post for The Players' Tribune. She went on to say that she thought that Derek Jeter was "the nicest guy" and she chose to get the know him on a personal level. "We met at the right time. To me, what matters in a relationship is being at the same place in your lives. And right from the start, I could tell that the timing of Derek's life and mine were aligned," Hannah wrote.
Although Derek was never one to flaunt his romances, his relationship with Hannah seemed different from the start — and fans noticed. Derek seemed smitten with the Sports Illustrated swimsuit model. And, in 2015, he casually referred to Hannah as his fiancee in a blog post he wrote for The Players' Tribune. Their wedding was up next. According to People, Derek and Hannah exchanged vows at Meadowood Napa Valley Resort in St. Helena, California in July 2016.
Derek and Hannah Jeter have 4 children together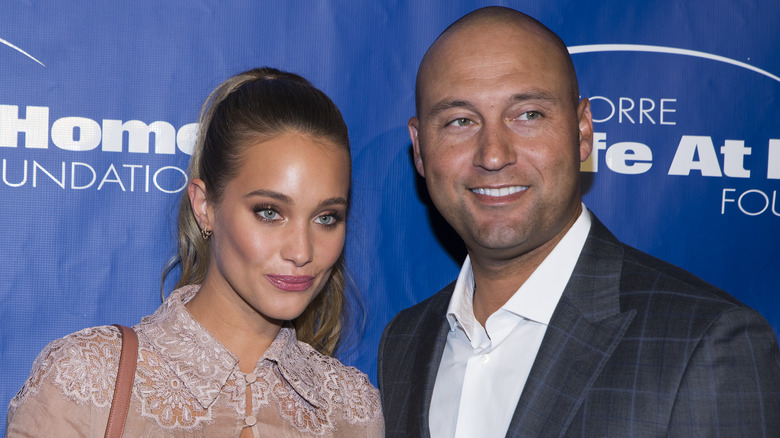 Jenny Anderson/Getty Images
Although Derek Jeter is retired, he is certainly keeping busy. He and Hannah Jeter knew they wanted to start a family together and they wasted no time doing so. Less than one year after they tied the knot, the couple announced that they were expecting their first child together — a baby girl. The reveal came in Hannah's aforementioned blog post for The Players' Tribune, which was founded by Derek in 2014. "Now, pregnant with our first child, Derek and I are looking to the future," Hannah wrote, supplying a photo of her husband holding a bouquet of pink balloons. Bella Raine Jeter joined the family in August 2017.
In January 2019, the Jeters became a family of four when they quietly welcomed their second daughter, Story Grey Jeter. Then, in 2021, River Rose Jeter joined the family. Most fans had no idea that Derek and Hannah were expecting again. In 2023, another surprise baby was announced — this time by Derek, who posted the news on Instagram; he and Hannah had welcomed their first son. Kaius Green Jeter was born on May 5. "Welcome to the world lil man!!!" Derek Jeter captioned his post, tagging his wife.
During his 2020 Hall of Fame induction speech, Derek took a few minutes to share the love he has for his wife. "I couldn't be luckier that our paths crossed when they did. I love you so much, and there's been nothing more fulfilling in my life," he said.