Blake Shelton's Last The Voice Finale Proves His Bromance With Adam Levine Is Still Going Strong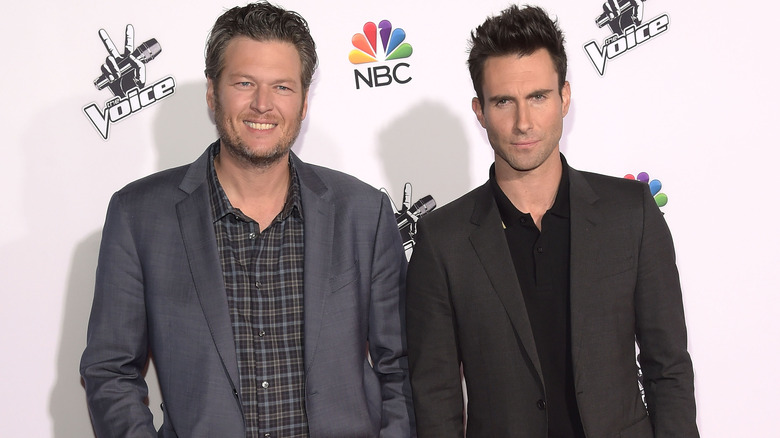 Jason Kempin/Getty Images
Blake Shelton threw a playful dig towards Adam Levine ahead of his departure from "The Voice." Over the past 12 years, pop culture enthusiasts have followed Shelton as he mentored emerging music talents in the popular singing competition. In addition to his mentoring, the "Nobody But You" singer has garnered attention on the show for racking in the most winners — with nine titles — and his playful interactions with his fellow cast members, including former judge Adam Levine. During their shared time on "The Voice," the Maroon 5 frontman and Shelton famously "feuded" with one another, which included them throwing playful jabs and critiques regarding their place in the competition and musical talents.
"We are constantly at each other's throats, and sometimes we really do get mad at each other," the country music star told The Tennessean in 2017 regarding their bromance. "We're those two guys you knew in high school where we have this bond that is unexplainable." Despite Levine not being on the show since its 16th season, Shelton reignited their playful feud following his final run on "The Voice."
Blake Shelton throws one final dig toward Adam Levine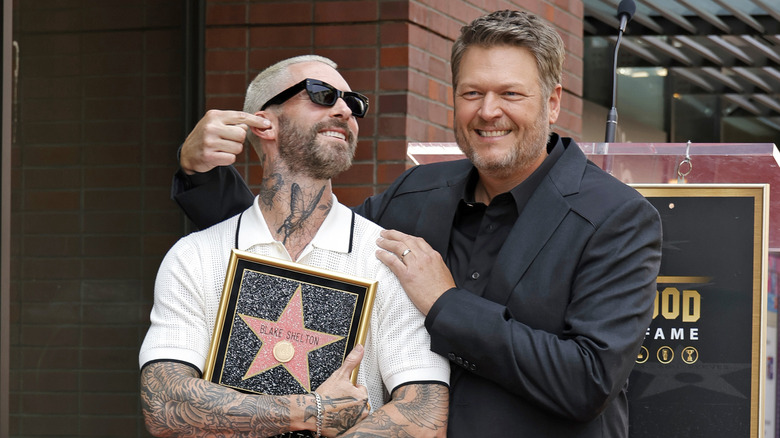 Frazer Harrison/Getty Images
In October 2022, Blake Shelton announced his exit from "The Voice" following its 23rd season. "I've been wrestling with this for a while and I've decided that it's time for me to step away," he wrote on Instagram. "This show has changed my life in every way for the better, and it will always feel like home to me." After a season full of twists and turns — which included his last set of artists coming in second and fifth, respectively — Shelton hung up his buzzer for good on May 23. While the country star didn't win, his Season 23 farewell was full of sentimental moments, including a performance from Team Blake alumni and the return of his playful "feud" with former "The Voice" judge Adam Levine.
Ahead of Maroon 5's performance of their new single "Middle Ground," Shelton reignited his love-hate bromance with Levine during an interview with E! News. "I'm glad that Adam is singing and not speaking because every time he speaks, he says really stupid stuff," he said. "When he was a coach on the show, I'll still say he was hands down the worst coach of anything that I've ever seen in my life." Shelton's playful comment comes a few months after Levine joked to ET about the "Hillbilly Bone" singer's departure from "The Voice." When asked about his thoughts on the matter during the Vanity Fair Oscar Party in March, the "Payphone" singer exclaimed, "It's about time!"