Beyoncé And Jay-Z Under Fire For Mocking Tina Turner's Abusive Marriage In Resurfaced Duet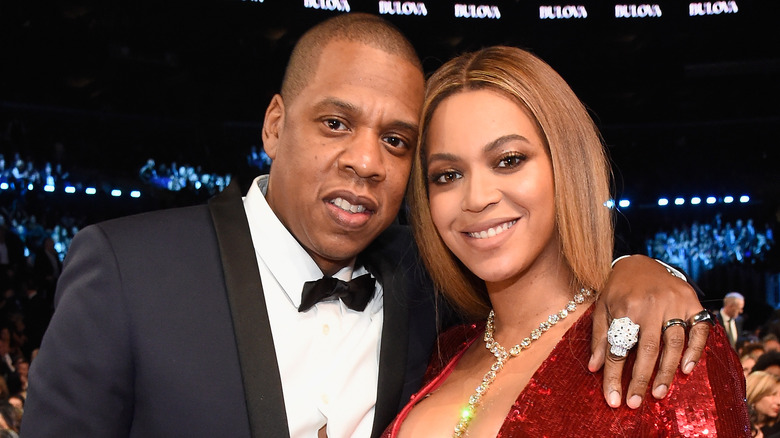 Kevin Mazur/Getty Images
The following article references domestic abuse.
Tina Turner influenced the music industry like no other. The rock 'n' roll legend inspired some of the biggest artists today, including Beyoncé. The two artists even graced everyone with a one-of-a-kind performance of "Proud Mary" at the 2008 Grammys. Beyoncé's mom, Tina Knowles, detailed how excited the "Cuff It" singer was to be joining the legend onstage on Instagram. She shared, "It was the day that Beyoncé was to rehearse with Tina Turner for the Grammys. We were both so excited and when she arrived and we were told that she was in the other rm we all witnessed Beyoncé, turning into a five-year-old actually skipping across the floor to embrace her." The two stunned the audience with their performance and it was clear how much Turner meant to Beyoncé.
Unfortunately, Turner tragically died in May 2023 and Beyoncé shared a sweet tribute in honor of one of her biggest inspirations. She wrote, "My beloved queen, I love you endlessly. I'm so grateful for your inspiration, and all the ways you have paved the way ... We are all so fortunate to have witnessed your kindness and beautiful spirit that will forever remain. Thank you for all you have done." While some fans saw the sentiment as sweet, others couldn't get past the fact that Beyoncé and her husband, Jay-Z, seemingly mocked Turner's abusive marriage in one of their songs.
Drunk in Love references Tina Turner's abusive relationship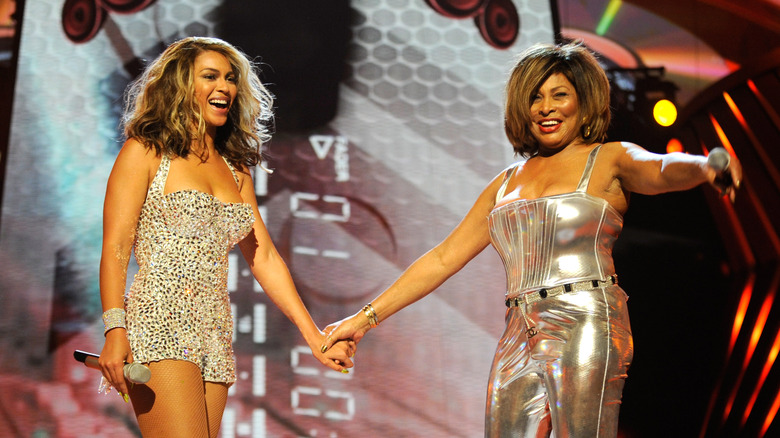 Kevin Mazur/Getty Images
It seems like Beyoncé can do no wrong, right? Not according to Tina Turner fans. After the "Break My Soul" singer shared a post honoring the late legend, fans quickly called out Beyoncé for her duet "Drunk in Love."
In the song, Jay-Z raps, "Beat the box up, like Mike in '97, I bite / I'm Ike Turner, turn up baby, no, I don't play/ Baby, no, I don't play, now eat the cake, Anna Mae / Said eat the cake, Anna Mae!" As many already know, Tina was in an abusive relationship with her ex-husband Ike Turner for more than a decade, per the Daily Mail. During their marriage, Tina faced emotional abuse and physical abuse. According to Page Six, Jay-Z's lines in "Drunk In Love" referenced a supposed dispute Tina and Ike had about a pastry.
Fans were incredibly upset when the song was initially released in 2013, and now that Turner has died, it has only renewed their ire. As one Twitter user wrote, "not to be that girl but could we have that drunk in love line revised now? it still feels icky." This was just one of many users who called out the musicians for the distasteful lyrics. However, Jay-Z and Beyoncé haven't commented on the backlash surrounding the song as of this writing.
If you or someone you know is dealing with domestic abuse, you can call the National Domestic Violence Hotline at 1−800−799−7233 or TTY 1−800−787−3224. You can also find more information, resources, and support at www.thehotline.org.