The Advice From Jamie Foxx That Changed Everything For Olivia Munn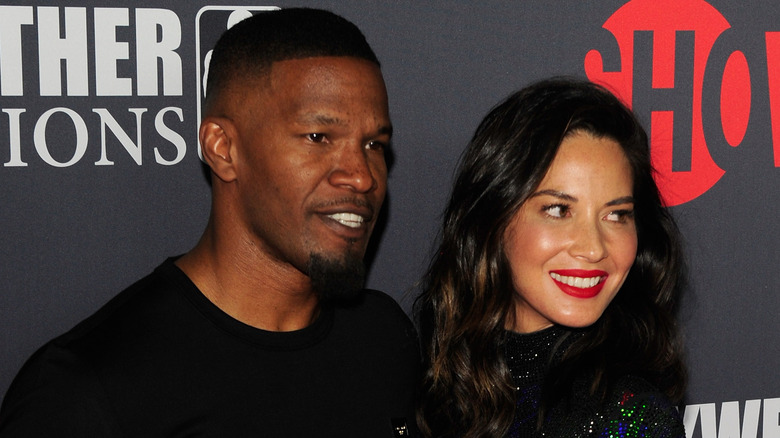 Steven Lawton/Getty Images
Jamie Foxx once offered Olivia Munn some advice that still benefits the "Inside Amy Schumer" actor today.
One thing Foxx is known for, outside of his multi-range talent and hilarious storytelling skills, is his helpful life advice. Over the years, Foxx, who's conquered the acting and music world, has shared a vast number of helpful nuggets about everything from general life tips to how to make it in the entertainment business. When Gentleman's Journal asked Foxx what he wished he could go back and tell his "20-year-old self," Foxx replied, "Take your career more seriously." He continued. "Up until receiving an Oscar nomination for 'Ray,' I had been going out and partying a lot. So when I finally received that first nod from the Academy, I got a call from Oprah asking me to come to her house, because she wanted to have a talk with me." 
When appearing on Tim Ferriss' podcast, Foxx revealed the motto he lives by. "What's on the other side of fear? Nothing," Foxx said (via Insider). He continued, "Meaning either you do or you don't, but there's no penalty. There's no reward. It's just be yourself ... People are nervous for no reason, because no one's going to come out and slap you or beat you up." 
Apparently, Foxx also has dating tips in his celebrity advice arsenal, which he once generously shared with Munn.
Jamie Foxx encouraged Olivia Munn to focus on herself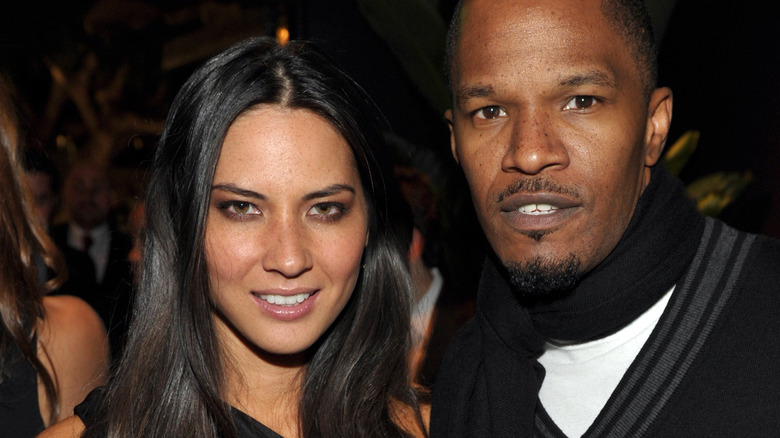 John Shearer/Getty Images
In 2018, Olivia Munn appeared on "Busy Tonight" and revealed the amazing words of wisdom her friend Jamie Foxx shared with her about her career and love life. "[Foxx] saw me at a party and I was dating this guy, who was an actor that was famous..." revealed Munn, according to Entertainment Tonight. "We were still at this place where you hadn't said that you're official. I was official, but I was waiting for him to, you know, say it, but it wasn't going to happen." Their lack of commitment allowed the guy to flirt with other women, prompting Munn to leave. 
"Jamie stops me and is like, 'Where are you going?'" she continued, before admitting their complicated dynamic to Foxx, who later left her a voicemail about the situation. "[Foxx] said... 'Did you come out here to be somebody's girlfriend? No! ... Did you come out here to be an actress? Yes! Don't you ever, ever let me see you cry about some guy like that ever, ever again.'" She added, "Every now and then it would pop into my head, of course I've kind of veered off sometimes, but I will think about that and it brings me back to center." In 2021, Munn returned Foxx's kindness when she congratulated him on his starring role in "Soul," a first for a Black actor. "letsgooooo!!!. Never surprised but always amazed by your fam@iamjamiefoxx," Munn posted to Instagram Stories (via Geo News). 
Jamie Foxx also gave Woody McClain some advice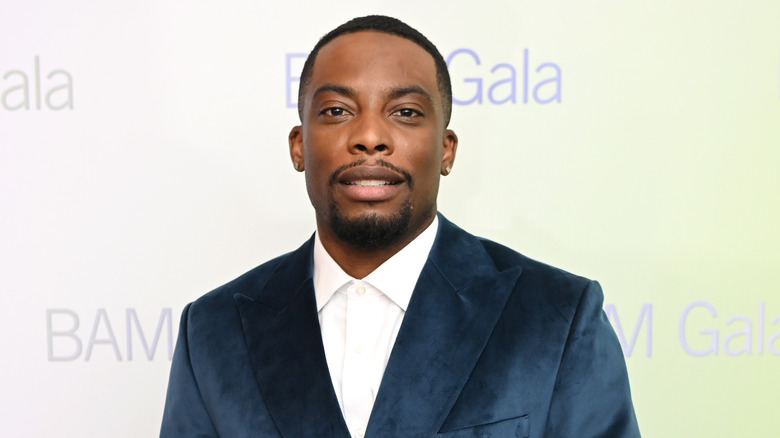 Noam Galai/Getty Images
Jamie Foxx also once helped actor Woody McClain, who famously played Bobby Brown in "The New Edition Story" and Brown's solo spinoff, form a new perspective after feeling buried underneath the role. "I remember being at Jamie Foxx's house, and I was just in the corner. Everybody kept saying, 'Bobby. Bobby,'" McClain told PopSugar. "I hear that a million and trillion times. But I remember Jamie coming over to me. He was like, 'I noticed every time somebody says that, you kind of dim your light. You can't do that ... You got to understand that you played one of the coolest cats that's ever done it in the R&B game." He continued, "He was like, 'Don't shy away from that — embrace it. Until you embrace it, then you won't be able to move on ... You're going to get more things. More things are going to come. You're going to be amazing.'"
Fortunately, McClain has added several other roles two his résumé since then, including "The Harder They Fall," "East New York," and "Power: Book 3," per IMDb. Just don't expect him to portray Brown in a third film. "Can't recapture that moment again," McClain revealed to PopCulture. "So yeah, that chapter has been closed, and we've moved on. So I'm super excited about that, and I really want to explore other characters."