The Tragic Real Life Story Of Race Car Driver Stefan Wilson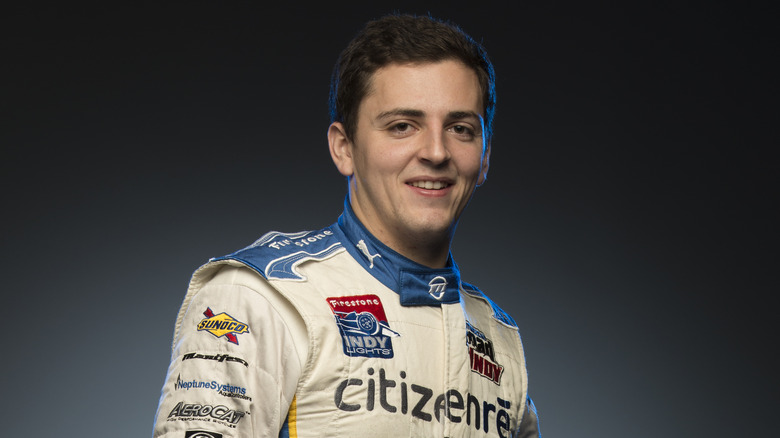 Robert Laberge/Getty Images
If you're a fan of the race car driving industry then chances are you've heard of Stefan Wilson. Hailing from the UK, the beloved driver first got his start in 2007, competing in the Formula Palmer Audi Championship, in which he earned second place. Over the years, Wilson has continued to make his mark on the sport by securing an array of accolades, including the McLaren Autosport BRDC Award, and earning some of the top spots in races like Indy Lights and British Formula 3 Championship.
In an interview with ButtKicker, the esteemed talent reflected on his career and turning his race car childhood dreams into a reality. "I started racing when I was 9 years old, racing go-karts and then from there, it got bigger and faster," he explained. "My goal was always to reach the top of open-world racing. Racing in any car was my goal, and [I ] was able to achieve that racing three Indianapolis 500s." Yet, while Wilson has enjoyed a fruitful career as a race car driver, his personal and professional lives have been full of tragedy. Join us as we take a closer look at some of the obstacles he has faced in recent years.
Stefan Wilson witnessed his brother Justin Wilson's death on TV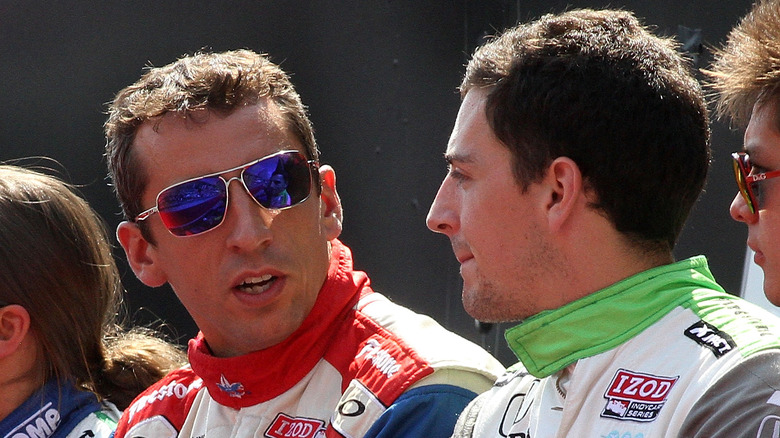 Brian Cleary/Getty Images
While Stefan Wilson created a successful career in racing, he isn't the only one in his family to take on the sport. Before making his debut, his older brother Justin Wilson led an expansive and impressive career as an open-wheel race car driver. Unfortunately, his time behind the wheel ended after a crash at the Pocono Raceway in 2015, where he was hit with debris. After sustaining a head injury that left him in a coma, Justin was pronounced dead the following day at age 37, per Indy Car. Justin's death proved difficult for Stefan, who gave an emotional speech at the Indy 500 finale days later. "I don't know how to express it, but thanks to everyone who has reached out with support and the amazing tributes everybody has been paying," he said (via ESPN).
In 2017, Stefan gave further insight into the tragic accident while speaking with the Daily Mail. "I saw the accident on TV. I knew immediately it wasn't good. I just prayed it wasn't the outcome it turned out to be. I thought it was probably the end of his career but that he would recover," he said. Stefan also discussed navigating life without his brother. "It's never going to be any different. I miss him. There are times, whether it is racing related or just life, I really just want to talk it through with him, and he's not here," he added.
Stefan Wilson experienced his own terrifying crash 6 years after brother Justin's death
A few years after his brother Justin's tragic death, Stefan Wilson was involved in scary crash of his own. While practicing for the Indianapolis 500, Wilson and fellow driver Katherine Legge collided with each other on the Indianapolis Motor Speedway, per Indy Star. The incident, which took place on May 22, resulted in Wilson's 12th thoracic vertebrae being fractured. "After being transported to IU Health Methodist Hospital for further tests, it was disclosed that Wilson suffered of the 12th thoracic vertebrae and will stay overnight for further tests and observation," his team said in a statement to the aforementioned news outlet.
Fortunately, a few days after the crash, Wilson revealed that he would be making a full recovery in an optimistic Twitter video. "Hey guys, we had surgery last night, it was a pretty late surgery, but coming out on the other side of it I'm really pleased with the results," he explained from his hospital bed on May 25. "I feel a lot better today... the recovery journey starts now. The race to recovery for 2024 Indy 500 is starting now." Toward the end of his video statement, Wilson thanked his fans for their support. "I'm so thankful. Thank you to everyone that's reached out, and dropped messages. It means a lot [and] it's helped me keep my spirits high," he added. "Keep checking back, and I'll keep you updated on the progress."