Alex Cooper's Fiancé Matt Kaplan Has A Romantic Past With An Olsen Twin
Steve Granitz/Getty Images
Matt Kaplan will soon marry Alex Cooper, who hosts the "Call Her Daddy" podcast, but he was once involved with an Olsen twin.
To recap, Cooper and Kaplan's shocking April engagement delighted Cooper's fans, who have become accustomed to the candid, cynical retellings of her past relationships on her podcast. So far, the couple hasn't shared their wedding date or much more about their relationship. However, judging from the estimated price of Cooper's engagement ring, they're definitely going to go all out when they actually tie the knot. After all, Kaplan is a producing mogul who has helped create a long list of romance films for young adults. Cooper, herself, is worth $25 million. Yeah, their wedding expenses are definitely going to pay their vendors' bills for years to come.
Since we can only speculate about how amazing their wedding will be right now, let's do something even more fun: Recap one of Kaplan's former relationships, which included one of the Olsen twins. Apparently, Kaplan could've very well become Mr. Olsen had things worked out between him and his former Hollywood actor. Don't worry — it was literally twenty years before his relationship with Cooper commenced, although that doesn't mean that it wasn't substantial at the time.
Matt Kaplan dated Ashley Olsen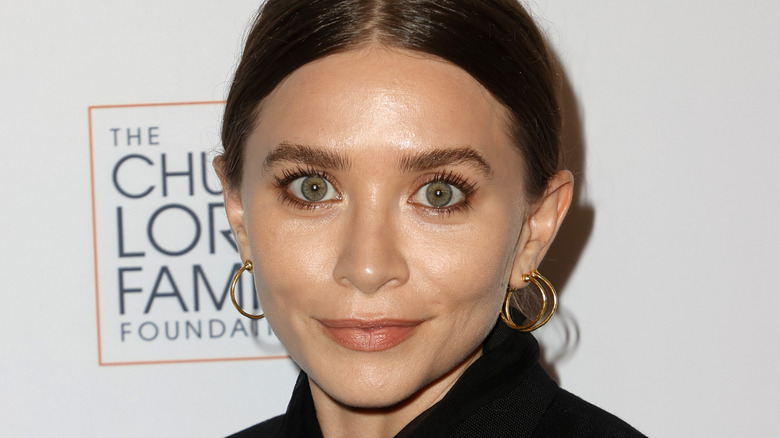 Frazer Harrison/Getty Images
Matt Kaplan dated Ashely Olsen from 2001 until 2004. Although they obviously weren't meant to be in each other's lives forever, Ashely was enthused about the relationship for a time. During a Rolling Stone interview, 17-year-old Ashley shared a few factoids about her bond with then-college freshman Kaplan. "We go out to dinner, go to a movie," shared Ashely with the outlet. "It's pretty boring." Ashley also revealed that her sister, Mary-Kate Olsen, sometimes third-wheeled on their dates. "At the very beginning, I would probably not have my sister come along," said Ashley. "It takes time to get to where you're comfortable having a third wheel around. But then we'll all go out to dinner and have so much fun," she added.
Unfortunately, the couple broke things off in May 2004, according to People, who reported that the breakup was "amicable." Prior to their break up, the New York Post inferred that Kaplan, who was attending Columbia University at the time, at least partially influenced Ashley's decision to attend NYU. In September of that year, the New York Post reported that Kaplan and Mary-Kate's ex, David Katzenberg played wing-men to each other and flirted with multiple women at a Maxim Music party. Well, that's one way to cope with a breakup.
Alex Cooper won't be Matt Kaplan's first wife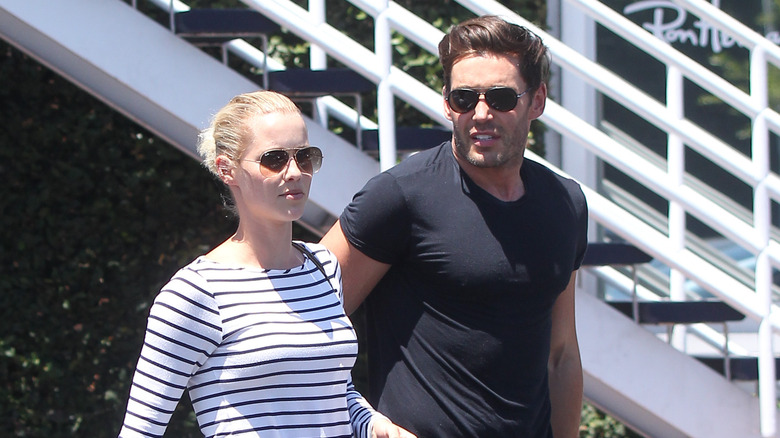 Oswaldo/bauer-griffin/Getty Images
Matt Kaplan's first wife was actor Claire Holt, who's best known for appearing as Rebekah Mikaelson on "The Originals" and other dark thrillers. The former couple wed in April 2016. And according to Holt, it was an intimate affair. "I think there's something really sacred about keeping that moment to yourselves," Holt revealed to TV Week (via the Daily Mail). She continued, 'We just got married in front of our families. We had the best day!" However, the outlet did share a few scarce details about their wedding, including their venue, the San Ysidro Ranch.
Unfortunately, Kaplan and Holt's marriage didn't last long. Kaplan pulled the plug on their marriage before they reached the one-year mark of their marital journey. The couple didn't have any children during the duration of their relationship. And while Kaplan, so far, has yet to enter the world of fatherhood, Holt has two kids with her husband, Andrew Joblon. Currently, the actor is pregnant with their third baby, although her pregnancy hasn't been impeding her fun. According to Page Six, Holt and Joblon were spotted out partying together in Miami shortly after Kaplan and Alex Cooper's engagement news broke, proving that she's clearly not thinking about her old life.