How Dolly Parton Really Feels About Billy Ray Cyrus' Fiancee Firerose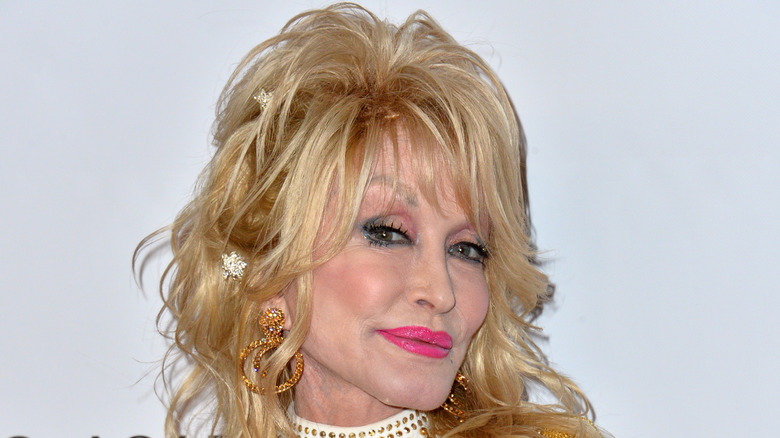 Featureflash Photo Agency/Shutterstock
Dolly Parton is known for her no-nonsense straight talking, and she isn't holding back when it comes to her close friend and fellow country star, Billy Ray Cyrus' new fiancee, Firerose. The Tennessee legend is a longtime friend of the Cyrus family; Parton and Billy Ray's relationship spans decades, and she's even Miley Cyrus' godmother! People reports that they share a super special relationship, both on and off the stage. 
Way back in the day, pre-twerking and tongue-poking, when Miley was a Disney darling, Parton made several special guest appearances on her hit show "Hannah Montana," playing her Aunt Dolly. And Miley has collaborated on stage with the musical legend, in addition to featuring her on "Rainbowland" from her album "Younger Now" and paying a special homage in a fabulous "Backyard Sessions" version of Parton's iconic hit, "Jolene."
Miley's dad could do with all the support he can get regarding his love life. Billy Ray's first marriage didn't work out — he was with Cindy Smith for nearly five years before divorcing in 1992, just prior to him hitting the big time with the release of his debut album. His second marriage lasted almost thirty years, but it was an emotional rollercoaster, to say the least. Yahoo! reports that Billy Ray and Tish Cyrus' relationship resulted in five kids and three divorce filings. The couple finally called it quits for good in 2022. So, how does Dolly Parton feel about Billy Ray Cyrus' new fiancee Firerose?
Dolly's two thumbs up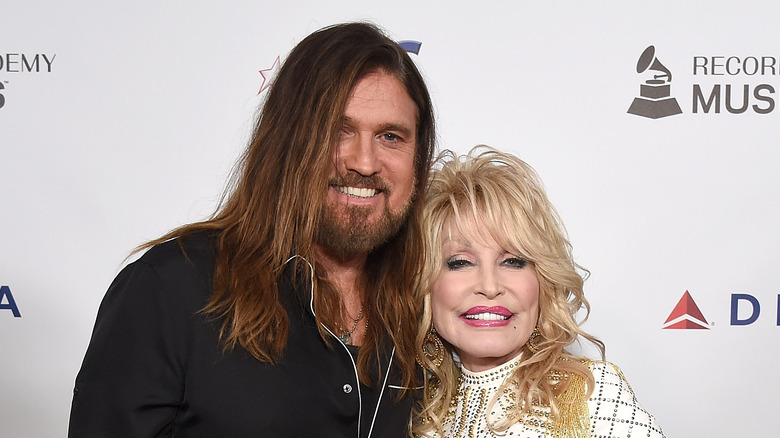 Michael Kovac/Getty Images
Billy Ray Cyrus' fiancee Firerose gets the two thumbs up from Dolly Parton. The singer admitted she hasn't caught up with Billy Ray since he popped the question. Still, she got to hang out with Firerose after the Australian dropped in on the couple during filming in 2022. "[Billy Ray] did my Christmas special, the 'Mountain Magic Christmas.' We got a chance to talk a lot and I got to meet his girlfriend. She seemed like a sweet girl," Parton told Us Weekly. "I love Billy Ray like I love Miley. They're family. He's like a brother to me, and she's like a daughter."
It's good that Billy Ray has Parton's support, at least, because Miley Cyrus isn't rushing to start a bridal party in the USA anytime soon. E! News reports that the father-daughter relationship has been strained since Miley took her mom Tish Cyrus' side following her parents' split. "It's been hard to connect with him in the last year," a source said. "She hopes they can eventually work on their relationship."
The source said Miley "doesn't have a relationship" with her future stepmom, but "she, of course, hopes he is happy." The slightly creepy way Billy Ray and Firerose first encountered each other probably doesn't help. "We actually met 10 years ago on the set of 'Hannah Montana,'" Firerose told Ryan Seacrest in 2022. "Billy Ray's been a phenomenal supporter of my music ever since."
Fixing his achy breaky heart
Things became so strained between Miley and Billy Ray Cyrus that she's no longer following him on social media. "Miley is all about peace but she didn't agree with some things that her father has done. It has really escalated, and they are not on good terms," a source told The U.S. Sun. "There were words exchanged over what ­happened towards the end of Billy and Tish's marriage and since then, but they clearly see things very differently.
E! News reports that Firerose, whose real name is believed to be Johanna Rosie Hodges, and Billy Ray remained in contact after meeting on "Hannah Montana." They grew closer while collaborating on the track "New Day" and when she helped Billy Ray nurse his achy breaky heart.
"Billy confided in me a lot of what was going on in his life. I was just the best friend I could possibly be, supporting him," Firerose told People. Meanwhile, Billy Ray called his fiancee "such a light of positivity" and said they "found this harmony, and this rhythm, this melody to life." He was reduced to tears as he gushed about his new love and how she's helped him gain stability in life. "Finding Firerose and getting engaged and then losing my mom [a few weeks later] — see? The teeter-totter will not stay in the middle," he said. "But having somebody to ride it out with now — that's giving me a little more balance."