What Ray J's Relationship With His Sister Brandy Is Really Like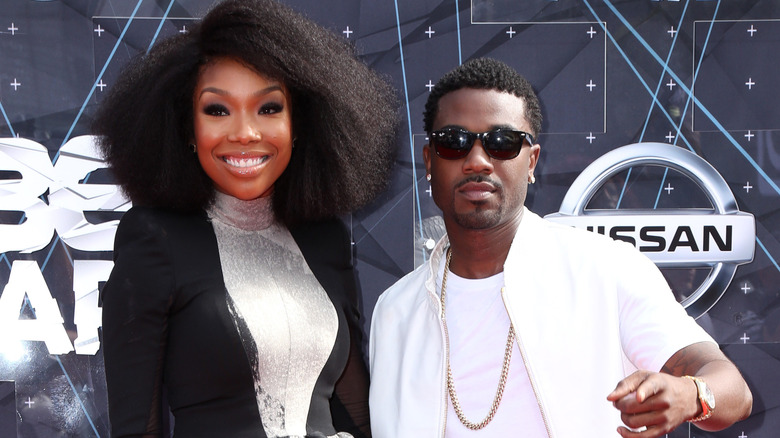 Kathy Hutchins/Shutterstock
This article contains mentions of suicidal ideation.
Controversy always follows Ray J's name, due to the lingering interest in his connection to Kim Kardashian, his antics on "Love & Hip Hop: Hollywood," and his rocky relationship with wife, Princess Love. However, Ray J was once known simply for being Brandy's little brother. In the '90s and early-mid '00s, Brandy's singing and acting career placed her at the forefront of the Norwood family (along with the R&B charts) while Ray J, who also had a modest music and television career, was often seen as her tag-along. 
While Brandy has continued to shine brightly across various areas of entertainment, including once again playing Cinderella for Disney, Ray J himself is also a household name and successful entrepreneur.Brandy, by the way, supports Ray J's ascent, even as he racks up scandal after scandal. "To watch his sister become whatever I became and to not have that same path or that same way it happened for me; to be called 'Brandy's brother...'" said Brandy to Vibe. "To finally break out of it, you're going to brag; you're going to feel something about yourself. It's not coming from a bad place, and I can tell you: Some of the shoes Ray J's walking in, you'd take off immediately. You wouldn't be able to handle the type of shoes he's in."
This interview is just one of several examples showcasing the bond between these celebrity siblings.
Ray J and Brandy are really friends
Brandy Norwood and Ray J have been best friends for years and it doesn't appear as if that'll ever change. In fact, one of Brandy's earliest hits, "Best Friend" was all about their close bond. In 2012, Brandy reflected on her biggest songs and shared her thoughts on this particular track. "I loved 'Best Friend,'" shared Brandy with Complex. "I actually think that was the song that should've been the first single, because it was about my brother Ray J and he was in the video." She continued, "It was so much fun just working with him, because it never feels like work when we work together. We were just young and we had so much fun doing that. It was great to do a song about him, because he means everything to me."
Ray J obviously loves his big sis as much as she loves him. In 2019, Ray J paid tribute to Brandy's career by performing "Best Friend" during the BMI R&B and Hip Hop Awards. According to Genius, the song's original pre-chorus features the line, "Cause I'm your sister, and always for ya." Of course, Ray J swapped out "sister" for "brother" as he performed for Brandy, who was standing and dancing along from the audience. Additionally, Ray J also got a tattoo of Brandy in 2022.
Brandy is the ultimate big sister to Ray J
Even though Brandy Norwood is super supportive of her little brother, she's not afraid to give him a dose of tough love when he needs it. During an episode of "Love & Hip Hop: Hollywood," Ray J took Brandy to dinner to vent about his turbulent relationship with his then-girlfriend Princess Love and his assistant. And while it seemed that Ray J was looking for a bit of blind support, Brandy turned the mirror on her brother as she talked him through his issues. "Can I just be completely honest with you?" asked Brandy. "It's you, it's your choices. You put yourself in positions where the worst comes out." Brandy added, "I don't like your environment either. I don't think it's healthy."
A few years later, Ray J posted about his suicidal ideation on Instagram, according to Page Six. Brandy then did what any older sibling would do: show some public support for her brother. Alongside an Instagram photo of herself and Ray J as kids, Brandy wrote, "Need you bro @ Ray J" and a prayer hand emoji. A couple of weeks later, Brandy uploaded a similar photo. "#tbt never forget how generous we were with our shoulders @rayj I love you bro ride or die!!! #rayjsSister – he only needs ONE!!!" Brandy captioned the Instagram post. 
If you or anyone you know is having suicidal thoughts, please call the National Suicide Prevention Lifeline​ by dialing 988 or by calling 1-800-273-TALK (8255)​.