Why Demi Lovato Is Still In The Hospital After Her Alleged Overdose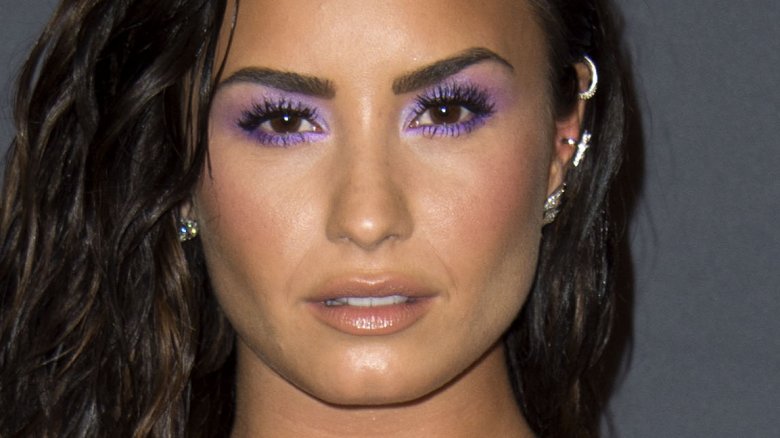 Getty Images
"Skyscraper" singer Demi Lovato is still in the hospital a week after first being admitted for an alleged overdose, and she may remain there for some time, as she's reportedly been suffering from several health problems.
According to TMZ, as of July 30, 2018, Lovato was still a patient at Los Angeles hospital Cedars-Sinai Medical Center. Multiple sources told the gossip rag that the former Disney Channel star had been experiencing several "complications," chief among them being "extreme nausea and a high fever." Lovato's current health issues are reportedly due to her alleged overdose.
Lovato's lengthy stay in the hospital may also have to do with the specific drugs she may have taken. Dr. Howard Samuels, an expert in addiction, offered some insight into Lovato's situation, telling Entertainment Tonight, "We don't know exactly [which] drugs Demi was using, but for her to be in the hospital for six days sort of suggests to me that they're detoxing her off of an an opiate or a benzo[diazepine], such as Xanax or Valium, and they didn't want to release her until she's gotten these drugs out of her system."
Narcan, the medication reportedly administered to Lovato that is used to treat opioid overdoses, can also cause many severe side effects, including nausea and a fever. So, it's possible that Lovato's lengthy hospital stay could also be due in part to her reported Narcan intake.
Fortunately, Lovato is expected to get better, though it's unclear just how long that will take. While doctors have reportedly not determined just when to release the pop star from the hospital, a source shared that things are looking good for Lovato, stating, "She is under the care of medical experts and is expected to make a full recovery" (via TMZ).
Lovato is said to be making plans to enter a rehabilitation program after her release from the hospital. An insider revealed to ET, "Demi is planning to check into a rehab system that works for her once she's released," noting, "This could be inpatient or outpatient."
As Nicki Swift previously reported, Lovato was rushed to the hospital on July 24, 2018, after being found unresponsive in her bedroom after a night of partying. While it's suspected that she may have overdosed on heroin, it's also been reported that she may have used meth. 
In March 2018, Lovato had celebrated six years of sobriety. However, she later hinted that she'd relapsed when she released the song "Sober" that June.
While Lovato may have some stressful times ahead as she works on her sobriety, she won't be going it alone. Not only will she probably be encouraged by her family and friends, but her ex-boyfriend Wilmer Valderrama will likely be supporting her as well. The former That '70s Show star, who was reportedly "devastated" after learning about Lovato's suspected overdose, has been spotted visiting the singer multiple times since her hospitalization, as reported by Us Weekly.
"He knew she was going through a tough time but he wasn't prepared for this," a source told People after Lovato's hospitalization was first reported. "He saw her through so many ups and downs and was her rock through some of her darkest moments. To see her back in such a sad and vulnerable place is heartbreaking for him."
Lovato and Valderrama had previously dated on and off for six years before ultimately calling it quits on their relationship in June 2016. "This was an incredibly difficult decision for both of us, but we have realized more than anything that we are better as best friends. We will always be supportive of one another," the pair shared in a statement announcing their breakup.
Unlike some former couples, Lovato and Valderrama have remained friendly since their split, even celebrating Lovato's 25th birthday together in August 2017.
Valderrama has also played a big part in Lovato's sobriety over the years, as Lovato revealed in a 2015 HuffPost interview (via Page Six). "He never takes credit for my sobriety," Lovato shared at the time, "but I guarantee I wouldn't be alive without him today."
If you or someone you know is struggling with addiction, please call the Substance Abuse and Mental Health Administration's 24/7 National Helpline at 1-800-662-HELP.