Why Johnny Depp's Son Jack Keeps Himself Out Of The Spotlight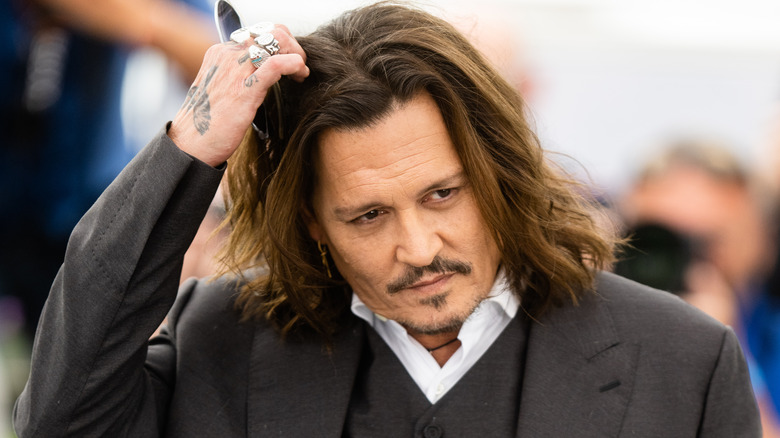 Samir Hussein/Getty Images
Jack Depp isn't your typical A-lister offspring; he likes to keep himself out of the spotlight as much as possible, rarely being snapped out and about and with no social media presence. Johnny Depp's son looks just like the actor. But his lifestyle couldn't be any different. Jack and his sister Lily-Rose Depp are from Johnny's long-term relationship with the French model-singer-actor Vanessa Paradis, but the couple consciously decided to raise their kids away from the craziness of Hollywood.
"I don't want our children to be forced to share in our fame against their will. They didn't ask for that," Paradis told the Belgian magazine Knack Weekend (via Hello!) She said that although she loved Los Angeles, she appreciated the privacy that France afforded the family. "Only, in the South of France, you can live much more anonymously. And that's a [blessing], especially when the children are still young," Paradis said.
Jack and Lily-Rose were born in the small town of Neuilly-sur-Seine and have dual French and U.S. nationalities. However, when not visiting his father in Los Angeles, Jack prefers to stay in his native land of France, near his mom. Johnny never married Paradis, but they were together for 14 years before splitting in 2012 and remain close friends, per The Sun. Even though they live thousands of miles apart, Johnny's relationship with Jack is reportedly close. So, why does Johnny Depp's son Jack choose to keep himself out of the spotlight?
Sibling opposites
Jack Depp likes to keep his life as private as possible. However, it transpires that Johnny Depp's son sort of followed in his dad's footsteps. Johnny told Rolling Stone that he was as proud as punch to discover his son had inherited his love for music and formed a band called "Clown Boner," which, according to their Facebook page, is a punk rock band that Jack plays the guitar in. The magazine notes that Johnny also plays guitar — in "Hollywood Vampires," Alice Cooper's band. "We don't need a paternity test. That's my kid," Johnny said. Per IMDb, Jack also tried his hand at acting, with a bit part alongside his sister, Lily-Rose Depp, in the 2016 teen flick, "Yoga Hosers." But that's as far as his foray into public life goes.
Lily-Rose followed her mom's career path, working as a successful model and actor. "When I was little, I wanted to be a singer just because I wanted to be like mum. Every little girl wants to be like her mum," Lily-Rose told The Sun. "I would try on all of her dresses and shoes, even though I was in diapers at the time."
Despite their very different lifestyles, Lily-Rose and Jack have a close relationship. The big sister is fiercely protective of her little brother. She respects his desire for privacy — just occasionally posting a super cute throwback pic from their childhood.
Jack prefers to stay on the sidelines
Johnny Depp and Vanessa Paradis did all they could to keep their son, Jack Depp, and his sister out of the spotlight. Lily-Rose Depp told Elle that as children, their folks tried their best to shield them from the limelight while raising them in a decidedly non-traditional manner. "I know my childhood didn't look like everybody's childhood, and it's a very particular thing to deal with, but it's also the only thing that I know," Lily-Rose admitted.
Both parents are chuffed by how their children grew up. And although Johnny takes into account his youngest child's preference for living a private life, he can't help but boast about him occasionally. "My boy Jack has always been a very talented draftsman," he told The Inquirer (via Stylecaster). "He draws really, super well. He also plays music very well. He's got a good feel for that. Aside from school plays and things, he hasn't shown any desire to become an actor. Whew."
However, Johnny said that both of his kids have been encouraging of his Hollywood career. "They're incredibly supportive," he told Jimmy Kimmel, sharing that they both "realize the majority of characters I swallow like a sponge came from playing Barbies [with them]. And GI Joes." Johnny also admitted that Jack has his "instincts" for driving and that he's "crashed about five golf carts" despite not actually playing the game.