What Eminem Really Did For A Living Before His Fame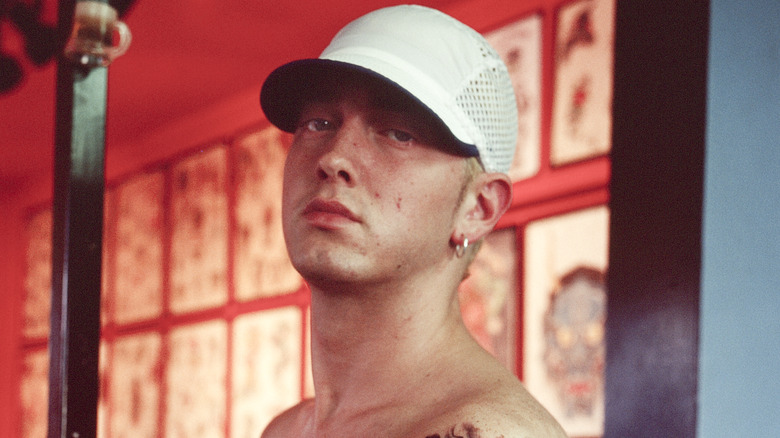 Gregory Bojorquez/Getty Images
The following article includes mentions of substance abuse.
Eminem grew up on the wrong side of the 48089 tracks in the notorious Eight Mile Road section of Detroit, Michigan. So, he wasn't exactly swamped with options regarding what to do for a living before he found fame and fortune.
Per The New York Times, the formerly prosperous and bustling Motor City quickly descended into decline and deprivation following the auto industry's collapse in the 1960s. By the end of the decade, it had been coined "Murder Capital, U.S.A." by the media. When Eminem was growing up in the 1970s and '80s, Detroit was neglected, impoverished, crime and drug-ravaged. Over time the inevitable despair and skyrocketing crime rates followed, and it became even more desolate and decaying, with endless streets of burned out and crumbling homes studded with boarded-up windows.
According to Biography, Eminem had a miserable time at school, so it's little surprise he flunked ninth grade three times before eventually dropping out at 17. "I would change schools two, three times a year," he said. "That was probably the roughest part about it all." Eminem, whose real name is Marshall Bruce Mathers III, struggled to make new friends and was picked on and bullied. Given the overall picture, he wasn't set for the brightest future. So, what did Eminem do for a living before his fame?
All about the survival — and hash browns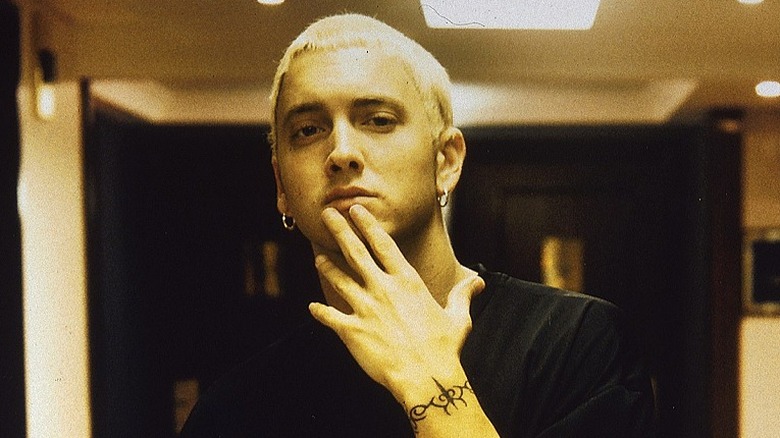 Sal Idriss/Getty Images
Eminem is one of the few white rappers who's taken seriously. In fact, he's widely considered one of his generation's most influential rappers. Billboard lists him as the sixth best of all time, noting, "After coming up in freestyle rap battles, Eminem has continually wielded the mic as his weapon of choice and obliterated anyone who comes in his path." That might partially explain the long list of celebs who can't stand Eminem.
The budding lyricist endured a slew of minimum-wage, dead-end jobs as he fought his way through Detroit's brutal rap battle scene. Capital Xtra reports that Eminem washed dishes, worked at a factory, and slung hash as a short-order cook at Gilbert's Lodge with a fellow D-12 member. "What street did me & Mr. Porter live on together in Detroit when we were working as cooks at Gilbert's Lodge?" Eminem tweeted in 2013.
In 2022, the multi-millionaire opened up about the dark times pre-fame and post-fame in a piece for XXL. "When my first album came out, I was still staying wherever I could stay, mostly with Kim and her parents. I didn't get my own house until the second album," Eminem wrote. "Even as I sit here now, I still trip out in my head about how it got to this level. All I ever really wanted to do was to be a respected MC. To make enough money to survive so that I wouldn't have to work a regular job."
Fame & fortune comes with its own challenges
Jeff Kravitz/Getty Images
You know you've made it as a celeb when you become the subject of a cray conspiracy theory. Just look at Beyoncé and Jay Z if you need any proof. A bizarre Eminem conspiracy theory surfaced in 2015 after The Lowdown Truth claimed the rapper died in a car crash in 2005 and was replaced by a synthetic clone. 
Global News reports that Eminem did almost die — in 2007, though, and from a near drug overdose. He admitted that his dependency didn't begin until after he'd hit the big time. "I didn't take anything hard until I got famous. I was experimenting," Eminem admitted in his XXL essay. "I managed it for a little while. And then, it just became, I like this s*** too much, and I don't know how to stop."
In an interview with Gray Rizzy, Eminem said he had to relearn how to rap again after becoming sober. It proved challenging at times, even resulting in Eminem apologizing to Rihanna after a diss he'd written about her was leaked. "When I first started learning how to rap again, because of the drug situation that I went through and having to relearn a lot of things, that was one of those things that it was like, 'Well if it rhyme, say it,'" he said, explaining he hadn't meant to victim blame Rihanna.
If you or anyone you know needs help with addiction issues, help is available. Visit the Substance Abuse and Mental Health Services Administration website or contact SAMHSA's National Helpline at 1-800-662-HELP (4357).