What Johnny Depp's Parents Really Did For A Living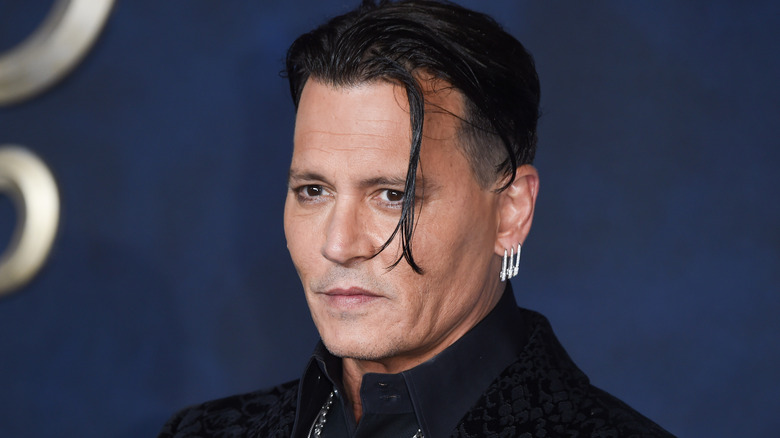 Featureflash Photo Agency/Shutterstock
This article contains mentions of domestic violence.
Johnny Depp has a complicated relationship with his parents. Despite the close bond he had with his late mother, Betty Sue Palmer, Depp also suffered abuse at her hands. "My mother was quite unpredictable ... she could become quite violent and she was quite violent and she was quite cruel," he said during his April 2022 defamation trial against ex-wife Amber Heard, describing how Palmer often threw household objects at him, his siblings, and also his father, John Depp Sr. 
Johnny's father never reacted. "He's a very kind man," he said. Depp Sr. disliked confrontation, opting to just stay quiet whenever Palmer erupted in anger. "He amazingly remained very stoic ... he stood there and just looked at her while she delivered the pain and he swallowed it," Depp detailed. Court documents show Depp's parents divorced when he was 15. His sisters and brother were older and out of the house by then. So, Depp Sr. left his youngest in charge.
Johnny didn't take his father's decision well. "He said, 'I'm done. I can't do it anymore. I can't live it anymore. You're the man. You're the man now," he said in court. And those words didn't quite sit well with me. I didn't feel like I was ready to hear those words." By then, Depp was already playing music and making some change. It wasn't nearly enough to provide for himself, but he was used to making do with little. Though his parents both worked, they often struggled financially.
If you or someone you know is dealing with domestic abuse, you can call the National Domestic Violence Hotline at 1−800−799−7233. You can also find more information, resources, and support at their website.
Johnny Depp's parents worked regular jobs – but still struggled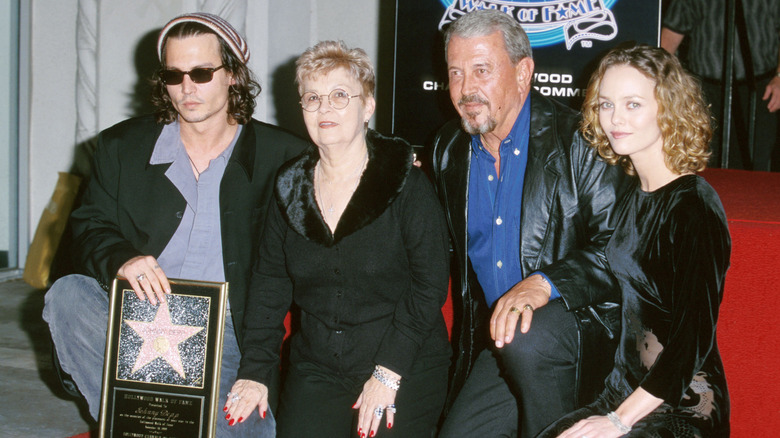 Steve Granitz/Getty Images
Johnny Depp was raised by middle class folks working regular jobs. John Depp Sr. was a civil engineer who dedicated his career to working for the government. He started out as a city engineer in Kentucky and went on to become Public Works director in Florida. "A true Public Works Professional and the kind of hidden hero most citizens never hear about," the Florida chapter of the American Public Works Association noted. Later, Depp Sr. also worked as a contractor with expertise in alternative paving processes. 
For his work, Depp Sr. received a lifetime achievement award from the association in 2012. Depp surprised his father with a celebratory video shared by the APWA. "I want to take this moment to congratulate you for ... your dedication to your work and to the people and the way you've conducted yourself over the years with grace and dignity and integrity and fairness to all," he gushed.
Depp Sr.'s job was stable, but it didn't come with a big salary. To help provide for their four children, Palmer worked waiting tables, often picking up double shifts. "[She was] counting nickels and pennies and dimes at the end of the night," Depp told Rolling Stone in 2013. Even then, money was barely enough to feed all six of them. "They went into, like, a quadruple bankruptcy every Christmas," he added. Depp remembers rubbing his mother's feet, sore from running around at work all day. 
Johnny Depp's parents came from different backgrounds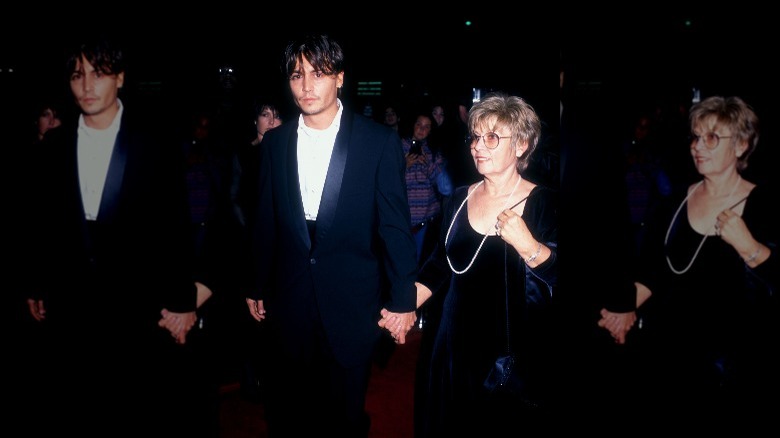 Barry King/Getty Images
Betty Sue Palmer and John Depp Sr. came from vastly different backgrounds. "My father's parents were quite refined," he said during his testimony. His mother was on the opposite side of the spectrum. "My mom was born in a f***ing holler in eastern Kentucky," Depp told Rolling Stone in 2018. "Her poor f***ing ass was on phenobarbital at 12." The differences in their upbringing caused issues in the relationship — and the family. "My mother despised my father's parents," he said.
Palmer would go so far as to use her their names as insults around the house. "Every now and again, you would hear my mother just scream across the house, 'Come here, Violet! Get in here, Violet!'" he recalled, describing how she called his sister Christi by their grandmother's name. Even though he knows the violence and abuse inflicted by his mother had long-lasting effects on him and his siblings, Depp has learned to accept and forgive.
What he came to understand was that Palmer was a product of her own upbringing. "My mother was raised in a shack, in the wilds of Appalachia, where the toilet was an outhouse," Depp said in the 2013 Rolling Stone interview. "She used to say she did the same things that her mom did — and her mom certainly didn't know any better." His empathy contrasted with their daily reality, illustrating the complex relationship between mother and son. "I worshiped her," Depp told Rolling Stone in 2018.