What We Know About Dolph Lundgren's Fiancee Emma Krokdal (And Their Age Difference)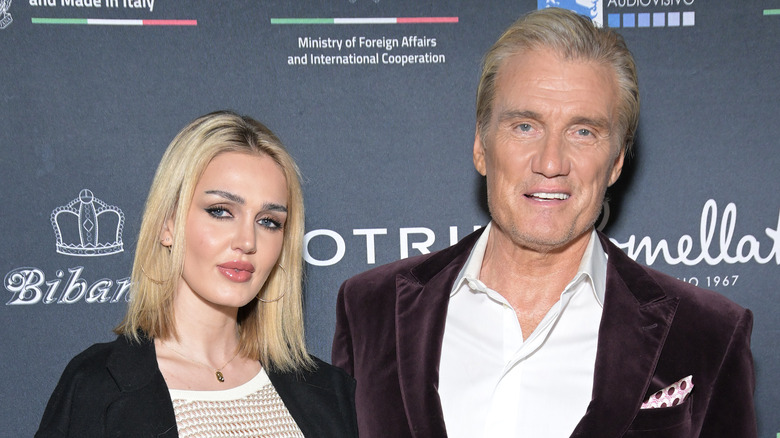 Michael Tullberg/Getty Images
Sparks flew between Dolph Lundgren and his fiancee Emma Krokdal early on in their relationship, and after they started dating in 2019 the two were engaged by the next year. The "Rocky IV" actor announced the news on Instagram with a photo of the newly-engaged couple posing together with Krokdal flashing her ring. "Something very special happened here in Sweden," he wrote. A couple years later, Lundgren shared some upsetting personal news when he revealed his cancer diagnosis. Fortunately, the "Aquaman" actor had his fiancee by his side during treatment. "I'll say it again, real life super hero right here. On screen and off screen," Krokdal wrote on Instagram alongside a snap of the pair on the red carpet together. That post came only days after Lundgren went public about his cancer, which had responded well to treatment.
Previously, Lundgren had been married to Anette Qviberg, who he shares two daughters with, and then had a long-term relationship with girlfriend Jenny Sanderson. That last relationship ended in 2017, and the "Universal Soldier" star had no plans of dating anyone until he met Krokdal. "But this time it happened very organically," Lundgren told Kjersti Flaa in a joint interview with his then-girlfriend in 2021. The couple met at a gym where Krokdal worked as a personal trainer, and she was unfamiliar with his filmography. "I don't really watch boxing or action movies so I had no idea who he was," she said.
Besides their engagement, Lundgren and Krokdal have made headlines for their sizable age gap.
How Dolph Lundgren defends their age disparity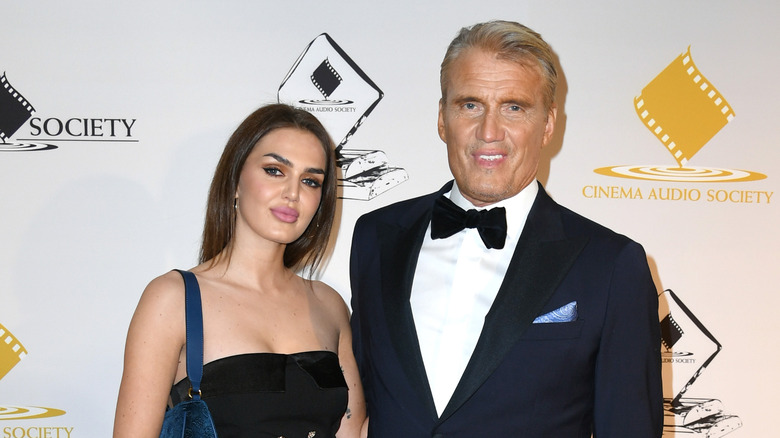 Jc Olivera/Getty Images
Dolph Lundgren is 40 years older than his fiancee Emma Krokdal, but he believes her background makes them much closer than most people realize. "I just feel like Emma is very mature for her age," the "Creed 2" actor said on "In Depth with Graham Besinger" on May 10. "She was married here, and went through a difficult divorce and went through a lot of stuff," Lundgren said of Krokdal, who is originally from Norway. In fact, Lundgren does not believe that age dictates a person's personal growth. "But you know, I've been with people that are twice her age that are less mature than she is," he said while adding that he feels "quite youthful."
Krokdal's work as a personal trainer is how the two connected, and also something brought them closer. Even though Lundgren is the older of the pair, he displays boundless energy. "When we train, he works hard, and he barely rests. Sometimes, I must tell him to rest because he's always ready to go," Krokdal told Muscle and Health. The "Masters of the Universe" star mentioned how his fiancee's age was an advantage, as she introduced him to new training techniques.
Besides working in the gym together, the couple have collaborated on film projects. Krokdal was a creative consultant on Lundgren's 2021 film "Castle Falls." She also appeared in the 2023 film "Wanted Man" alongside Lundgren, and worked as a co-producer on the movie. She has also developed a relationship with Lundgren's daughters.
Dolph Lundgren's daughters bonded with Emma Krokdal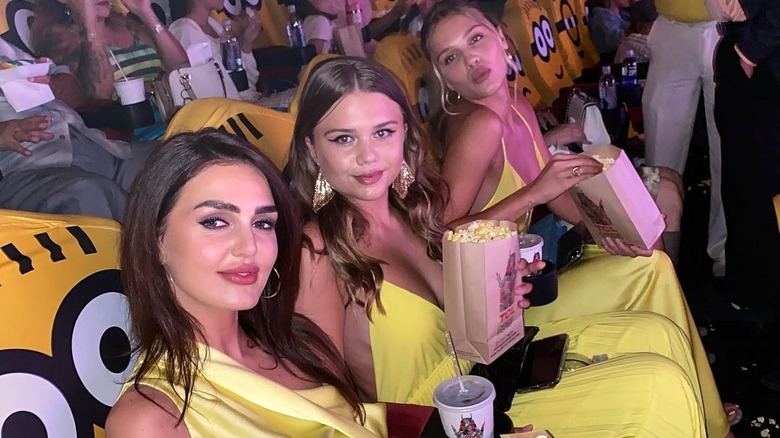 Considering the age difference between Dolph Lundgren and Emma Krokdal, there was serious potential for awkwardness when she met his daughters, Ida and Greta. "When I met Emma I realized it would be a bit strange telling my daughters about her," "The Expendables 3" actor told Kjersti Flaa in 2021. Luckily, the two daughters got along well with their future mother-in-law. "They are happy when I am happy," he added. In fact, Krokdal has used training as a way to get closer with her fiance's kids. "We get along great! She's super sweet and easy to get along with," Krokdal told Muscle and Health when speaking about Greta.
Dolph brought Krokdal to her first movie premiere with him in June 2022 for "Minions: The Rise of Gru," where he voiced the character Vicious 6. Not only did he bring his fiancee, but his daughters also came along. The foursome wore matching Minion-themed yellow outfits. Krokdal commemorated the occasion by uploading a snap to Instagram of her and Dolph's two daughters together at the event. "Yellow squad to see the Minions," she wrote in the caption while tagging Dolph's daughters. 
At the premiere, the veteran action star was asked when he and Krokdal planned to walk the aisle. Dolph explained that wedding plans had been delayed due to the COVID-19 pandemic. "So hopefully we'll do it maybe next spring or something in Norway or Sweden," he told People at the time.