The Affair Rumors That Rocked Dustin Johnson And Paulina Gretzky's Engagement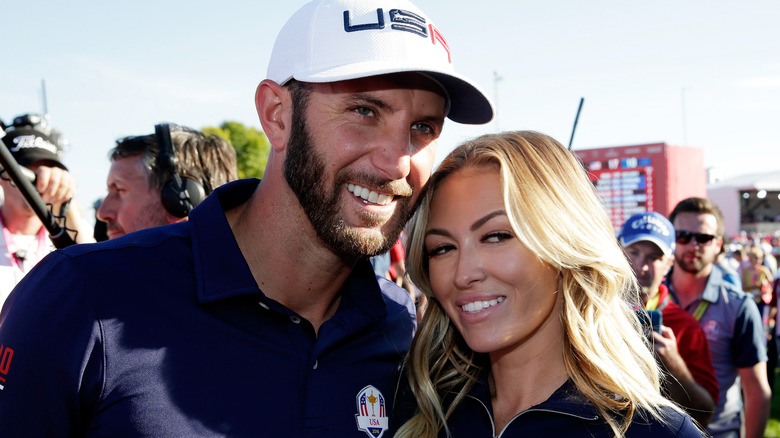 Sam Greenwood/Getty Images
Dustin Johnson and Paulina Gretzky have been in each other's life a long time. Before becoming a couple, the daughter of hockey legend Wayne Gretzky and the pro golfer were actually friends. In fact, Johnson was initially closer to Paulina's family, having met her mother, Janet Jones Gretzky, at a golf tournament in 2011. Getting the sense he and her eldest daughter had a lot in common, Janet invited Johnson to their house for dinner. "I'm sure he was rolling his eyes, and so was I," Paulina told Golf in 2014.
Nothing happened at first. Their first date took place a year later, though Paulina is unsure if that's what she would call it. "I don't know if you can call it a date since my dad tagged along," she told Golf in a separate interview. While their relationship started out on the slow side, it gained momentum pretty fast. Just months in, Paulina and Johnson got engaged in August 2013. "She said yes!!!!!," he gushed, sharing a photo of her ring on Instagram.
Years went by, and they had yet to tie the knot. But nine years and two sons later, they finally sealed the deal in April 2022. It's unclear why it took Paulina and Johnson so long to get married. "I just do things my own way," Paulina said on the "Pillows and Beer" podcast in May 2021. However, the couple appears to have gone through a rough patch around 2018, when rumors started swirling that Johnson had been unfaithful.
Yassie Safai denied having an affair with Dustin Johnson
Paulina Gretzky hinted her relationship with Dustin Johnson was on the rocks in September 2018, when she sparked breakup rumors by deleting all traces of her then-fiancé from Instagram. Johnson kept his photos of Paulina on his, raising suspicion she was the one mad. Shortly after, rumors arose that he had cheated on Paulina with a woman named Yassie Safai, who played golf at the Sherwood Country Club, according to the Daily Mail. 
Safai denied the accusations, contending she barely knew him. "I am not in a relationship with Dustin Johnson. Nor have we had any prior relationship," she wrote in a since-deleted Instagram post. Safai explained she met him at the golf club and exchanged a few words. "I have run into him at Sherwood maybe 4 times since then and yes briefly spoke with him, like I'm sure any avid golfer and member would." A source close to Gretzky's family denied that she and Johnson had split, TMZ reported. 
That same day, Johnson released a statement addressing the situation. "Every relationship goes through its ups and downs, but most importantly, we love each other very much and are committed to being a family," he tweeted. "Thank you for your love and support." A month after the drama, Johnson shared an Instagram snap that featured him and Gretzky at a concert, seemingly showing they had worked things out. "Thanks kid for an amazing show," he captioned the October 2018 post.
Dustin Johnson had previously been accused of infidelity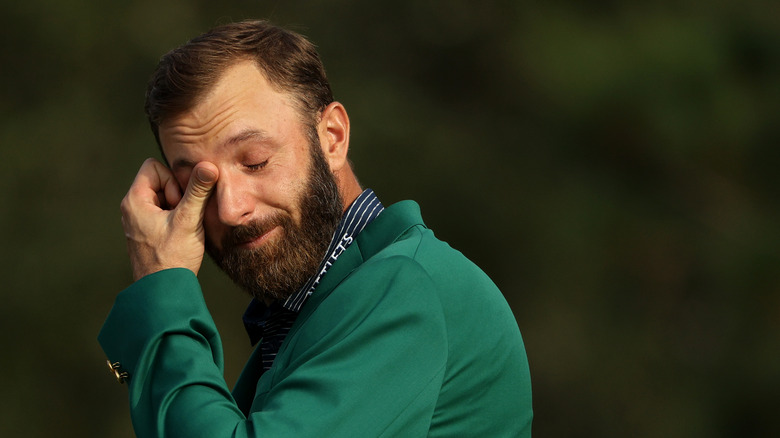 Patrick Smith/Getty Images
Dustin Johnson's alleged affair with Yassie Safai wasn't the first time he had been accused of cheating on Paulina Gretzky. Back in July 2014, Johnson announced he was taking a leave of absence from playing. "I will use this time to seek professional help for personal challenges I have faced," he said, according to Golf Channel. In his statement, Johnson emphasized the need to prioritize his mental health but didn't disclose any details regarding the nature of his situation. 
In the wake of the news, a source told Golf (via HuffPost) that Johnson had actually been suspended after failing three drug tests for cocaine and marijuana between 2009 and 2014. But the insider also added that Johnson had been unfaithful to his fiancée "with at least one wife of a PGA Tour player," the report pointed out. The PGA denied the insider's allegation that Johnson had been suspended. Amid the revelations, journalist Robert Lusetich, who covered golf for Fox Sports at the time, tweeted that Johnson had gotten involved with not one but two wives of peers. "One broke up the marriage," he wrote.
Soon enough, the rumor mill attached the name of golfer Will MacKenzie's wife, Alli MacKenzie, to the scandal. In an interview with Busted Coverage, Alli made no effort to deny her involvement with Johnson. What the former FHM model mainly wanted to clarify was that she and Will had been separated then. Gretzky has never addressed the cheating rumors.