What We Know About Paulina Gretzky's Future Wedding To Dustin Johnson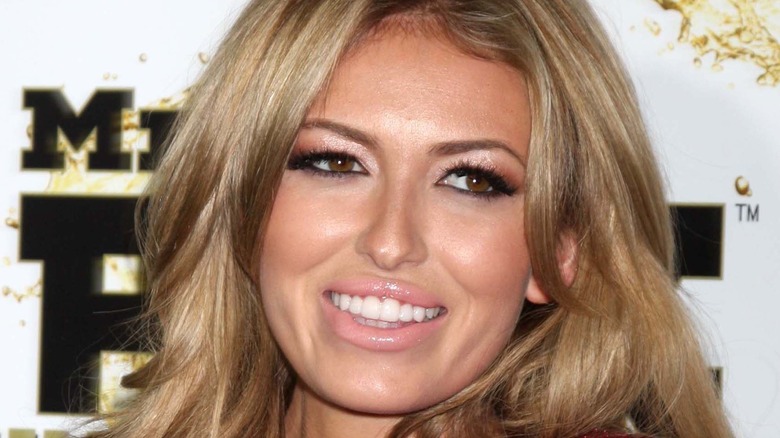 s_bukley/Shutterstock
After an engagement that lasted over eight years, Paulina Gretzky and Dustin Johnson were finally able to plan their wedding. The two originally started dating in 2013, and were engaged shortly after, per People. They have two sons together, River Jones and Tatum, and wedding plans appeared to take a backseat to family life. In 2018, rumors circulated that the couple had called it quits, but Johnson clarified in a tweet that he and Gretzky were still together. "Every relationship goes through its ups and downs, but most importantly, we love each other very much and are committed to being a family," he wrote.
Following such a lengthy engagement, many fans speculated that the hockey heiress and golf pro had secretly tied the knot. "I don't know if people know if me and Dustin are really married or not. We're not. We're so in love," Gretzky said on the "Netchicks" podcast in January (via The Sun). Gretzky spoke about the couple's choice to delay the nuptials in May while appearing on the "Pillows and Beer" podcast. "The most important thing was my kids, Dustin and my career," she said, via Hollywood Life. She added that after Johnson's win at the 2020 Masters Tournament, the couple decided it was time to make their union official. "So, after he won the Masters, I said let's do it, this makes sense," Gretzky added. Over the months, she slowly leaked out information about the wedding. Keep reading to find out more.
Paulina Gretzky's bridesmaids spill the beans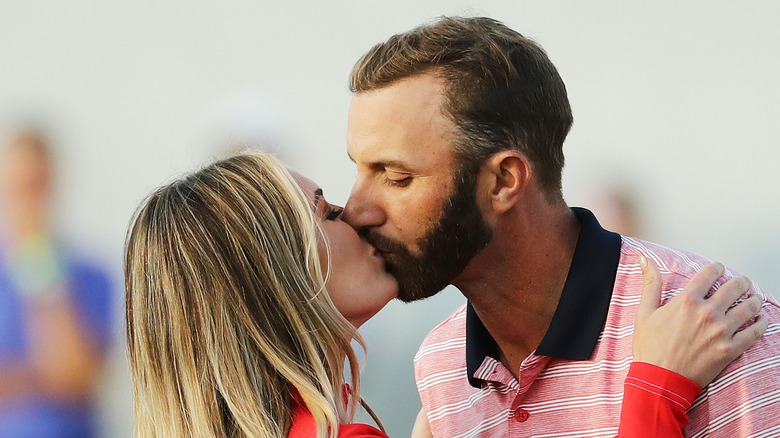 Elsa/Getty Images
On August 25, Paulina Gretzky re-shared videos to her Instagram story that were posted by her bridal party that gave clues into details about the wedding. She had asked her best friend Kristina Melnichenko to be her maid of honor, and her friend Karlin Ready was a bridesmaid along with Dustin Johnson's sister, Samantha Johnson, per Page Six. The maid of honor shared a video to her story of the box she received from the bride-to-be that included a sack of thoughtful treats such as "chill pills," and a card that formally asked Melnichenko to be in the wedding party.
Gretzky's other close friend, Ready, likewise shared an Instagram story of a luxe gift basket she received from Gretzky that included a card that read "Paulina Gretzky and Dustin Johnson are getting married. Save the date," with the date stealthily crossed out. The gift basket included a slew of goodies from Blackberry Farm, the luxury resort where the wedding will take place. Located in Walland, Tennessee, Blackberry Farm includes luxurious rooms, full guest homes, and many amenities such as a brewery. "Its 4,200 acres have been a mountain haven and tranquil escape for family, friends and guests for more than 80 years," their website reads.
Keep reading to find out details about Gretzky's wedding dress, and info about the wedding date.
Paulina Gretzky drops clues online
Exact details about Paulina Gretzky and Dustin Johnson's wedding have been scarce. In May, Johnson was asked by Golfweek if the two had narrowed down an exact date. "We do not have one yet," the golfer replied. "Getting closer?" the publication asked. "Yeah," he responded. The bride-to-be offered more information with a date teaser on August 17 when she uploaded a photo to Instagram with the coy caption "let the countdown begin" and tagged Vera Wang.
Gretzky visited the famed designer's bridal shop to choose a dress in April and documented the activities in her Instagram story. She was accompanied by her maid of honor, Kristina Melnichenko, and gave a sneak-peek of the various dresses she tried on, per People. The model also uploaded a photo of her and Wang posing together. "Making my dreams come true. You are a queen & friend @verawang thank you," Gretzky wrote in the caption. Apparently, Gretzky wanted a low-key ceremony, but it was her future husband who insisted on an extravagant affair. "Dustin is the romantic. I'm like let's go to a courthouse and he's like, 'no baby I want a party, I want everyone to celebrate us,'" she revealed on the "Pillows and Beer" podcast (via Hollywood Life). Gretzky did admit she plans to be over-prepared for the big day. "I'm going to have like ten wardrobe changes, though," she added.