Demi Moore's Daughter Tallulah Wasn't A Fan Of Her Marriage With Ashton Kutcher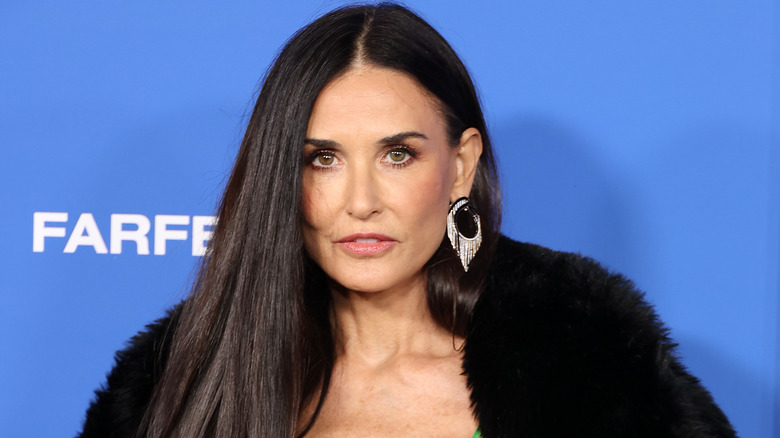 Monica Schipper/Getty Images
Demi Moore was married to "Die Hard" actor Bruce Willis from 1987 to 2000, and they welcomed three daughters together, Rumer, Scout, and Tallulah Willis. In an interview with Rolling Stone, Bruce admitted that he wasn't sure why the marriage ended. "We're very close. We have three children whom we will continue to raise together, and we're probably as close now as we ever were," he told the outlet. "We realize we have a lifelong commitment to our kids. Our friendship continues. The institution has been set aside." Three years later, Moore met Ashton Kutcher — and fell in love.
In 2003, Moore and Kutcher were spotted with some friends at Dolce Enoteca. Despite their 15-year age gap — the "G.I. Jane" star is older — the two ended up making a relationship work and they got very serious fairly fast. In 2005, they exchanged vows at their home in Beverly Hills. The following year, Moore suffered a miscarriage when she was about six months pregnant. Rumer opened up about her mom's pregnancy during an interview on "Red Table Talk." "When she wanted to have another baby and then it wasn't happening, and there was so much focus on that. It was like 'Oh, well we're not enough,'" Rumer said at the time. 
Moore and Kutcher's relationship didn't end up lasting and the two split in 2011. In the time since, the families have moved on. But, in a new interview, Tallulah reveals how she really felt about her mom's romance with Moore.
Tallulah Willis says her mom's relationship with Ashton Kutcher made her understand fame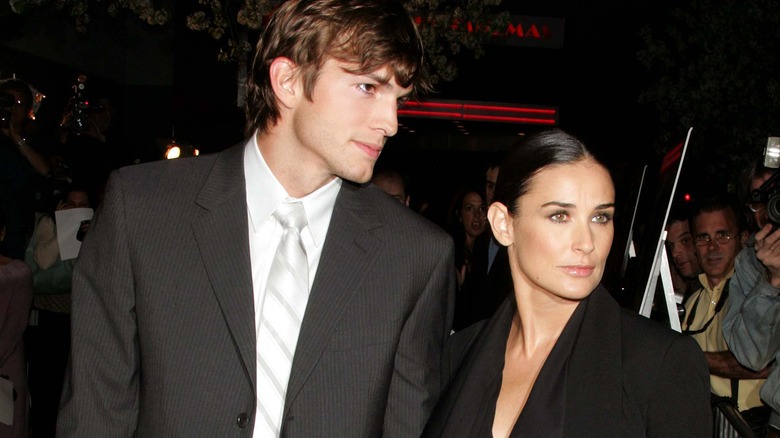 Jim Spellman/Getty Images
Tallulah Willis is starring in "Stars on Mars," which premiered on June 5. During the episode, Tallulah opened up about her mother's relationship with Ashton Kutcher and admitted that she wasn't exactly a fan. "It was, like, 2003, [and] my mom had just started dating Ashton. It was that moment, [when] a lot [was] going on, [that] I really went inside of myself," she explained (via Us Weekly). "That did send me into, like, a total dumpster fire. It was really hard, and I'm still unpacking," she added. She also said that she "didn't fully understand" fame until her mom and Kutcher were together.  
Kutcher was only 25 years old when he married Moore, and he quickly got a taste of fatherhood as he became a stepdad to Moore's three daughters. "I was helping raise teenage girls through their adolescence," Kutcher said on the "WTF with Marc Maron" podcast in 2020. He went on to say that he loves Moore's kids and that he is "rooting for them to be successful in whatever they are pursuing." In an interview with Esquire that was published in January 2023, Kutcher shared that he still keeps in touch with Rumer, Scout, and Tallulah.
Ashton Kutcher has 2 kids of his own with wife Mila Kunis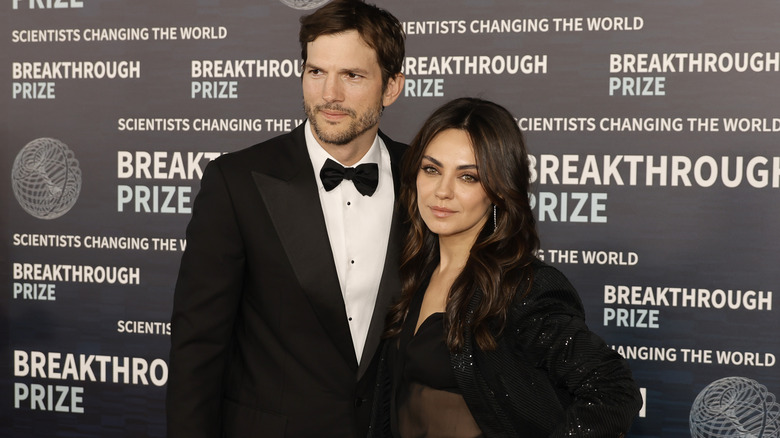 Kevin Winter/Getty Images
Ashton Kutcher and his now-wife Mila Kunis were friends for many years before taking their relationship to the next level. The two met when they were both cast in "That '70s Show" and kept in touch over the years, even when they were both in relationships with other people. A couple of months after Demi Moore confirmed that she and Kutcher were getting divorced, he stepped out with Kunis. In February 2014, the two got engaged. "He talked with Mila's dad around Christmastime," a source told People. "He asked for Mark's blessing to marry her. It was important to Ashton to be respectful and traditional. This is the real thing for him and he wants to do it all right." Kutcher and Kunis have since gotten married and have welcomed two children together — a daughter named Wyatt and a son named Dimitri. 
Meanwhile, Moore never got remarried, though she did go public with Daniel Humm in 2021. The two split in 2022 after nearly a year together. These days, Moore is in her "hot kooky unhinged grandma era" and has been proudly doting on her new granddaughter, Louetta, who came into the world in April 2023 as announced on Instagram by mama Rumer Willis. Moore also remains extremely close to her ex, Bruce Willis, who has been diagnosed with aphasia and frontotemporal dementia.