Prince Harry And Chelsy Davy's On-Off Relationship Went On Longer Than We Thought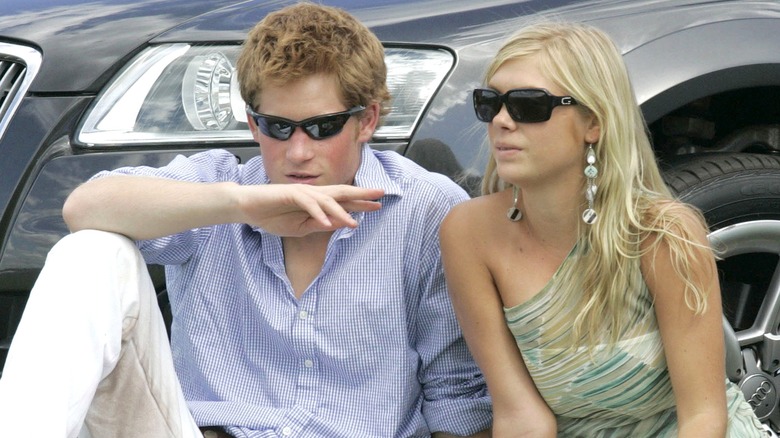 Mj Kim/Getty Images
Before he was happily married to Meghan Markle, Prince Harry was a man enjoying bachelorhood who amassed quite a lengthy dating history. He did have some long-term relationship, though, namely with Chelsy Davy. The pair first met at the Berkshire Polo Club in England but only got together in 2004 after crossing paths in Cape Town, South Africa. Harry was traveling on his gap year and Davy was enrolled at university there and they instantly hit it off. As Harry would later write in his memoir, "Spare" (via Us Weekly), he was instantly drawn to her bold personality. "Not only was she uninterested in my title, she seemed bored by it," he recalled.
In the three years that followed, the couple maintained a long-distance relationship before Davy moved to Britain in 2007. However, they broke up shortly after her arrival because, as The Guardian reported, she wanted a serious, committed relationship and he didn't. However, that was far from the end of it. They soon got back together and Davy made her first official appearance as Harry's girlfriend at a royal function in 2008. There were still issues, though, and they broke up in 2009. Then, according to "Spare," they officially called it quits in 2010 because Davy didn't want a life in the spotlight. But it now seems that Prince Harry and Chelsy Davy's on-off relationship went on longer than that and may have led to a walk down the aisle if it wasn't for the press.
Prince Harry and Chelsy Davy's relationship may not have ended in 2010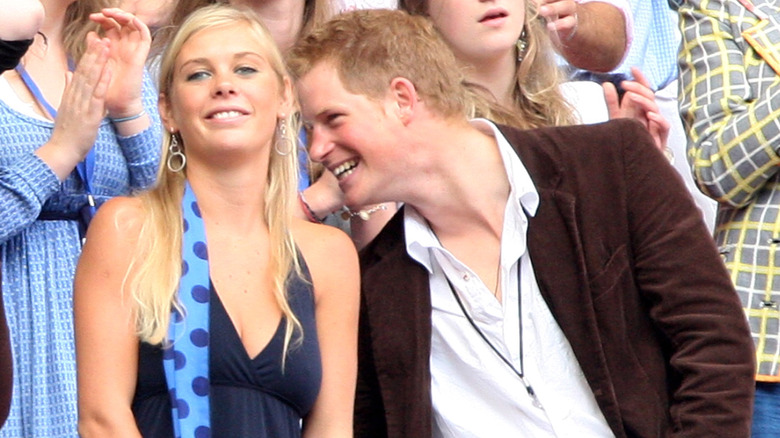 Getty Images/Getty Images
It's hard to keep track of Prince Harry and Chelsy Davy's makeup and breakups. What is clear is the fact that their union likely lasted far beyond their alleged final breakup in 2010. In 2011, the exes were reunited at Prince William's wedding to Kate Middleton and, as Harry wrote in "Spare" (via Us Weekly), what happened there took him by surprise. "There were loads of feelings still there, feelings I'd suppressed, feelings I hadn't suspected," he admitted. "I also felt a certain way about the hungry-looking men trailing after her, circling her, nagging her to dance." It seems those feelings took over because, according to Us Weekly, they partied together until 6 a.m. and a source claimed, "they were acting like a couple and kissed in front of everyone." Jump to 2012 and an insider told Us Weekly, "They're not dating again, but they are seeing each other." In 2015, The Sun reported they had reunited in Africa. "He has never fallen out of love with Chelsy," a source claimed.
Indeed, Prince Harry's 2023 lawsuit against Mirror Group Newspapers revealed that the tabloids' alleged phone hacking wreaked havoc on his relationship with Davy and, per Us Weekly, "led Ms. Davy to make the decision that 'a royal life was not for her.'" His lawyers went as far as to argue that if it weren't for the press, their union could have been more successful and lasted even longer.
Who is Chelsy Davy and what is she doing now?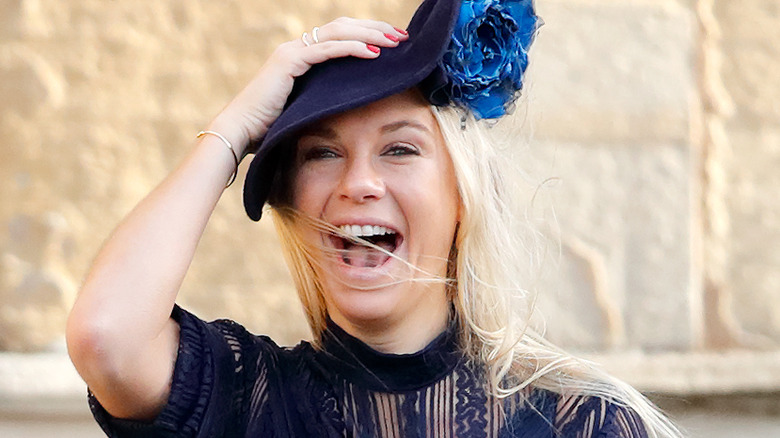 Max Mumby/indigo/Getty Images
Chelsy Davy didn't want a life in the spotlight. Apart from the occasional public appearance, she's busy pursuing her own passions away from the tabloids. Born in Zimbabwe, Africa, Davy is the daughter of millionaire Charles Davy who made a fortune off hunting safaris. It's a line of work she's followed in, launching a luxury travel agency called AYA Africa Travel in 2020.
Before that, though, she had her sights set on practicing law. According to her LinkedIn, Davy has a Bachelor's in Politics, Philosophy and Economics from the University of Cape Town in South Africa, as well as a Bachelor of Laws from the University of Leeds in England. She began her career as a trainee at the London law firm Allen & Overy in 2011 but called it quits in 2014 when she realized it wasn't the right fit. "The law thing was a challenge," she later told The Times. "It got to the point that I wanted something that was mine and I also wanted to go home."
After getting a diploma from the Gemological Institute of America, Davy founded a jewelry line, AYA Jewels, in 2016. Her designs are crafted and ethically sourced in Africa and the designs are a nod to her home continent. As she told Harper's Bazaar Arabia in 2018, "My vision for AYA is for it to become a luxury African lifestyle brand that represents 'everything Africa, everything luxury.'"