The Untold Truth Of Jennifer Lawrence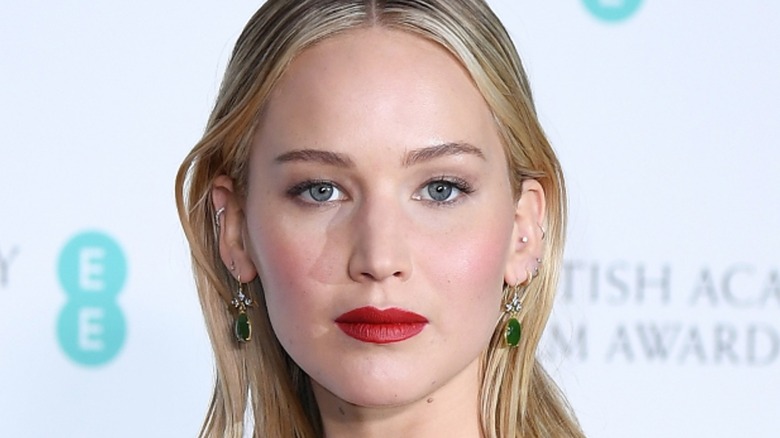 Jeff Spicer/Getty Images
Jennifer Lawrence is one of the most recognizable actors in the world, having played Katniss Everdeen in "The Hunger Games" and Mystique in several "X-Men" movies. Following her breakout role in 2010's "Winter's Bone," for which she received an Academy Award nomination for Best Performance by an Actress in a Leading Role, Lawrence quickly became one of Hollywood's most in-demand stars. 
However, her success came at a cost, and the "Silver Linings Playbook" star soon started second guessing herself. During an interview with Vanity Fair, Lawrence explained, "The attention on me was so high and extreme that, in a bizarre way, the set had become a great escape." She continued, "Everybody treats you normally. It's not like you walk into hair and makeup and people are like, 'Oh, my God!' But you get burnt out. Eventually I had to ask myself, Am I saying yes because I want to go to work the next day? Or am I doing this because I want to make this movie?" 
After some soul searching, and some huge changes in her personal life, Lawrence returned to our screens. But how exactly did the "Like Crazy" star make it in Hollywood, and what did she experience on the road to stardom? Join us for the untold truth of Jennifer Lawrence.
Jennifer Lawrence dropped out of middle school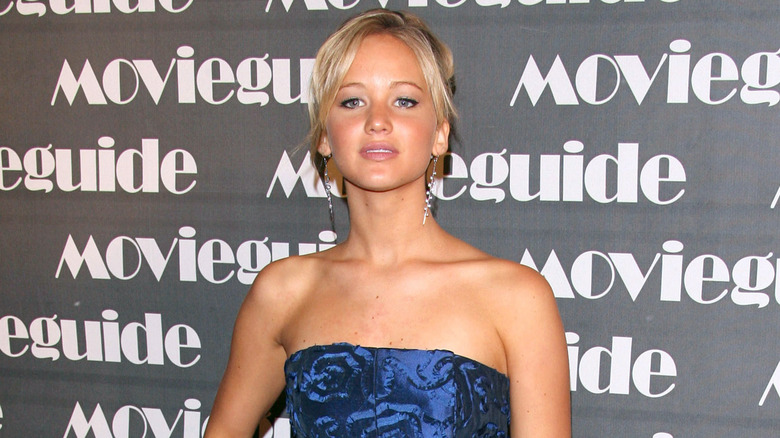 Mirek Towski/Getty Images
Jennifer Lawrence is a Hollywood A-lister now, but her journey to get there wasn't always easy. "I dropped out of middle school," she revealed during an interview with "60 Minutes." I don't technically have a GED or a diploma. I am self-educated." Despite missing out on a huge part of her childhood in the pursuit of acting, Lawrence is at peace with her decision, telling "60 Minutes that she doesn't regret the choice to drop out in any way. "I wanted to forge my own path," she explained. "I found what I wanted to do and I didn't want anything getting in the way of it."
Meanwhile, The Telegraph noted that Lawrence got her start performing in community theater productions in Louisville, Kentucky, where she was born. But at 14-years-old, she decided to pursue her dream of being an actor by moving to New York. Luckily, her risky choice paid off, as Lawrence told The Telegraph, "I got discovered or whatever you want to call it and I loved acting and knew it was what I was supposed to be doing and thought I could be good at it." She continued, "Then I was flown out to Los Angeles and it all just kind of started." Although it can't have been easy leaving her education behind, Lawrence was steadfast in her belief that she wanted to act, and her leap of faith most definitely paid off.
Rats ate her food while she pursued acting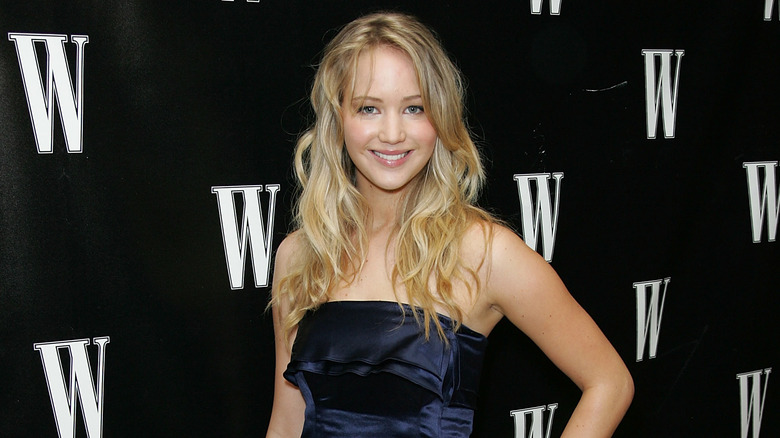 Neilson Barnard/Getty Images
After dropping out of school, Jennifer Lawrence moved to New York, but the decision was a lot less glamorous than it sounds. Lawrence wanted to pursue acting in the city, but the future Oscar-winner's living quarters were pretty shocking. "Night was horrible, that's when [the rats] all come out," she told NPR. Basically, Lawrence had to share her apartment with rats while she tried to make it as an actor, which was every bit as gross as you might think.
Elaborating on her terrible living situation, Lawrence told NPR, "I didn't really have any money, so if a rat had eaten my loaf of bread, before when I first got there I [would have been] like, 'Ew!' and throw the whole loaf of bread away, but eventually I was like, 'God, I'm not going to be able to afford bread.'" She continued, "So I started just cutting around the hole that the rat ate. I got to the point where I was literally sharing food with a rat." While it's hard to imagine Lawrence sharing her food with rats, it's clear that she was dedicated to being taken seriously as an actor, even if it meant sacrificing her lunch to rodents. The "Joy" star also revealed that her parents quickly realized just how much their daughter wanted to work as an actor when they saw how awful her apartment was.
Learning archery for The Hunger Games changed her body
Jennifer Lawrence was catapulted to superstardom in her role as Katniss Everdeen in 2012's "The Hunger Games," based upon the book by Suzanne Collins. She reprised the part in three sequels, and according to Lawrence, playing Katniss was physically taxing on her body, especially when it came to archery. Speaking to NPR in 2015, Lawrence revealed, "[Archery] totally changed my body. It was so crazy, when I went back for the fitting for the second movie for 'Catching Fire,' my shoulders were two inches broader and my right arm is one inch longer than my left arm, permanently, I guess." 
In spite of these pretty significant physical changes, Lawrence revealed that she really loved learning archery. "I had an amazing instructor, Khatuna [Lorig]," she told NPR. "She was Georgian. She was an excellent instructor — very, very strict. If I had bad form, she would pinch my ear." Lawrence certainly shows an impressive level of dedication in all of her roles, and it seems as though she also enjoys learning new skills. Proving that she remains serious about archery, Lawrence joked during an interview with W magazine, "I could kill someone with a bow and arrow if they'd hold still!" We have all been warned.
Jennifer Lawrence doesn't have a type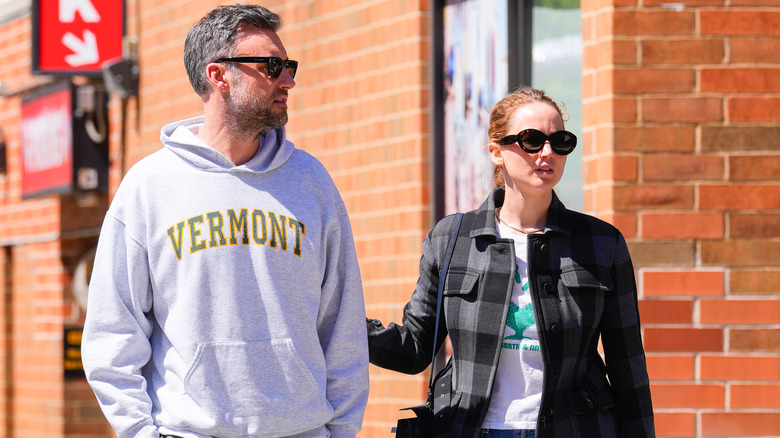 Gotham/Getty Images
Jennifer Lawrence has been married to art dealer Cooke Maroney since October 2019. But before she met her husband, Lawrence was linked to several celebrities, including Coldplay's Chris Martin, actor Nicholas Hoult, and director Darren Aronofsky. According to the "American Hustle" star, she doesn't necessarily look for something in particular when it comes to dating. When asked by Harper's Bazaar in 2016 if she had a type, Lawrence explained, "I don't think so because patterns are the work of the devil." She elaborated, "If I think about all of my ex-boyfriends, they are all so uncomparable."
Lawrence has also been forced to navigate the dating world as an incredibly famous actor, meaning that most people recognize and make assumptions about her. "I can feel people sometimes are intimidated by me, but I try to do the best I can to offset that," she told Harper's Bazaar. "There is zero reason to be intimidated by me. At all. But I also understand it." 
Quentin Tarantino is a huge fan and almost cast her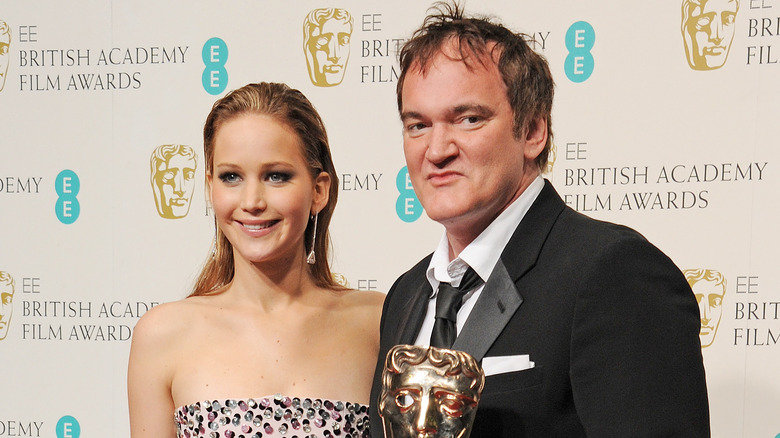 Dave M. Benett/Getty Images
Jennifer Lawrence has worked with some of the world's most renowned directors throughout her career, but there's one in particular who tried and failed to book the Oscar winner for one of his movies. When Quentin Tarantino was casting 2015's "The Hateful Eight," he apparently reached out to the "Mother!" actor in the hopes of booking her in a lead role. "I'm a huge Jennifer Lawrence fan," Tarantino told Entertainment Weekly. Lawrence even met with the "Pulp Fiction" director, but unfortunately, they didn't end up working together on that occasion.
According to Tarantino, it was unlikely that Lawrence was ever going to take a role in "The Hateful Eight" to begin with. "She was just doing me a courtesy to see me, I think," the director told Entertainment Weekly. "She was doing 'Joy.' She had to do all this publicity on the 'Hunger Games' movies. There was just no f***ing way in the world that she was available." Ultimately, the role went to Jennifer Jason Leigh instead of Lawrence, and Tarantino seemed to be pretty happy with the decision. "I'm glad I didn't cast somebody that young," he told Entertainment Weekly. "I think I absolutely positively made the right choice, as far as the ages of the characters." We can only hope that Lawrence and Tarantino have the chance to work together in the future.
Jennifer Lawrence was starstruck meeting Ariana Grande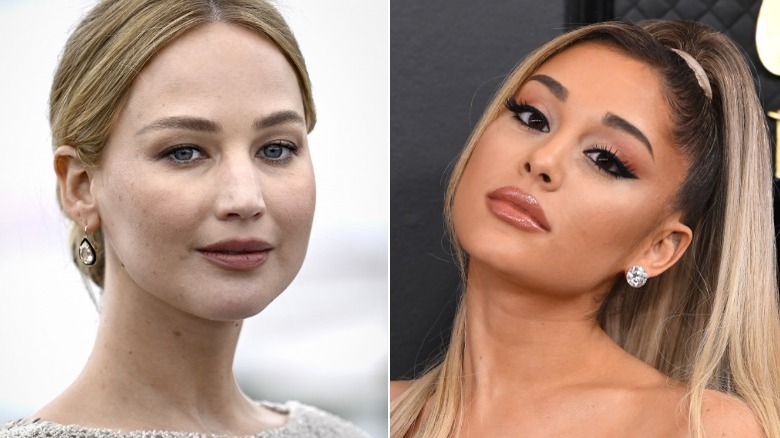 Gareth Cattermole & Steve Granitz/Getty
As an award-winning actor, many would assume that Jennifer Lawrence doesn't get starstruck when meeting anyone anymore. However, the "Red Sparrow" star still finds herself becoming nervous when it comes to several celebrities, making her more relatable than ever. During an interview with W magazine, Lawrence revealed, "To me, the biggest celebrities in the world are, like, Pete Davidson. Or when Ariana Grande was in my last film, 'Don't Look Up,' I was photographed with her and I fully look like a radio contest winner." Just like the rest of us, Lawrence has zero cool when it comes to meeting huge pop superstars like Grande or her ex-fiancé Davidson, which is seriously relatable.
And that's not all. There's one person that the "Serena" star would be extremely excited to meet, and she can't contain herself at the mere thought. "I would be starstruck if I saw Jessica Simpson," she told W magazine. "That would knock me over." Despite working with some of Hollywood's biggest stars, such as Bradley Cooper, Robert DeNiro, and Leonardo DiCaprio, Lawrence still gets nervous when she meets people she admires, and is in awe of celebrities just like the general public would be.
Jennifer Lawrence's 'whole life' 'started over' when she gave birth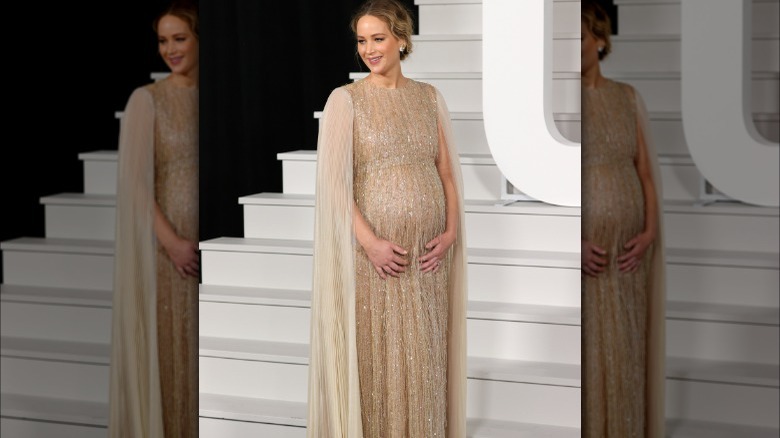 Dia Dipasupil/Getty Images
In February 2022, it was reported that Jennifer Lawrence had given birth to her first baby with husband Cooke Maroney. Later that year, Lawrence revealed during an interview with Vogue that the child was a baby boy named Cy, taking his name from one of her husband's favorite painters, Cy Twombly. Understandably, Lawrence has kept many details of her family life a secret from the press, but she did open up to Vogue about what it was like becoming a mother for the first time. "The morning after I gave birth, I felt like my whole life had started over," she told the publication in September 2022. "Like, Now is day one of my life. I just stared. I was just so in love." 
Discussing her emotions following Cy's birth, Lawrence told Vogue, "My heart has stretched to a capacity that I didn't know about. I include my husband in that." Perhaps most importantly, the actor is fiercely protective of her son's privacy, as she told Vanity Fair, "But every instinct in my body wants to protect their privacy for the rest of their lives, as much as I can. I don't want anyone to feel welcome into their existence." Understandably, Lawrence wants to protect her son from press intrusion, and she doesn't want him to be needlessly thrown into the spotlight.
The 2016 election caused a rift in her family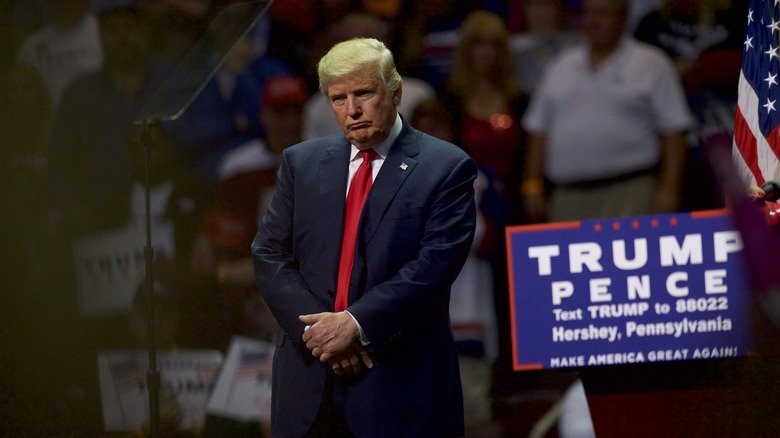 Mark Makela/Getty Images
Politics divide a lot of people, and Jennifer Lawrence's family started to experience that divide during the 2016 election, which saw Donald Trump win the presidency. During her October 2022 interview with Vogue, Lawrence discussed the aftermath of those differing politics, and the steps she'd taken to mend fences. She explained, "I just worked so hard in the last five years to forgive my dad and my family and try to understand: It's different. The information they are getting is different." However, the actor struggled to get past the differing political allegiances of some of her family members, telling Vogue, "I've tried to get over it and I really can't."
Ultimately, Lawrence wants to stand up for the issues and causes she believes in, and sometimes that means alienating herself from family members with alternate views. "I can't f*** with people who aren't political anymore," she told Vogue. "You live in the United States of America. You have to be political. It's too dire. Politics are killing people."
She was pregnant in her early twenties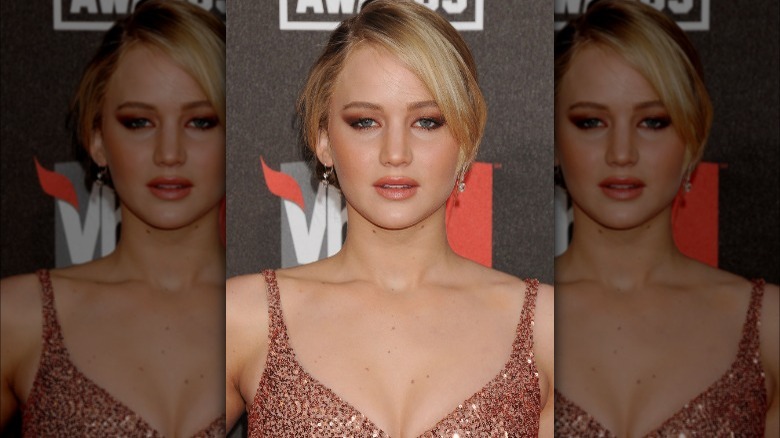 Jeffrey Mayer/Getty Images
During her September 2022 interview with Vogue, it was revealed that Jennifer Lawrence has experienced two miscarriages during her life, the first of which occurred in her early twenties. After revealing that she had planned to get an abortion, Lawrence told Vogue, "I had a miscarriage alone in Montreal." Her second baby loss occurred while she was filming "Don't Look Up," when she had planned on keeping the baby. Vogue also revealed that Lawrence underwent a dilation and curettage procedure following her second miscarriage, which involves removing tissue from the uterine lining.
While speaking to Vogue, Lawrence reflected on her pregnancy in the light of the overturning of Roe v. Wade. "I remember a million times thinking about it while I was pregnant," she explained. "Thinking about the things that were happening to my body. And I had a great pregnancy. I had a very fortunate pregnancy. But every single second of my life was different. And it would occur to me sometimes: What if I was forced to do this?" By speaking about her own experiences of baby loss, Lawrence has helped people all over the world who have gone through the same thing. And by discussing the overturning of Roe v. Wade, Lawrence has taken a stand for women's rights when it comes to abortion access in America.
She decided to make a film about women defying the Taliban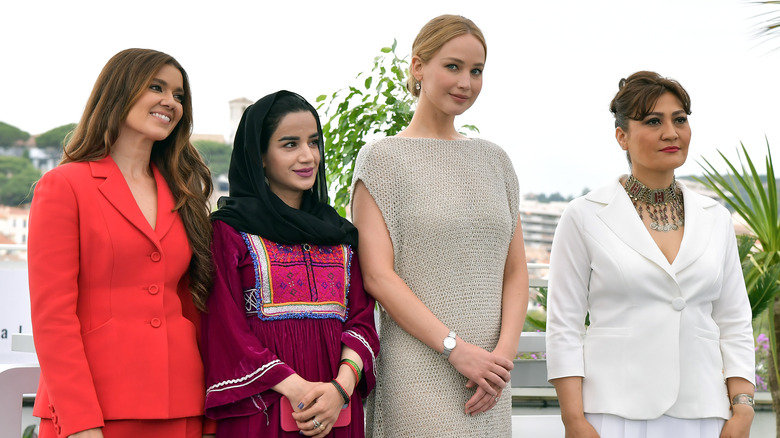 Dominique Charriau/Getty Images
In May 2023, Jennifer Lawrence appeared at Cannes Film Festival to debut the documentary "Bread and Roses," which focuses on three women living under Taliban rule in Afghanistan. Lawrence produced the documentary via her production company Excellent Cadaver, which she founded with Justine Ciarrocchi. At the film's premiere, director Sahra Mani said via The Guardian, "This film has a message from women in Afghanistan, a soft message: please be their voice who are voiceless under Taliban dictatorship." She continued, "Now that women can no longer leave the house without the veil, I thought we should tell their stories."
The Taliban regained power in Afghanistan in 2021, and since then, women and girls have lost any semblance of equality, including being excluded from education. Speaking to the BBC, Lawrence said of the project, "My heart was beating so fast watching these women defy the Taliban." She continued, "You don't see this side of the story, women fighting back, in the news every day and it's an important part of our film, and the stories of these women." With "Bread and Roses," Lawrence is proving how committed she is to supporting women and fighting for equal rights around the world.
She met husband Cooke Maroney looking at art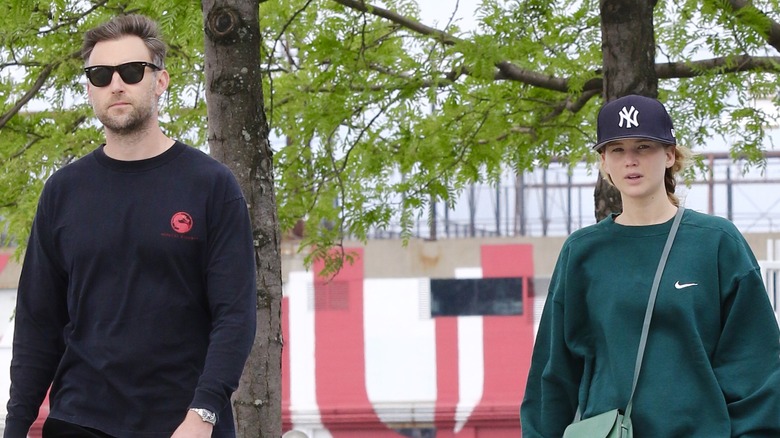 Mega/Getty Images
Although Jennifer Lawrence rarely reveals much about her relationship with husband Cooke Maroney, she finally confirmed how she'd met the art dealer during an interview with Vogue in late 2022. Per the publication, Lawrence was introduced to her now-husband by film director Gene Stupnitsky, with whom she worked on 2023's "No Hard Feelings." Apparently Lawrence needed some advice from someone in the art world, and Stupnitsky had Maroney's phone number. According to Lawrence, she was pretty much instantly attracted to Maroney when she met him to look at some art, telling Vogue, "I was like, Do you know how gorgeous you are? I didn't say that, but I was like, Is this a joke? Is this a prank?" 
During an appearance on the "NAKED With Catt Sadler" podcast, Lawrence opened up about her relationship with Maroney, saying, "I just met Cooke and I wanted to marry him. We wanted to marry each other. We wanted to commit fully." She continued, "He's my best friend so I want to legally bind him to me forever. And fortunately the paperwork exists for such a thing." It's clear that Maroney and Lawrence had a deep connection from their very first meeting, and they've been together ever since.
She was shocked when Dior signed her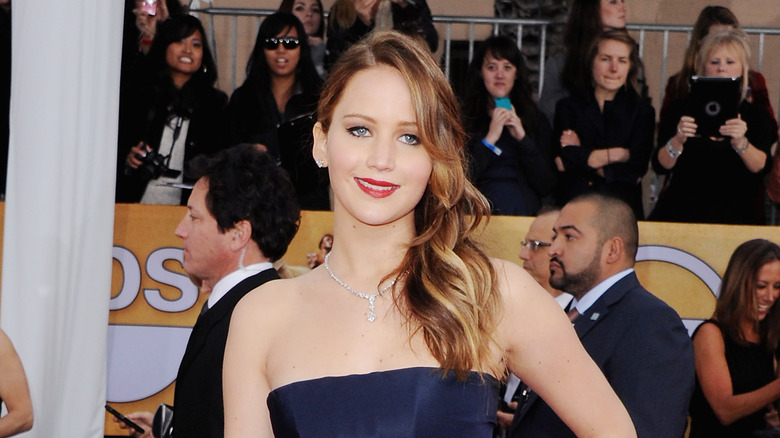 Jon Kopaloff/Getty Images
Alongside her acting work, Jennifer Lawrence also scored an incredibly lucrative endorsement deal when she was signed by Dior. Working with the iconic fashion house has only strengthened Lawrence's image, but as a young actor, she was apparently surprised to be offered the wonderful deal. "I could not believe it when [Dior] signed me [to be in their campaigns]," she told Harper's Bazaar. "They fly me to Paris and get me hotel rooms, and I'm like, 'Are you kidding me? You don't have to be so nice!' " Unsurprisingly, Lawrence was keen to keep this particular job, telling the publication, "I couldn't renew my contract quickly enough."
In 2015, Lawrence opened up about working with Dior while shooting a campaign for the brand's new lipstick. "To me, the Dior woman is playful, spontaneous and free," she told The Hollywood Reporter. "'Shine don't be shy' means this is your moment to radiate, and feel good and confident. I know nothing about being shy." As the face of one of the most recognizable fashion houses on the planet, Lawrence has proven that she's an in-demand star with a bright future ahead of her.
Adele warned her not to make Passengers with Chris Pratt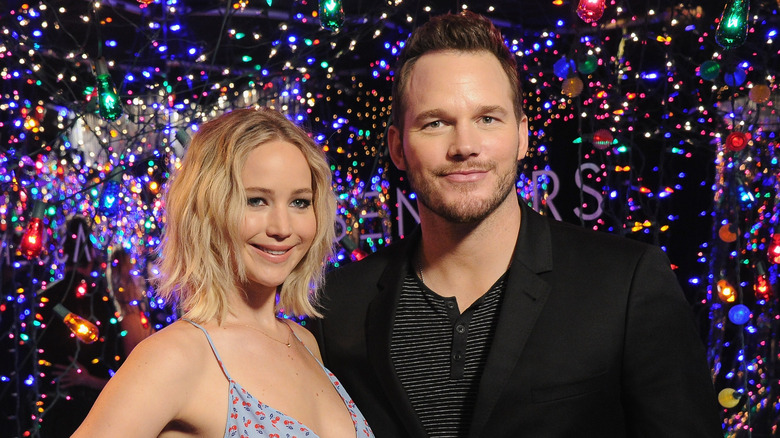 Jon Kopaloff/Getty Images
2016's "Passengers" is a sci-fi thriller about two people who are accidentally woken up before their spacecraft has reached the colony on which they're hoping to start a new life. Jennifer Lawrence stars alongside Chris Pratt in the film, and although their star power alone should've made the movie a success, it wasn't. Basically, reviews were less than stellar, with many suggesting that Pratt's character was exceedingly creepy, leading to an unsatisfying flick. And according to Lawrence, if she'd listened to her close friend Adele (yes, the music superstar), then she might have swerved the project altogether.
Reflecting on her decision to appear in "Passengers," Lawrence told The New York Times, "Adele told me not to do it! She was like, 'I feel like space movies are the new vampire movies.' I should have listened to her." Although the movie went on to gross more than $303 million worldwide, it never really recovered from the bad reviews it received, making it one of Lawrence's biggest duds to date. If only she'd listened to Adele!
Her private plane almost crashed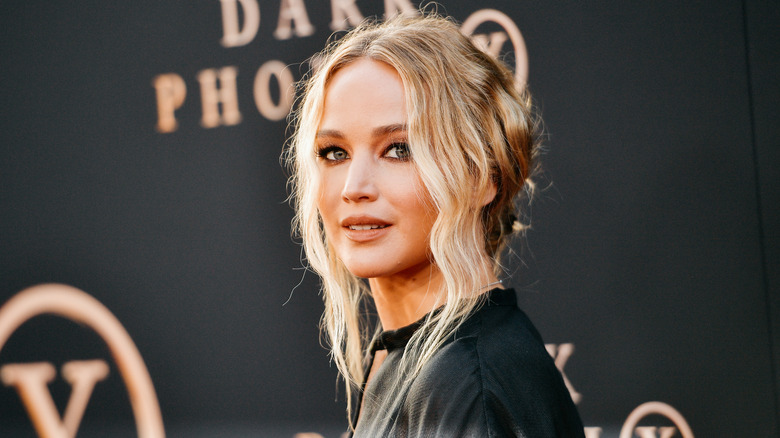 Matt Winkelmeyer/Getty Images
As one of the most famous people in the world, Jennifer Lawrence occasionally travels on private jets. However, one particular flight almost put Lawrence off flying altogether. During an interview with Vanity Fair, Lawrence revealed that in 2017, she was flying on a private jet from her hometown of Louisville, Kentucky, when both engines failed in the air. "We were all just going to die," Lawrence said of the terrifying experience. "I started leaving little mental voicemails to my family, you know, 'I've had a great life, I'm sorry.'"
When a runway started coming into view below, Lawrence prepared herself for the worst. "I started praying. Not to the specific God I grew up with, because he was terrifying and a very judgmental guy. But I thought, Oh, my God, maybe we'll survive this? I'll be a burn victim, this will be painful, but maybe we'll live." Somehow, the pilots managed to land the plane without any casualties, but Lawrence remains traumatized by the horrible experience. "Flying is horrific and I have to do it all the time," she told Vanity Fair. Thankfully, the actor survived, but it's hard to imagine what it must have been like to live throughout something so shocking.