The Worst Dressed Guests At King Charles' 2023 Trooping The Colour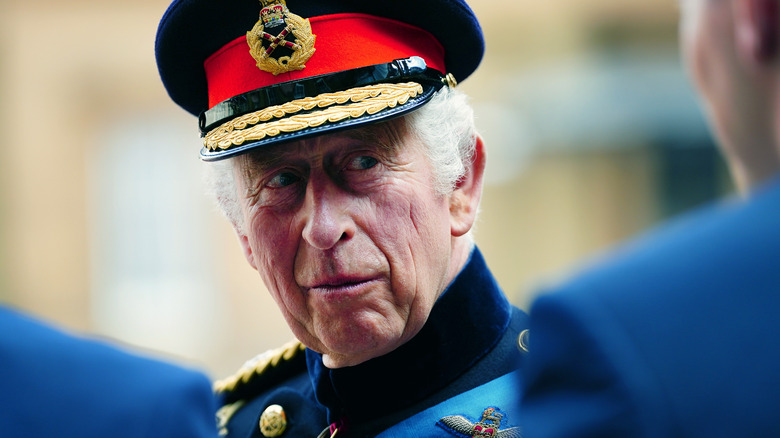 Pool/Getty Images
Tallyho! Pip pip! It was King Charles III's birthday on Saturday. (Actually, it wasn't really; his birthday is in November but he gets two because he's the king, so he gets double the prezzies, per CNN.) The British had the bunting and birthday cake at the ready, in addition to hordes of commoners braving the hot, humid British summer after dishing out £30 for the honor to wave their flags all along the Mall during Trooping the Colour 2023. 
Charles was resplendent in his uniform as Colonel, Welsh Guards, and Queen Camilla was in her full scarlet glory, complete with a jaunty beret as Colonel, Grenadier Guards. One person not in attendance was Meghan, Duchess of Sussex, but Charles did include a photo of Meghan in the coronation program — albeit in a low-key shady way.
Per Royal, more than 200 horses, 400 musicians, and 1,400 soldiers were in attendance to wish Charles a happy (almost) 75th. They even busted out the Royal Air Force to do an impressive fly-over with red, white, and blue contrails as top royal family members waved at the adoring subjects crowded below the Buckingham Palace balcony. The extravagant birthday celebration is a 275-year-old tradition, and although it was Charles' first as monarch, some of the guests looked like they'd attended each and every one. So pop on the kettle, warm up the teapot, and get ready to dunk the digestives as we take a look at the worst dressed guests at King Charles' birthday parade.
Bearskin misfit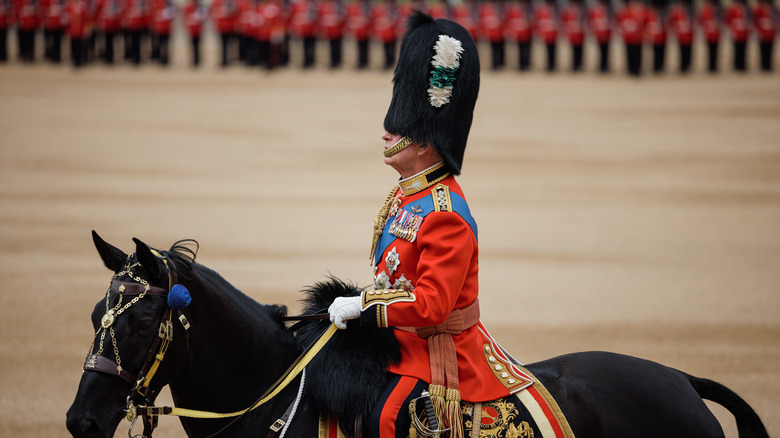 Rob Pinney/Getty Images
You would think that with all the months of preparation that went into the festivities, King Charles III would have had time to squeeze in a proper headwear fitting. However, the birthday boy's Amy Winehouse beehive-style bearskin hat sat so far down on his head that it was a wonder he could see where he was steering his trusty steed.
Charles also appeared to be struggling with the gilded chain chin strap, as it refused to sit in its properly designated mid-Labiomental groove position and rose up to just under his bottom lip instead. That said, it still made for a far posher look than the usual tissue paper crown most commoners have perched on their heads when they blow out their birthday cake candles.
Luckily, by the time he made it onto the balcony for the obligatory royal wave, Charles had shed the bearskin and was back in his decorated Colonel, Welsh Guards cap, which sat firmly upon his right royal head.
Formal-on-the-top, party-on-the-bottom
The pomp and pageantry started at 10:30 a.m. sharp local time because when it comes to the Brits, nobody's tardy for the party. In fact, the Daily Mail reports that "superfan" John Loughrey camped out for an entire week to watch the ceremonial goings-on. So he was in prime position to watch the third young Cambridge trundle by.
Prince Louis rocked a formal-on-the-top, party-on-the-bottom look, pairing his smart navy suit jacket, red tie and navy socks with bright red knee-length shorts. The youngest son of William, Prince of Wales, and Catherine, Princess of Wales, sat sandwiched between Prince George and Princess Charlotte in their carriage — opposite their mom and Queen Camilla — and received some serious side-eye from his big sis as he fiddled with his nose for much of the journey.
Louis is a regular when it comes to showing off one's royal legs, and it's not always weather-related. Express notes that the 5-year-old was wearing his best shorts at the official Easter and Christmas royal events, too. But never fear! He's not following in the footsteps of his uncle, Prince Harry, Duke of Sussex, and trailing his own blaze. "It's a very English thing to dress a young boy in shorts," etiquette expert William Hanson told the publication.
Duchess of Recycling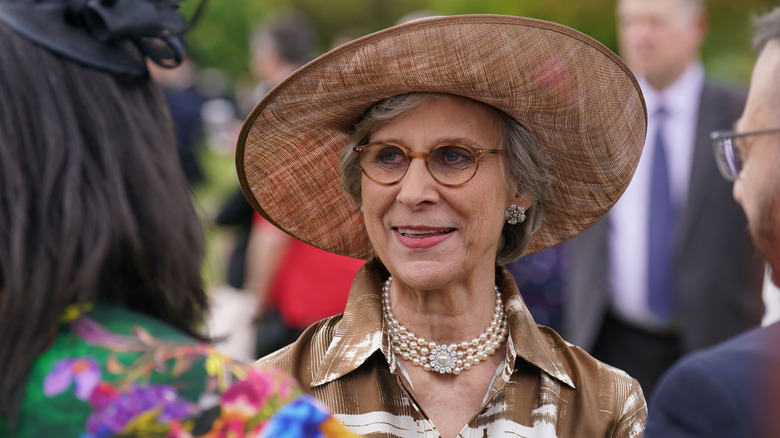 Wpa Pool/Getty Images
Birgitte, Duchess of Gloucester, wife to the late Queen Elizabeth II's cousin, Prince Richard of Gloucester, dialed it in for the day. She looked like she was off to a posh friend's BBQ rather than attending a right royally historic event. In fact, Birgitte was wearing the exact same hat and dress she wore to the May 9 garden party celebration for King Charles' coronation, proving the royals are just like us when it comes to digging out their favorite old frock from the wardrobe to wear again.
Or, proving that since the royal list was slashed, one's feeling the financial pinch. Per The Guardian, despite being 30th in line to the throne, the poor Duke and Duchess have had to scrape by on a measly $12 million during their tenure.
With her dark brown straw hat and brown-and-white striped linen dress, Birgitte stood in stark contrast to all the vivid colors surrounding her, appearing a tad drab by comparison. Perhaps she didn't want to outshine the leading players and simply blended into the background. Aside from arriving in a horse-drawn carriage with her top hat and tails morning-suited and booted husband sitting upright beside her, she would have achieved her aim, albeit the undoubtedly super expensive string of pearls around her neck definitely set her apart from the hoi poloi.
The aliens have landed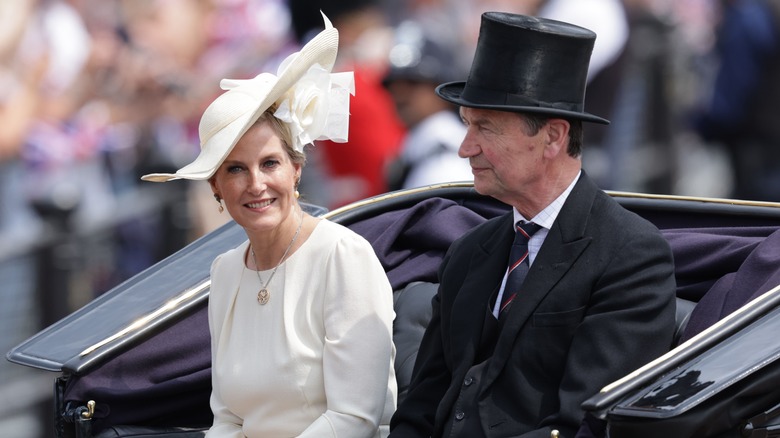 Chris Jackson/Getty Images
In addition to the 6,000+ members of the British and Commonwealth armed forces escorting King Charles III and Queen Camilla to Buckingham Palace, there was some otherworldly assistance, too.
Sophie, Duchess of Edinburgh, wife of Charles' youngest brother, Prince Edward, Duke of Edinburgh, was accompanied in her carriage by Sir Timothy Laurence, husband of Anne, Princess Royal. The couple was thrown together as their respective spouses were astride two of the Household Cavalry Drum Horses that made up the official parade.
The British royals do love themselves a hat, and Sophie was no exception, wearing an Unidentified Flying Object that had landed on her head for the special occasion. She propped it up at a jaunty angle with a giant chiffon flower attached to the side. However, the UFO appeared to interfere with Sir Timothy's top hat, as he was forced to hold tight to his brim at one point to avoid a stovepipe alien abduction.
The scarlet lady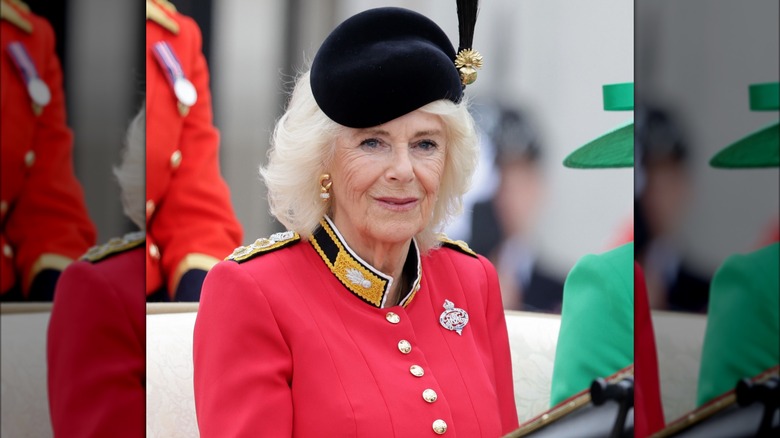 Chris Jackson/Getty Images
Although she undoubtedly looked suitably regal in her military-inspired Colonel of the Grenadier Guards silk coat dress, there was no escaping the irony of Queen Camilla wearing scarlet. As royal biographer Ian Lloyd noted, Camilla's ensemble harkened back to an outfit originated by Queen Elizabeth II, yet this dated look was a missed opportunity.
Instead, as Express emphasized, Camilla was long-dubbed "the UK's scarlet lady" due to her infamous role as the third person in Diana, Princess of Wales, and King Charles III's marriage. "Some 40 years after being dubbed the UK's Scarlet Woman, Camilla is now being pitched in pastels and florals with baroque violins as her soundtrack and visuals that look borrowed from shows like 'Bake Off' and 'Antiques Roadshow,'" body language expert Judi James told the publication ahead of the release of the documentary "Camilla's Country Life."
Well, Camilla shed the pastels and totally owned her scarlet moniker to celebrate her hubby's big day. She looked ready to go to war against any lingering detractors. She even topped off the look with a special Philip Treacy-designed hat that included a "grenade" style feather plume, per Yahoo! Life. This, some could say, was another ironic touch, given the explosive impact she had on the monarchy.