Rose McGowan Urges Asia Argento To 'Do The Right Thing' Amid Sexual Assault Scandal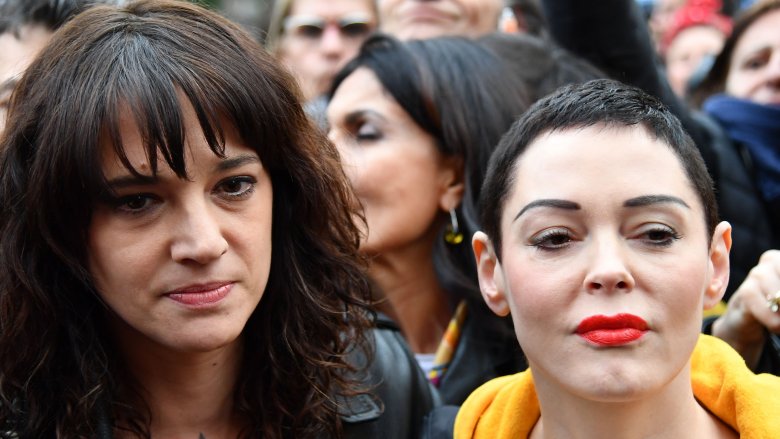 Getty Images
Actress Rose McGowan has some words of advice for fellow #MeToo movement activist Asia Argento, who has been accused of sexual assault by her former The Heart Is Deceitful Above All Things co-star Jimmy Bennett.
On Monday, Aug. 27, 2018, the former Charmed star released a lengthy statement in which she shed new light on the ongoing scandal.
"Asia you were my friend. I loved you. You've spent and risked a lot to stand with the MeToo movement," McGowan stated, in part (via The Hollywood Reporter). "I really hope you find your way through this process to rehabilitation and betterment. Anyone can be be better — I hope you can be, too. Do the right thing. Be honest. Be fair. Let justice stay its course. Be the person you wish Harvey [Weinstein] could have been." McGowan and Argento both accused Weinstein of sexual misconduct last fall.
As Nicki Swift previously reported, The New York Times recently revealed that Argento quietly paid Bennett $380,000 earlier this year after he accused her of sexually assaulting him when he was just 17 years old during an alleged May 2013 incident. Argento, who was recently fired as a judge from X Factor Italy, has since denied the claims. While stating that she'd "never had any sexual relationship with Bennett," the 42-year-old movie star said that her late boyfriend, Anthony Bourdain, had paid the settlement in order to avoid negative publicity. However, in an alleged leaked text message exchange, the Italian actress reportedly admitted to an unnamed friend, "The horny kid jumped me ... I had sex with him it felt weird. I didn't know he was a minor until the shakedown letter."
McGowan's recent statement unveiled new details on these text messages, as she revealed that Argento had been corresponding with her model partner, Rain Dove. McGowan said she immediately encouraged Dove to report the exchange to authorities.
The actress-activist's initial response to the Argento allegations drew criticism on social media. "None of us know the truth of the situation and I'm sure more will be revealed," she wrote in a since-deleted tweet. "Be gentle." However, she went on to say in her new statement that the situation had forced her to "evolve" in her activism, writing, "There absolutely should be no leeway or tolerance for sexual assault. Hard stop. NONE. ...As allies to the victim and voyeurs of an event we should find a better way to balance support of the victim with due process for the accused."
After Weinstein's sexual abuse scandal first broke in October 2017, a number of other powerful figures in Hollywood — mostly men — have faced sexual misconduct allegations.