How Long Could Trump Go To Prison? Lawyer Warns Ex-President Could Be His Own Worst Enemy - Exclusive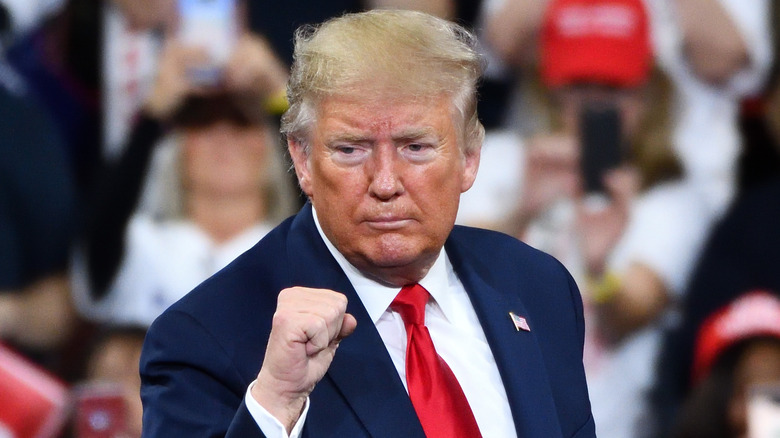 Evan El-Amin/Shutterstock
After years of chanting, "Lock her up!" it's looking increasingly likely that Donald Trump could be the one who ends up behind bars, and not Hillary Clinton, making him the first-ever former US president to go to prison. The question remains, if so, for how long? A lawyer spoke exclusively with Nicki Swift to get to the bottom of it.
Trump's presidency was contentious before it began and didn't become any less so during or after his tenure. The list of every time Trump has been controversial expands by the day. Per CNN, during the campaign trail, the former reality star boasted at an Iowa rally that he could commit heinous criminal acts and still come out smelling of roses. "You know what else they say about my people? The polls, they say I have the most loyal people. Did you ever see that?" Trump charged. "Where I could stand in the middle of Fifth Avenue and shoot somebody, and I wouldn't lose any voters, okay? It's like incredible." 
Well, despite still being the front-runner for the 2024 Republican presidential nomination, for now, Trump's not as bulletproof as he believes. According to Inside Story, Trump supporters are growing concerned by his relationship with the truth and seemingly pathological need for publicity. Even when Trump surrendered in his historic arrest, he couldn't resist getting the last word in, and his inability to reign himself could prove his downfall. Because when it comes to how long Trump could go to prison if convicted, a top lawyer warns that the ex-president could be his own worst enemy.
Donald Trump could face a maximum of 20 years in prison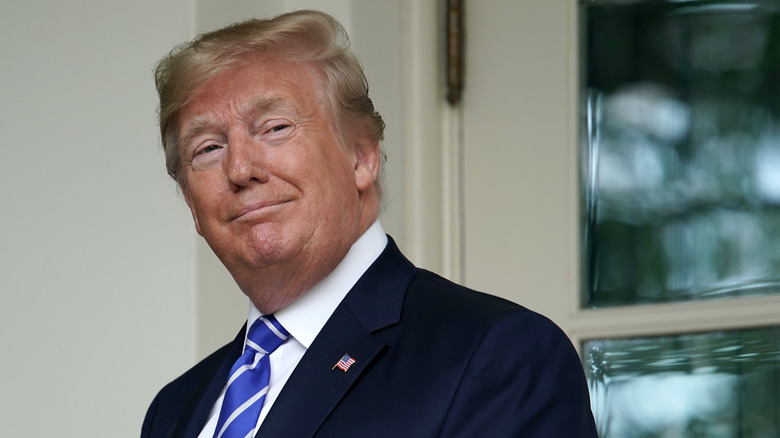 Chip Somodevilla/Getty Images
Donald Trump's willingness to play fast and loose with the truth, cause outrage and controversy and garner publicity, good or bad, played a significant role in his 2016 presidential win. Ironically, that willingness could also spell the end of his political career and the beginning of a potentially long stint as a prisoner.
"If convicted, Trump could theoretically get anywhere from probation and no prison time to the statutory maximum of 20 years in prison," Former federal prosecutor Neama Rahmani, president of West Coast Trial Lawyers, exclusively told Nicki Swift. "But practically, federal judges usually sentence at or near the United States Sentencing Guidelines. In Trump's case, his advisory guideline range would be more than four years in prison. There could be enhancements that push that range even higher—if Trump perjured himself at trial, for instance, and obstructs justice. It is ultimately up to Judge Cannon to decide what sentence to impose if Trump is found guilty, and those decisions are rarely overturned on appeal."
Per the BBC, Trump is subject to multiple criminal investigations. He was indicted in April for allegedly falsifying business records to buy the silence of Stormy Daniels, who claims she had an affair with Trump. Then, he's facing 37 counts for the "willful retention" of 11,000 government documents — including classified and top-secret files — and allegedly attempting to obstruct the investigation. Trump is also being investigated for his alleged role in trying to overturn the 2020 presidential election.
Those around him also face legal peril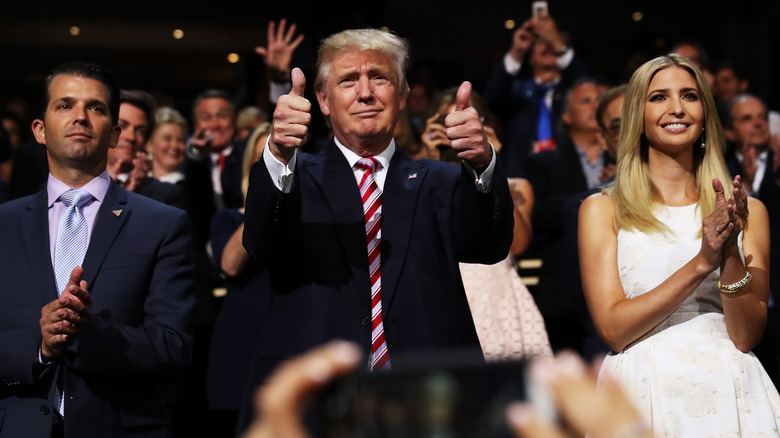 Joe Raedle/Getty Images
Donald Trump's legal quagmire is like a giant tangled ball of wool, with so many potential threads it's near impossible to unravel. The two indictments Trump's already been charged with — and the ongoing investigation into his possible interference with the 2020 presidential election — are just the tip of the legal iceberg. Forbes reports that there are "dozens" of other lawsuits and investigations in the works, too, including accusations of falsely inflating real estate valuations, fraud, possible shady stock trading, allegedly receiving undeclared gifts from foreign dignitaries, and purportedly promoting a pyramid scheme, among others.
Meanwhile, Donald's 2024 announcement to stand for president again signaled that his family is starting to distance themselves from him. They were conspicuously absent during his big speech (via Twitter), with only Melania Trump by his side. But then, Donald isn't the only Trump in potentially boiling hot legal water.
According to CBS News, Donald Jr. and Eric Trump have been accused, along with their father, of allegedly attempting to defraud the New York Department of Taxation and Finance. Allen Weisselberg, former CFO of the Trump Organization, testified that Donald, Donald Jr., and Eric orchestrated a scheme that enabled employees to partially hide the amount of their income. And per the Washington Post, Ivanka Trump's husband, Jared Kushner, continues to be scrutinized for allegedly using his Trump administration role for his financial benefit, including receiving a $2 million payment from a Saudi investment company.