The Tragic Real-Life Story Of Susan Boyle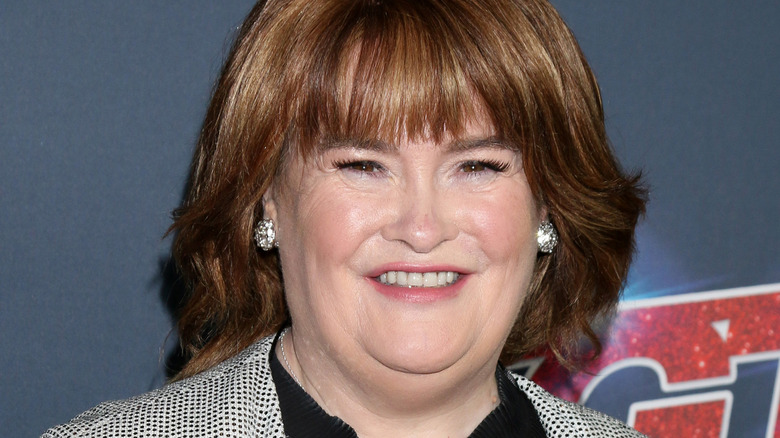 Kathy Hutchins/Shutterstock
This feature discusses bullying, child abuse, mental health issues, and suicide.
Susan Boyle is living proof that you can never judge a book by its cover. The Scotswoman drew sniggers from the live audience when she first walked onto the "Britain's Got Talent" stage in 2009 thanks to her distinctly un-popstar-like appearance. But she soon silenced them with a remarkable voice that launched her into the stratosphere quicker than anyone before or since.
Indeed, after becoming a viral sensation with her performance of the "Les Misérables" number, "I Dreamed a Dream," Boyle reached number one on both sides of the Atlantic with her debut album, performed for Queen Elizabeth II on several occasions, and picked up two Grammy Award nominations, selling more than 25 million records in the process.
Of course, Boyle's rags-to-riches story hasn't always been plain sailing. From the deaths of several loved ones and public emotional breakdowns to various health battles and family feuds, the singer has had to endure numerous hardships both before and after she became famous. Here's a closer look at the tragic side of her life.
Doctors misdiagnosed Susan Boyle from birth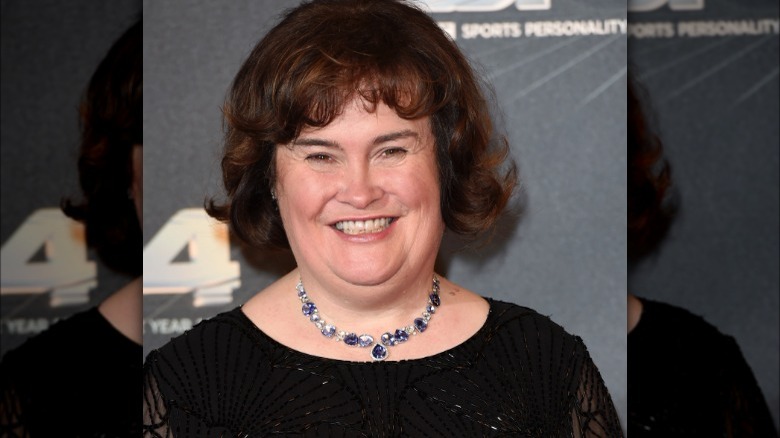 Karwai Tang/Getty Images
For the first 51 years of her life, Susan Boyle believed that she'd suffered from brain damage after being briefly starved of oxygen at birth. However, in 2013, doctors discovered that she had been misdiagnosed — the "Britain's Got Talent" star actually has a form of Autism Spectrum Disorder known as Asperger's.
Speaking to The Guardian a year later, Boyle revealed that the new diagnosis came as a blessing in disguise. "I always knew it was an unfair label," she said. "Now I have a clearer understanding of what's wrong and I feel relieved and a bit more relaxed about myself." People on the autism spectrum can experience anxiety in regard to everyday situations that neurotypical people don't. They can also experience issues with social behaviors and communication.
The viral sensation also explained that she sought a second opinion from a specialist in her native Scotland following concerns that she had a serious illness. Boyle hoped that the knowledge of being neurodiverse wouldn't make any direct impact on her life but that it might help others to be more accepting. "I think people will treat me better because they will have a much greater understanding of who I am and why I do the things I do," she added.
If you or someone you know needs help with mental health, please contact the Crisis Text Line by texting HOME to 741741, call the National Alliance on Mental Illness helpline at 1-800-950-NAMI (6264), or visit the National Institute of Mental Health website.
Susan Boyle was bullied at school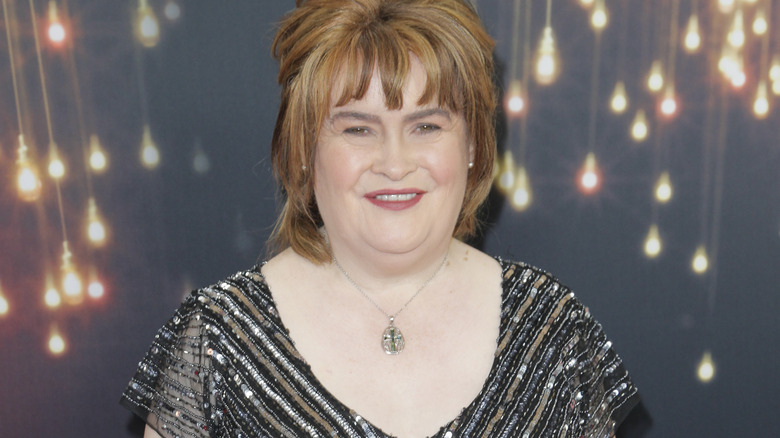 Tibrina Hobson/Getty Images
The crowd's cruel response to Susan Boyle's "Britain's Got Talent" stage entrance was nothing new for the singer. As she explained to the Mirror shortly after completing her first studio effort, "I Dreamed a Dream," the Scotswoman was regularly bullied by both her classmates and her teachers while growing up. Boyle claimed that she was regularly beaten with a belt by teachers who had little understanding of learning disabilities. And she believes their lack of knowledge had a hugely negative impact on her education. "I was often left behind at school because of one thing or another," she explained. "I was a slow learner. I'm just a wee bit slower at picking things up than other people. So you get left behind in a system that just wants to rush on, you know? That was what I felt was happening to me."
When she wasn't receiving corporal punishment at school, Boyle had to face the torment of her peers. Describing how her school years were the worst time of her life due to the abuse she endured at the hands of others, the talent show graduate added, "There's nothing worse than another person having power over you by bullying you and you not knowing how to get rid of that thing." As she told the Daily Mail, success was a sublime way for Boyle to express vengeance against her former assailants. "'The song 'You'll See,' on my first album, is about me getting my own back on people," she added.
Epilepsy also made her early years difficult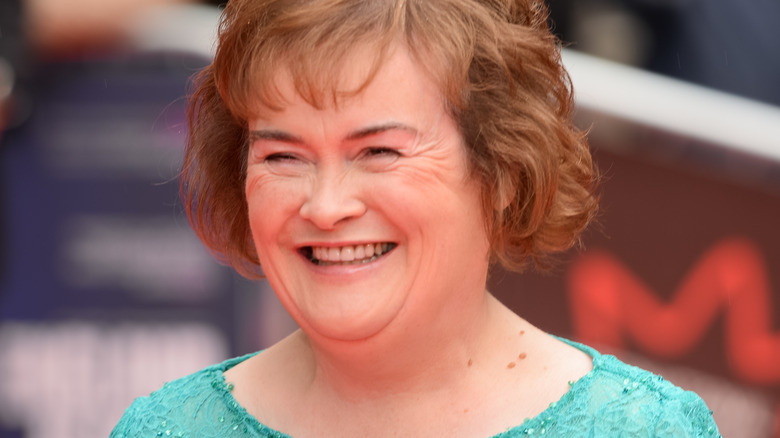 Roberto Ricciuti/Getty Images
Aside from being wrongly diagnosed with brain damage, Susan Boyle was correctly diagnosed with epilepsy from a young age. In a 2011 interview with the Daily Mail, the "Britain's Got Talent" star revealed that she regularly suffered from seizures during her school years, something which gave her childhood bullies even more ammunition to use against her.
Boyle also said that her mother and father didn't know the best way to deal with the condition which has also affected the likes of Sir Elton John, Lil Wayne, and Neil Young. "I was protected in cotton wool," she said. "[My parents] thought they were doing the right thing. They called me touchy. At school, I used to faint a lot. It's something I've never talked about."
The star also believes that the medical profession wasn't much better informed when it came to the brain disorder, which can cause a variety of physical and occasionally psychological symptoms. She added, "People in the public eye don't have things like that. All through my childhood they'd say epilepsy is to do with mental function. And now I realize it's not. I was up against all those barriers. It wasn't easy."
Susan Boyle was hit by her father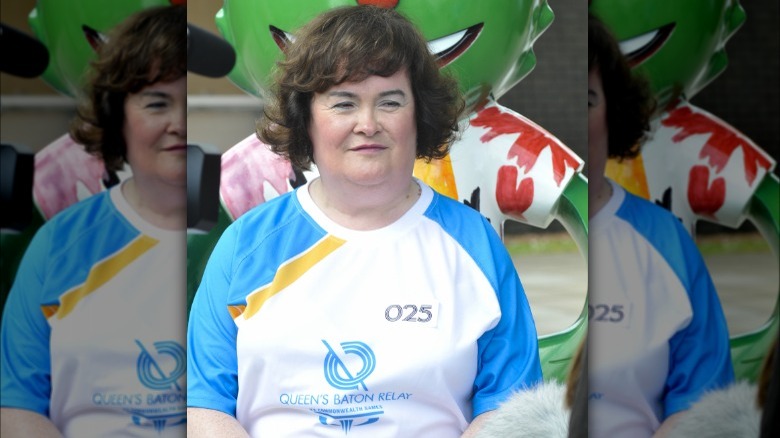 Martin Fraser/Getty Images
In 2016, Susan Boyle made another startling revelation about her upbringing in the Scottish county of West Lothian — she was regularly hit by her father. In 2016, she "Britain's Got Talent" singer told the Daily Mail that former miner Patrick Boyle, who died in 1997, often used to take his temper out on her when she was a child. Boyle also revealed that it took a long time to get over the trauma she experienced. "I held on to this for years — and when he was dying, I had to let it go," she said. "You have to accept it, that's maturity. It's not easy, but you have to let it go and replace it with a new self. That's what I've been focusing on in the past six months. It's difficult. I've a lot of good and bad memories. I've been coming to terms with it."
Confirming the story, a friend of the family told the outlet that Patrick, who Susan regardless maintained was a good man despite the abuse, had been hugely affected by his military experiences. "Yes, her dad was heavy-handed," they commented. "It was due to his time in the war."
If you or someone you know may be the victim of child abuse, please contact the Childhelp National Child Abuse Hotline at 1-800-4-A-Child (1-800-422-4453) or contact their live chat services.
Her mom died before her big breakthrough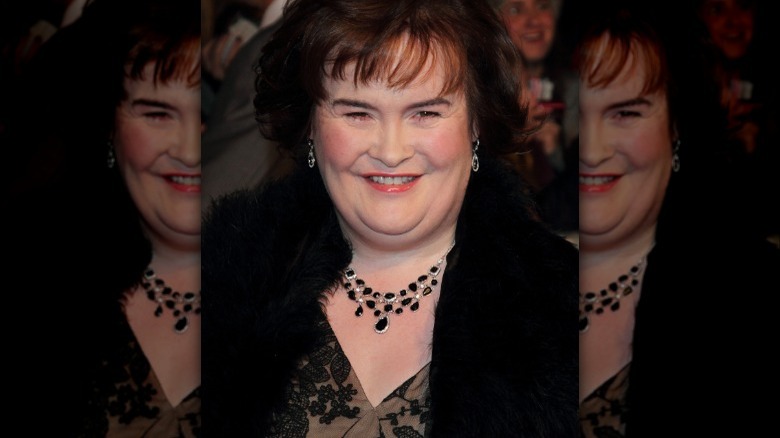 landmarkmedia/Shutterstock
One of the saddest things about Susan Boyle's story is that the mother who encouraged her to pursue her musical dreams died shortly before she made it big. Bridget Boyle died in 2007, just two years before her daughter became a world sensation thanks to "Britain's Got Talent." Understandably, her death hit hard. Susan told the Mirror, "After Mum died it didn't fully register until maybe six months after. That's when the loneliness set in and there was nobody around except my cat Pebbles. When you lose someone as powerful as your mum you feel as if a part of you is taken away and that does things to your confidence."
But the star was still able to take inspiration from her mom when she thought about waving goodbye to her singing talents. In a separate interview given to the Mirror, she explained that her mother had always seen a clear path for her daughter's incredible talents, and encouraged Susan to pursue them — no matter how difficult or impossible success may have appeared. "I went to about 12 auditions before 'Britain's Got Talent,'" she explained. "Everybody goes through the phase when they want to give up and if I had not made a promise to my mother then I would have, I have to be perfectly honest with you."
She was admitted to a mental health care facility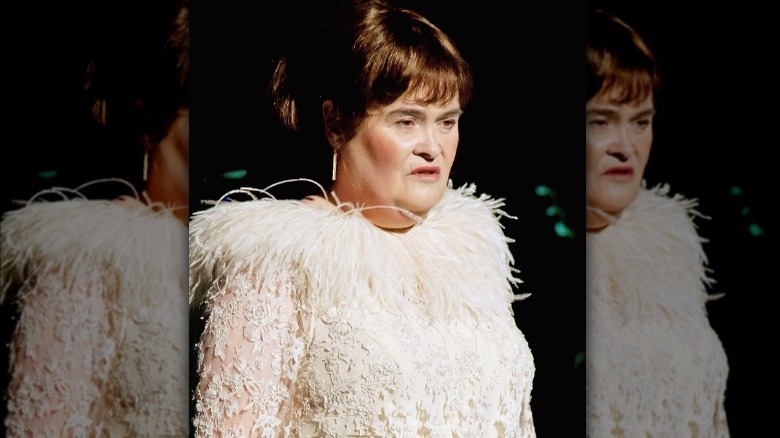 Doug Gifford/Getty Images
Considering her world-conquering success, it's easy to forget that Susan Boyle didn't actually win her 2009 series of "Britain's Got Talent" — she finished runner-up to the dance troupe, Diversity. Understandably, given all the hype beforehand, the hot favorite took it hard when she failed to reel in enough public votes. Rumors emerged that Boyle had thrown water at the show's floor manager while uttering, "I hate this show." Later that same night, police were called to her London hotel after staff complained that she'd been acting in a strange manner. Boyle was admitted to The Priory, a mental health care facility, to recuperate.
According to the Evening Standard, U.K. media regulator Ofcom was even considering launching an investigation into the show's conduct. It had received complaints when "Britain's Got Talent" producers were accused of wilfully ignoring Boyle's clearly vulnerable mental and physical state in the lead-up to the final. Meanwhile, the chief medical officer of The Priory told the Daily Mail that producers had failed to fulfill their duty of care in helping Boyle to cope with the newfound pressures of fame (a spokesperson suggested that Boyle was under no undue pressure to perform in the final). 
During an appearance on GMTV (via Independent), show judge Piers Morgan suggested that the star's rapid rise to fame would have been difficult for anyone to deal with, saying, "Nobody has had to put up with the kind of attention Susan has had. ... She has gone from anonymity to being the most downloaded woman in history."
If you or someone you know needs help with mental health, please contact the Crisis Text Line by texting HOME to 741741, call the National Alliance on Mental Illness helpline at 1-800-950-NAMI (6264), or visit the National Institute of Mental Health website.
Susan Boyle's dear sister died in 2015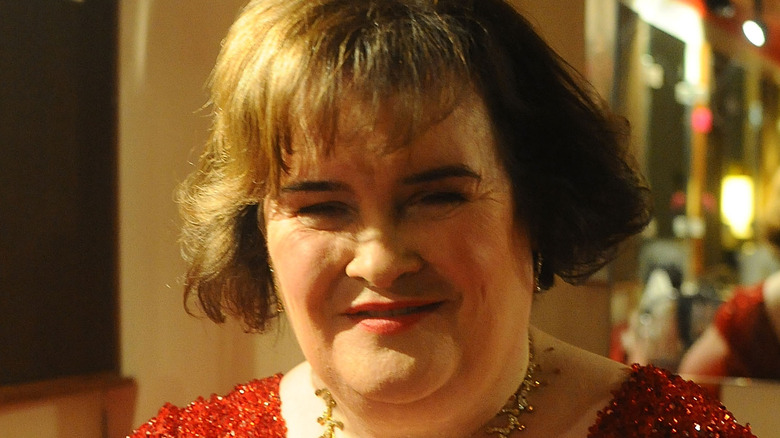 Scott Campbell/Getty Images
Eight years after losing her beloved mother Bridget, Susan Boyle had to deal with the death of another close family member. The "Britain's Got Talent" star, the youngest of nine siblings, lost her sister Bridie to cancer aged 73. In an interview with Mirror, Boyle revealed how Bridie had helped her to stay grounded in the wake of her talent show success. "She was honest and helped me throughout my life and during my career. She wasn't afraid to tell me I was getting too big for my boots," she said. "I miss her every day and we as a family have needed this quiet time to grieve in peace."
In 2015, Boyle had intended to record her seventh album in as many years but took a much-needed break from the studio to spend time with her nearest and dearest, including Bridie's daughter Joanne, who was also the "Wild Horses" singer's personal assistant. "A Wonderful World," which featured duets with Michael Bolton and Nat King Cole, was released in November of the following year.
She was diagnosed with diabetes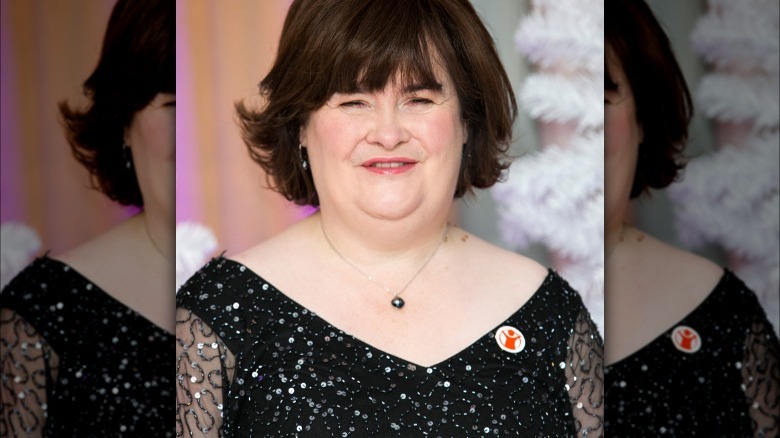 John Phillips/Getty Images
In 2013, Susan Boyle was forced to give up her only vice after she was diagnosed with type 2 diabetes. The "Britain's Got Talent" star had already proven she could stop eating chocolate after giving up the sweet stuff for Lent. But she was forced to permanently cut the foodstuff from her diet for the sake of her long-term health.
The condition, which Boyle manages with medication, once again impacted her life seven years later when the COVID-19 pandemic hit. People with diabetes were considered to be clinically vulnerable to the virus, and as such faced a higher risk of complications if they tested positive for it. As such, diabetic individuals were advised to shield themselves during lockdown. In April 2021, the singer explained to the Edinburgh Evening News, "I have diabetes so I have tried to stay indoors as much as possible. Catching COVID-19 would not have been a good outcome. I was warned, so I've not taken any chances."
Boyle admitted that she'd found the lockdown stage tough to deal with, adding, "I've had days when I've felt low or stuck in a rut, or bored of staring at the same four walls — but everyone's been in the same boat."
Susan Boyle has been targeted by intruders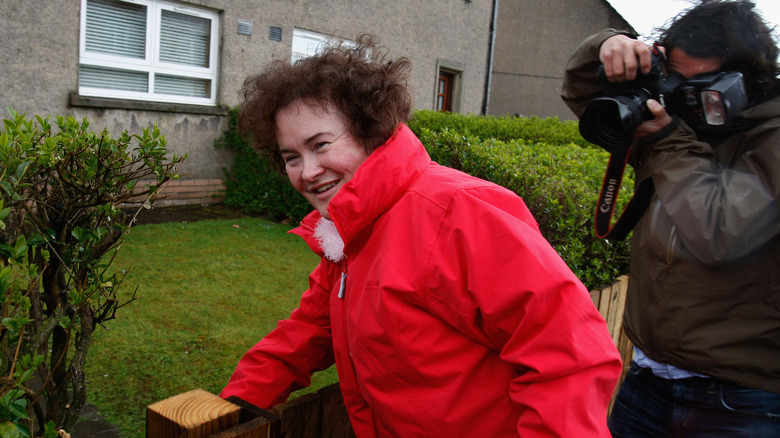 Jeff J Mitchell/Getty Images
In 2010, Susan Boyle suffered a scare when she returned home from recording a charity single to find a teenage intruder on her stairs. The "Britain's Got Talent" star was with a friend when she entered her West Lothian property and after further investigation, nothing was deemed to have been taken. Understandably, the incident still left the singer shaken. A friend told The Scottish Sun (via The Guardian), "Susan is unharmed but is obviously very, very shocked. The guy has seen her come in and bolted out straight past Susan." A 16-year-old was later arrested for the crime but was let go by police without charge.
Just two years later, Boyle had to deal with yet another intruder. On this occasion, it was an obsessive fan who tried to follow the singer into her room in Liverpool's Hope Street Hotel. The man in question had been waiting for the star to return from her performance in the musical "I Dreamed a Dream" at the city's Empire Theatre and went on to pursue Boyle when she ignored his pleas for an autograph. A source told Mirror, "The attention she was getting from fans was a bit much, especially given what happened at her home recently. The last thing she needed was someone trying to get into her room."
She's been terrorized by local youths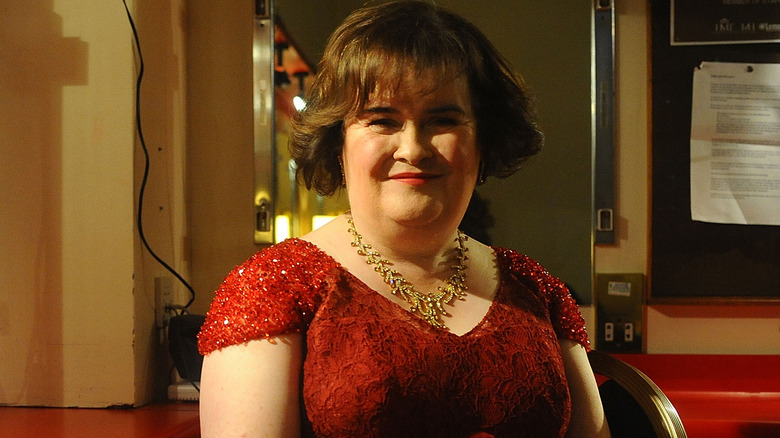 Scott Campbell/Getty Images
After failing to settle into the brand-new house she bought after rising to fame, Susan Boyle decided to move back into her lifelong family home. Unfortunately, her return wasn't appreciated by everyone in the neighborhood. And a group of local teenage boys soon let their feelings known.
As such, Boyle had reportedly been chased to her doorstep, pelted with stones, and had firelit paper thrown at her since going back to the West Lothian property she grew up in. But the Scotswoman isn't someone who will surrender easily. Speaking to Mail on Sunday about the problem, a defiant Boyle explained that she wasn't going to let such intimidation tactics get to her. "It's where I grew up with my mum and dad and it has memories," she said. "Why should I move because of a group of daft laddies, who at 15 years old should know to behave better?"
Luckily, not everyone in the area displays such antisocial behavior. Boyle added, "I love my neighbors, they are the most beautiful group of people who always look out for me and make sure I am okay."
She had a two-year feud with brother Gerry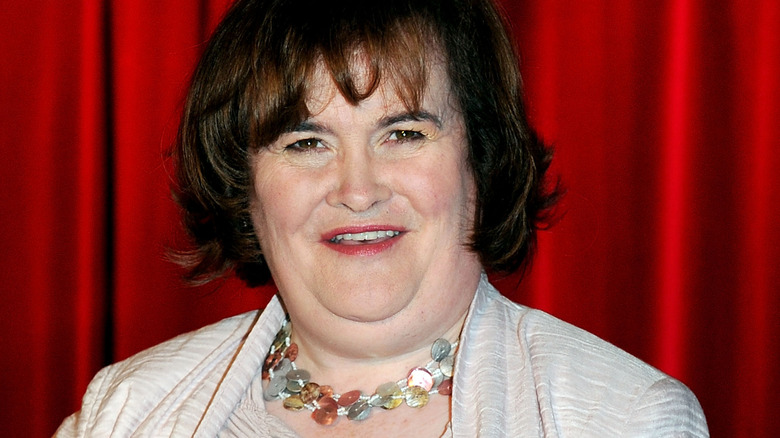 Shirlaine Forrest/Getty Images
Susan Boyle found out the grim cost of fame the hard way when the millions she made from her post-talent show success ended up tearing her family apart. On one side there was her sister Bridie, nieces Jaqueline, Kirsty, and Joanne, and nephew Alan, and on the other were her siblings Mary, John, and Gerry. And it was the latter who the singer allegedly ended up estranged from for two whole years. The drama began when allegations emerged that Gerry had blackmailed Susan for roughly $75,000 to rescue his business Instant World from bankruptcy. He was even said to have threatened suicide if she didn't comply. However, Gerry told the Daily Record that such talk was nonsense and that it had actually stemmed from his famous sister. 
As he explained, Susan had felt stuck in the middle of the family's tension — a situation worsened when it came to light that she'd been helping her brother with the financial issues his business was facing. "She instantly broke down crying and said the suicide claims were a pack of lies. She said she was sorry — not just for me but for the whole family rift," he said. "... When my sister Bridie and nephew Alan started asking questions she felt she needed to give a reason why she gave me the cash and not them. Susan always feels she needs to keep everyone happy by telling them what they want to hear. She doesn't like confrontation." 
If you or someone you know needs support now, call or text 988 or chat 988lifeline.org.
Susan Boyle experienced public distress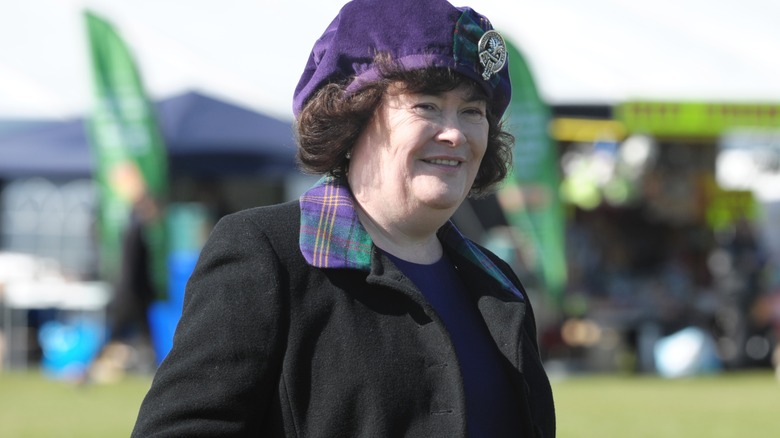 Altopix/Shutterstock
In 2016, Susan Boyle once again sparked concerns about the state of her mental health when she was spotted experiencing emotional distress in public. The "Britain's Got Talent" star first made headlines when she was spotted experiencing an extreme state of anxiety at Derry Airport and had to be escorted into a side room to calm down, per Daily Mail. 
Just a month later, the singer was asked to leave British Airways' Heathrow lounge as she waited for a flight back to Scotland because of an apparent disturbance. A witness told The Sun (via Sky News), "She looked confused and was shouting, "I've done nothing wrong, I've done nothing wrong' repeatedly. There was a massive commotion and everyone was looking at her. Nobody knows what started the argument but I was told it was something small that spiraled out of control." Afterward, a spokesperson for the star commented, "Susan is absolutely fine and is on her way home."
Something good came out of the latter incident, at least. After sending her estranged brother Gerry a concerning voice message, the pair ended up reuniting after two years of silence. The latter told the Daily Record, "I'd never heard her sound so down on the phone. I was really concerned. She didn't sound like she was in a good place." Referring to her family reunion, Susan told the same newspaper, "I'm very happy, it's a great relief and I'm looking to the future with a happy smile. Everything is hunky dory and fantastic."
If you or someone you know needs help with mental health, please contact the Crisis Text Line by texting HOME to 741741, call the National Alliance on Mental Illness helpline at 1-800-950-NAMI (6264), or visit the National Institute of Mental Health website.
She experienced a minor stroke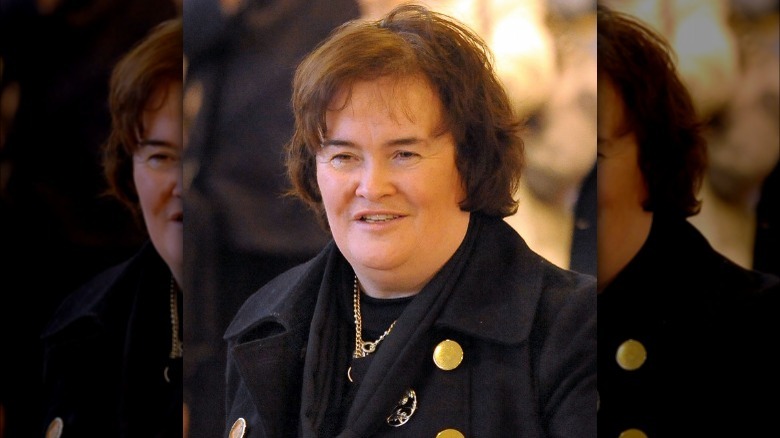 Jun Sato/Getty Images
Susan Boyle's health woes continued in 2022 when she suffered a minor stroke that left her fearful for her career. The singer revealed the news live on television when she returned to the same "Britain's Got Talent" stage that helped to launch her to stardom 14 years previously. Boyle had just performed with the West End "Les Misérables" cast on the finale of the talent show's 16th season when she was asked by co-hosts Declan Donnelly and Ant McPartlin about her return to the spotlight. The singer explained, "It's extra special for me actually, last April there, I suffered a minor stroke and I thought it'd be crazy to be back on stage and I have done it" (via ET).
Later that same evening, Boyle opened up further about her recent health scare on Instagram. She captioned a backstage snap, "For the past year I have worked so hard to get my speech and singing back, with the sole aim of being able to sing on stage again, and tonight my hard work and perseverance paid off, singing the song that started it all." The performer was, of course, referring to "I Dreamed A Dream."
Love has been hard to come by for Susan Boyle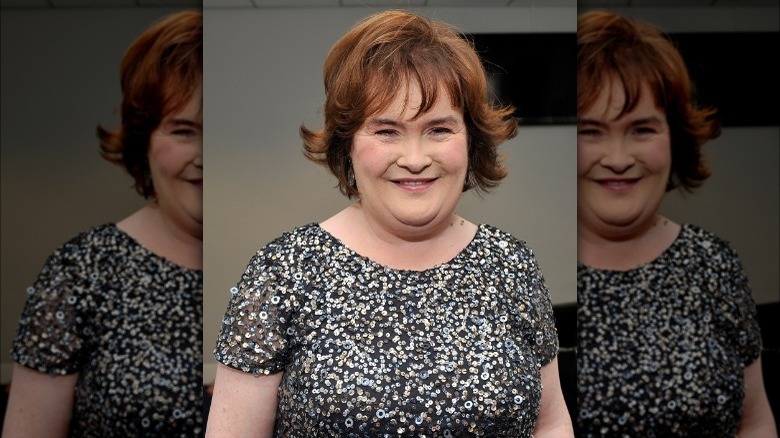 Matt Kent/Getty Images
Following her star-making performance on "Britain's Got Talent," Susan Boyle inevitably had to face countless questions about her romantic life. Luckily for the press, the singer was more than happy to provide the answers, even if there wasn't really much of a story to tell. Indeed, the "Wild Horses" singer freely admitted to the Mirror that at the age of 48, she'd still never been kissed. "If someone even pecked me on the cheek it would be nice, but I've never even got that close," she said. "My parents didn't want me to have boyfriends, so I've never been on a date." 
However, speaking to the Daily Mail two years later, she revealed that she had actually landed her first boyfriend aged 25 — and much to her father's disapproval. "All that never being kissed stuff is a lie," she said.
However, as she told OK Magazine in 2020 (via Metro), Boyle wasn't exactly dating much in her later life. And her last dalliance, at that time, hadn't exactly run smoothly, either. "I had a date in America six years ago, which lasted exactly 45 minutes. I went for a massage in the spa of a hotel and met a doctor and then we went out for lunch. I didn't tell anyone and my team thought I'd been kidnapped." The star shared that while romance is a nice idea, she simply doesn't have the time to indulge in it. "It is still nice to be asked though," she added.