Meghan Markle Reveals Her Hidden 'Something Blue' From Royal Wedding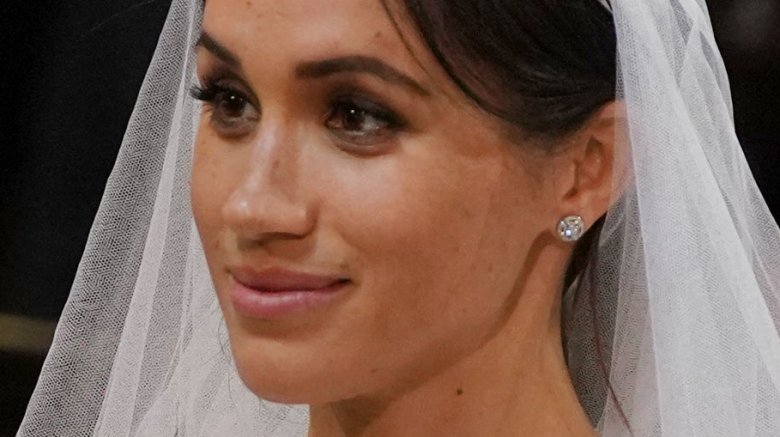 Getty Images
Duchess Meghan Markle's "something blue" was hidden in plain sight at the royal wedding.
On Saturday, Sept. 22, 2018, People magazine released a clip from the upcoming documentary Queen of the World, in which the former Suits actress revealed that the veil of her Givenchy wedding gown included a secret throwback to when she first got together with husband Prince Harry.
While seeing the famous dress for the first time since the royal couple's nuptials earlier this spring, Markle couldn't help but gush over it, saying to the interviewer, "My goodness. It's amazing, isn't it? The work that they did here is just so beautiful." 
As Kensington Palace previously announced via Twitter, the veil included a floral tribute to all 53 countries of the Commonwealth. However, Markle went on to explain a new detail. "Somewhere in here there's a piece of — did you see it?" she said. "The piece of blue fabric that's stitched inside? It was my something blue." Markle added, "It's fabric from the dress that I wore on our first date." The interviewer was basically all of us when she replied, "Oh, that's about the most romantic thing I've ever heard."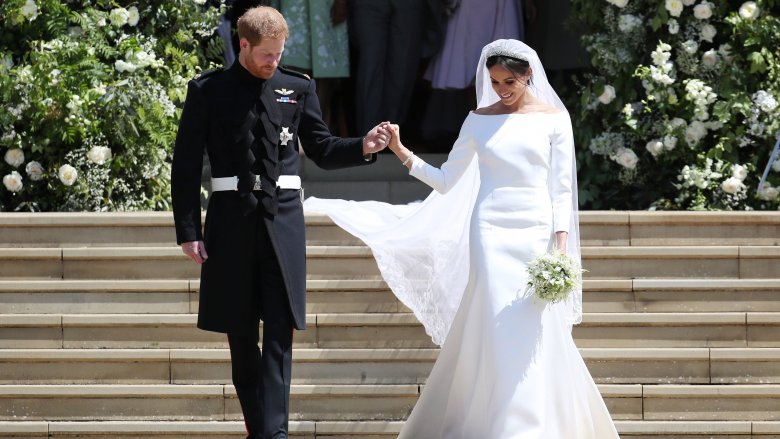 Getty Images
As Nicki Swift previously reported, Markle, 37, and Prince Harry, 33, tied the knot at St. George's Chapel at Windsor Castle in mid-May 2018, after announcing their engagement in November 2017. Shortly after their nuptials, Kensington Palace confirmed to E! News that the bride had also quietly paid tribute to her late mother-in-law, Princess Diana, on their big day with her "something borrowed, something blue." At the evening reception, Markle sported a giant emerald-cut aquamarine ring, which Princess Diana had worn in October 1996.
These days, the Duke and Duchess of Sussex seem happier than ever, despite the latter's ongoing family drama with estranged dad Thomas Markle. As a source cited by Entertainment Tonight claimed earlier this month, while the royal newlyweds are reportedly "eager to start a family," they're remaining focused on their charity work for the time being as they prepare for their upcoming Commonwealth tour, which will kick off next month.
Queen of the World, which will delve into Queen Elizabeth II's role as the head of the Commonwealth, is set to air on Monday, Oct. 1, 2018, at 8 p.m. on HBO.