Queen Elizabeth Reportedly Sympathizes With Meghan Markle Amid Family Drama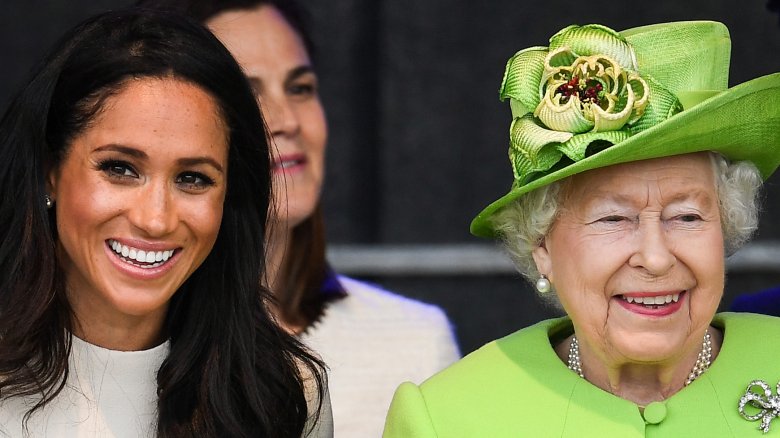 Getty Images
With Meghan Markle's ongoing family drama playing out in the press, the duchess knows that this British royal has her back.
According to an Us Weekly exclusive, published on Wednesday, Aug. 29, 2018, the former Suits actress has reportedly found a somewhat surprising ally in husband Prince Harry's grandmother, Queen Elizabeth II.
As an insider from Buckingham Palace told the magazine, "What may surprise some is just how supportive Her Majesty has been during the problems Meghan has faced with her family. Meghan is in a tough place, and the queen knows it's completely out of Meghan's hands. She has only sympathy for what's been a difficult and distressing situation for her."
Meanwhile, another insider claimed that Markle is "absolutely broken by the drama" with her father, Thomas Markle, adding, "There's no way she can have a relationship with him or even reach out to him to stop him from speaking. She knows he'll record the conversation and sell it. She has high anxiety wondering if this will go on forever."
As fans of the royal family may already know, Markle's estranged dad has been dominating headlines since before she and Prince Harry, 33, tied the knot in May 2018. As Nicki Swift previously reported, Thomas caused a media frenzy over his staged paparazzi photos just days ahead of the royal wedding, which he was unable to attend after undergoing heart surgery. At the time, a report surfaced claiming that the queen was allegedly "very angry" with Markle's father. However, Thomas has unfortunately continued to speak with the press ever since.
According to Us Weekly's source at the palace, Queen Elizabeth, 92, and the Duchess of Sussex have shared a close bond since first meeting in September 2017. "While Meghan and the queen come from two very different backgrounds and generations," the insider said, "there's a warmth between the two that's genuine and loving." About a month after Markle married into the House of Windsor, the royal duo first publicly showed signs of this mutual fondness during a joint royal engagement in Chester, England. Throughout their outing, the two could be seen chatting and laughing together as they enjoyed each other's company.
These days, Markle not only has the continued support of her new husband and the queen to help her through her familial woes, but that of mom Doria Ragland, who is reportedly planning to relocate from the United States to London to be closer to her daughter.