Jersey Shore's Mike Sorrentino To Marry Fiancée After Fraud Sentencing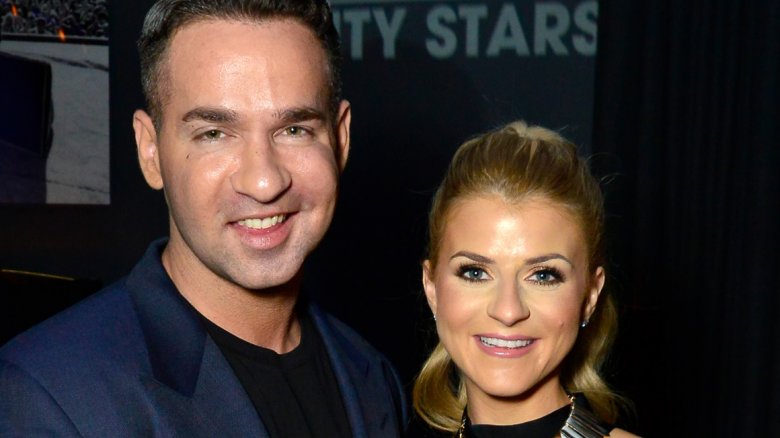 Getty Images
Jersey Shore star Mike Sorrentino, who's known as "The Situation," has been planning his wedding to fiancée Lauren Pesce — and it will reportedly take place weeks after he receives his sentence.
According to Radar Online, Sorrentino will be sentenced for fraud charges in a courtroom in Newark, N.J. on Oct. 2, 2018. And, just a few weeks afterwards, he'll tie the knot with Pesce, getting married in early November.
Fortunately for the couple, they won't have to exchange vows behind bars, as Sorrentino will likely have some time before he's expected to surrender himself to prison. "Ordinarily in federal court, a defendant is given a period of time (30 to 60 days) to surrender voluntarily to begin a prison sentence after the sentence is imposed," Sorrentino's lawyer Henry Klingeman explained to Radar Online.
And it's seem that Sorrentino, 36, and Pesce, 33, are banking on that, as a source told the celebrity gossip rag that the two had "figured out the logistics ahead of time" for their wedding.
Sorrentino's upcoming sentencing comes after he was accused of filing false tax returns to the IRS. In April 2017, he was also charged with tax evasion and "structuring funds to evade currency-transaction reports." Sorrentino and his brother, Marc, reportedly failed to pay taxes on an income of $8.9 million between the years of 2010 and 2012.
In January 2018, Sorrentino pleaded guilty to tax evasion. He faces a maximum of five years behind bars for the crime.
Sorrentino's brother— who had worked with the reality TV star — pleaded guilty to "aiding in the preparation of a false and fraudulent tax return." He could be sentenced to up to three years in prison.
Despite all the drama surrounding Mike Sorrentino's legal troubles — or, perhaps, because of it — Sorrentino proposed to his longtime girlfriend, Lauren Pesce, in April 2018, asking her to marry him while filming Jersey Shore Family Vacation. "I have always dreamed of proposing on Jersey Shore, the show that introduced me to the world," Sorrentino told Us Weekly at the time. "I'm currently living the dream and proposed to my college sweetheart, Lauren Pesce, amongst my best friends on the biggest reality show in the country. We are so proud and excited to share this chapter of our story with the world."
Sorrentino and Pesce had first started dating when they were in college, but they broke before he made his reality TV debut on MTV's Jersey Shore. Luckily, the two later found their way back to one another in 2012.
Sorrentino, who celebrated 28 months of sobriety in May 2018 after battling an addiction to prescription painkillers, later opened up about wedding planning in August 2018. Noting that planning his and Pesce's big day was "going fantastic," he shared that he wanted to give his fiancée the wedding of her dreams. "I don't really know too much about it. But I know happy wife is a happy life, so whatever she wants, we're gonna try to get her," he told Us Weekly.
It was previously reported that Sorrentino and Pesce were going to try to marry before his sentencing, with sources telling media outlets that the couple were hoping to wed in either late September or early October. But, obviously, the two must have decided to slow down and give themselves a little more time before Sorrentino likely heads off to prison. Plus, with the good chance that their wedding will appear on TV — either on Jersey Shore Family Vacation or as a TV special — there are surely a lot of details the couple will need to check off on (via Radar Online).
And no matter how long Sorrentino may spend behind bars, Pesce will be there for him, as she likely has been throughout all of his legal troubles. "They are both hoping for leniency. But it does not matter to Lauren how long he has to go to prison," a source told Radar Online in July 2018. "She will stand by him no matter what. She will be visiting him in prison as often as she is allowed."
Sounds like Sorrentino and Pesce have one strong relationship — which is perfect since they'll soon have to stick by one another's side for better or for worse!