What Bill Cosby's Prison Cell Is Like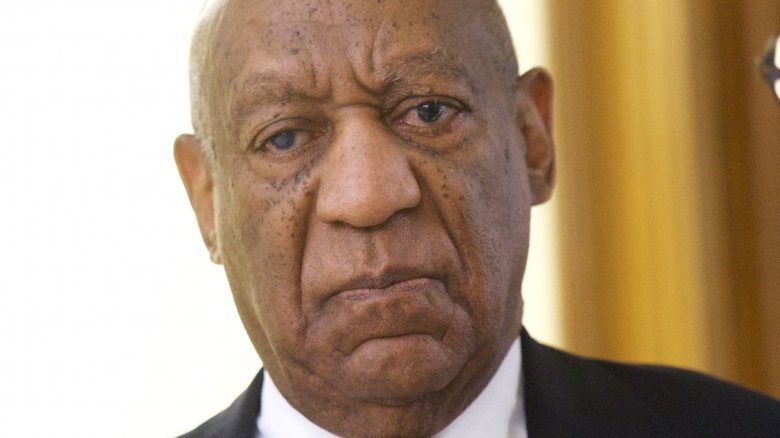 Getty Images
Once-beloved comedian Bill Cosby has a lot of getting used to do when it comes to his new living situation.
The former The Cosby Show star was sentenced to three to ten years in prison on Sept. 25, 2018. Earlier in the year, he'd been found guilty of sexually assaulting Temple University employee Andrea Constand in 2004. And, after receiving his prison sentence, Cosby was quickly taken into police custody and was first transported to the Montgomery County Correctional Facility in Eagleville, Pa. before later being moved to Pennsylvania's State Correctional Institute at Phoenix.
There, at SCI Phoenix, Cosby — who has faced accusations by a total of 60 women — has earned a new name for himself as inmate No. NN7687, as reported by Page Six.
Cosby's new residence is a 9-by-12-foot cell next to the maximum security prison's medical center. He lives in that room by himself — for now, at least. If SCI Phoenix staff have their way, he'll eventually get himself a roommate. "The ultimate goal would be to integrate him into general population," Amy Wordon, the spokesperson for the Pennsylvania Department of Corrections, shared with The Post on Tuesday, Sept. 25 (via Page Six). "He'll be there on an entry basis as we determine what programs he's eligible for."
SCI Phoenix is a newer correctional facility, having just opened in July 2018. According to a page about the prison on the Pennsylvania Department of Corrections' website, SCI Phoenix boasts 3,830 beds with 15 separate housing units on the premises. There is also a barber shop, a mural arts program, a law library, a recreational library, and a gym at the prison, along with a non-denominational chapel.
Prisoners can also partake in a variety of classes on the property to learn custodial maintenance, carpentry, restaurant skills, and more. There are also a variety of programs available to inmates, including "Relapse Prevention," "AA and NA Support Meetings," "Violence Prevention," and "Sex Offender Treatment." According to Page Six, Cosby — who was ruled to be a "sexually violent predator" in court — has already been ordered to participate in the latter program.
If inmates would like to earn money, they can work at an on-site laundry facility, a garment factory, or a shoe factory. "Obviously we'd be taking into account an inmate's physical condition, their mental condition. But most people want to make a little bit of money," Wordon stated. Ultimately, however, if Cosby wants a prison job, it will be "totally up to him."
Cosby will, of course, have to get used to the prison's rules, of which there are reportedly many. "Prisons operate under a really tight time deadline," Wordon explained. "There are four counts a day, and the inmates need to be in their cells at that time." There are also strict meal times —  breakfast is at 7 a.m., lunch is at 11 a.m., and dinner is at 5 p.m.
Cosby, 81, may have to accept more change in the future, however, as he will reportedly be moved to a state facility at some point. At the time of this writing, it is thought that Cosby may be transferred to SCI Laurel Highlands in Somerset, Pa., which is about four hours away from Cosby's mansion in Philadelphia. According to District Attorney Kevin Steele, SCI Laurel Highlands is used to house lower-risk inmates, which Cosby would likely be, considering his old age and health problems (In an April 2017 interview with NNPA Newswire, he claimed he had suddenly gone blind).
"The place is set up for a defendant that has medical issues," Steele reportedly told the judge presiding over Cosby's case, Judge Steven O'Neill, before Cosby received his sentence (via Page Six). "The defendant would be far from the oldest person in that facility, far from it."
Besides adjusting to prison life, Cosby will also have to keep on fighting accusations while behind bars, as at least ten of his accusers have filed defamation lawsuits against him, as reported by CBS News. He has also launched some lawsuits of his own, countersuing seven women for attempting to "assassinate" his character and reputation.
He and his legal team may also try to appeal his sexual assault conviction, though legal experts told CBS News that Cosby would face "long odds of winning."