Lady Gaga's Heartbreaking Reaction To Tony Bennett's Death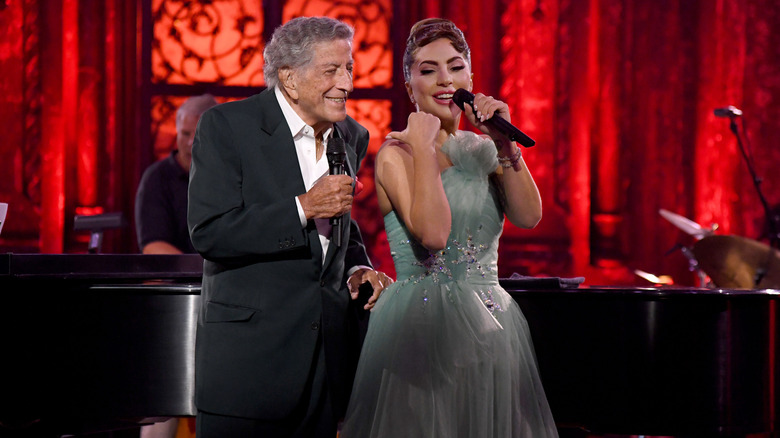 Kevin Mazur/Getty Images
Legendary singer Tony Bennett has passed away at the age of 96. His publicist, Sylvia Weiner, confirmed the sad news with the Associated Press. Bennett was just a couple of weeks shy of his 97th birthday and, although no cause of death has been announced at the time of writing, he was publicly battling Alzheimer's disease since 2016. Throughout his struggles, alongside millions of fans all over the world, Bennett had fellow superstar Lady Gaga cheering him on. 
The unlikely duo were friends for a decade and, in a 2014 interview with Parade magazine, she credited Bennett with reigniting her love of music. Gaga admitted, "Six months ago I didn't even want to sing anymore." It was only through working with the iconic crooner that Gaga rediscovered her love of singing and performing, even crediting Bennett with saving her life. 
They collaborated a number of times, including on two popular duet albums. Likewise, Gaga played a key role in Bennett's heartbreaking final live performance. It's only fitting, then, that the iconic pop star and Bennett's long-time friend should pay tribute to him in her own sweet, yet inimitably Gaga way. 
Lady Gaga was one of Tony Bennett's biggest fans
Although Tony Bennett and Lady Gaga's relationship was unconventional, due to their considerable age gap, the two turned out to be kindred spirits. It's unsurprising that Gaga's final post about her beloved friend and collaborator was so emotionally charged because the pop star was often brought to tears when paying tribute to him in the past. She was visibly moved when escorting Bennett off the stage following the decorated singer's final performance, as Entertainment Weekly reported at the time. 
Likewise, a year later, in 2022, when Bennett's ongoing health issues prevented him from taking the stage with the "Born This Way" hitmaker at the Grammys, Gaga dissolved into tears after performing their duet, "Love for Sale," per Page Six. It's clear that Gaga valued Bennett's insight above anyone else's too. As she told USA Today, working with him even as his disease worsened "was a gift." Indeed, it took a while for the singer to find the right words to properly honor her dear friend, which Gaga did with a lengthy Instagram post shared on July 31, 2023. 
As she acknowledged, "I've been grieving the loss of Tony for a long time. We had a very long and powerful goodbye." Gaga went on to say, "All I wanted was for Tony to remember how much I loved him and how grateful I was to have him in my life." Evidently, judging by the pop star's final tribute to Bennett, she'll continue to value their time together for the rest of her life.