Inside Tony Bennett And Lady Gaga's Relationship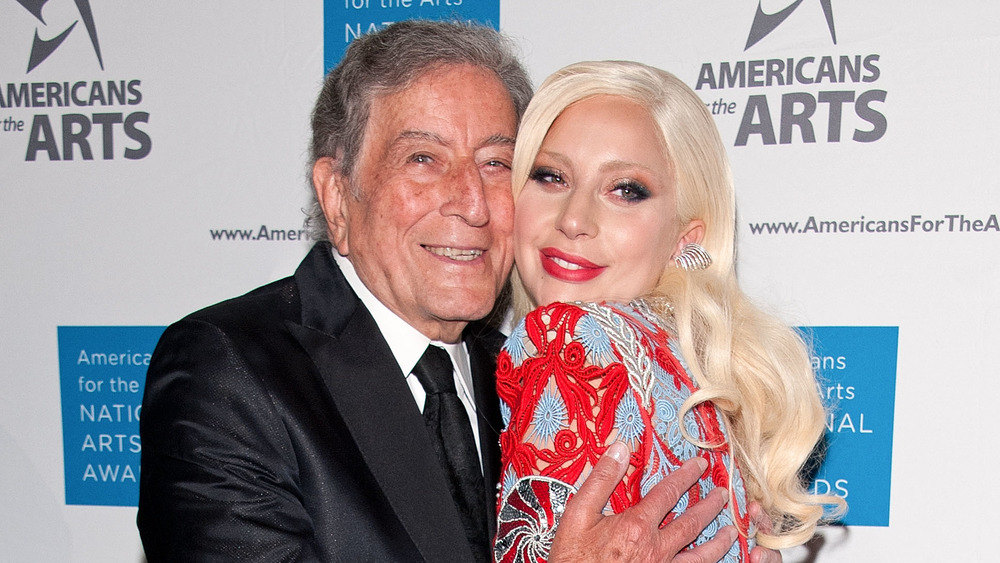 D Dipasupil/Getty Images
In Hollywood, some friendships seem more likely than others. However, there are some friendships that — though unexpected at first — just work when they happen. Tony Bennett and Lady Gaga's friendship, for example, is one of those that seemed unlikely, but is now one of the most wholesome in Hollywood.
As it turns out, the duo has a long history together, dating back to 2011. Bennett himself has enjoyed a long, successful career as a singer, having recorded more than 50 albums over the last several decades. One of those albums, of course, is Cheek to Cheek, a jazz album that he and Gaga joined forces on in 2014.
Now, on the heels of announcing his Alzheimer's disease diagnosis, Bennett's team has also announced that another collaborative effort with Gaga will drop in spring 2021. With such a long-standing history together, when did Bennett and Gaga meet, and how did their friendship develop? We have all the details inside their relationship — keep reading to learn more.
Musicians Tony Bennett and Lady Gaga have been friends for a decade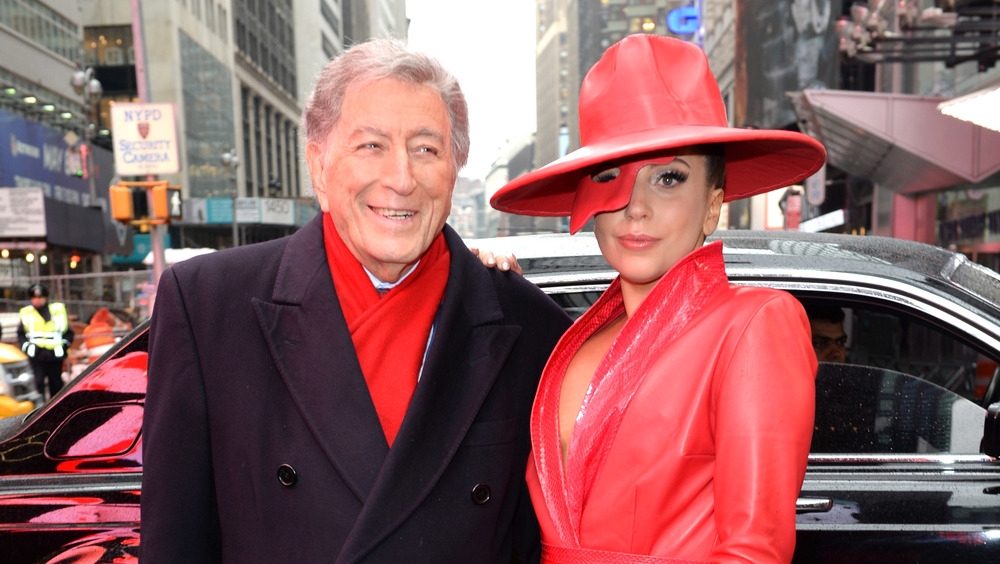 Kevin Mazur/Getty Images
Like many people would be, Lady Gaga recalls being nervous, but excited to meet music legend Tony Bennett. According to People, Bennett heard Gaga perform at the 2011 Robin Hood Foundation charity gala and asked to meet her afterwards. "I fixed my hair, and my mom was fixing her makeup, and then we went back to meet him," Lady Gaga explained. 
By the end of the night, the duo solidified their new friendship by agreeing to make a jazz album together. The album, Cheek to Cheek, came out in 2014 and the twosome toured the album the following year. Upon their first meeting in 2011, Gaga also joined Bennett for a track on his album, Duets II, which was released the same year. 
On Feb. 1, 2021, Bennett and his family announced the singer's Alzheimer's disease diagnosis via AARP. According to the publication, the esteemed singer has had the disease for four years now and demonstrates hallmark symptoms, like memory loss and disorientation. Per the recommendation of his neurologist, Bennett still spends time in the studio, rehearsing twice a week.
And, as a surprise treat for fans of Cheek to Cheek, the article details a timeline in which Bennett and Gaga have recorded new music together. Their musical efforts have culminated into a new collaboration which, according to AARP, we can expect later this spring.